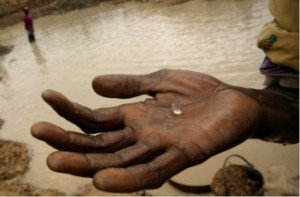 When the Kimberley Process (KP) in early November chose not to suspend Zimbabwe for human rights abuses in the country's diamond fields, the KP defended its decision on the grounds that the Zimbabwean government could be coaxed into cleaning up its act. Regrettably, the picture that is emerging is one of continued exploitation of the country's diamond wealth, accompanied by cosmetic changes designed to fend off criticism from the international community.
In 2008, Zimbabwe's armed forces took control of valuable diamond fields in the Marange district of eastern Zimbabwe. Money from the mining operations has been used to fund the Zimbabwe African National Union-Patriotic Front, the party led by President Robert Mugabe, who is struggling to maintain his grip on power. After the takeover, Human Rights Watch documented a range of abuses, from forced labor to torture to killings. Instead of suspending Zimbabwe and halting diamond exports from Zimbabwe, the KP accepted Zimbabwe's promise to withdraw its armed forces and contract out mining operations to private companies which, presumably, would act in a more ethical manner.
By the end of November, Zimbabwe had begun to withdraw its military, and it had awarded diamond mining contracts to two South African firms. However, according to a report in The Times of London, neither of those firms is an established professional mining company; in fact, one is a scrap metal and iron dealer. More importantly, both firms are controlled by people close to Mugabe and the Zimbabwean military. The reports claims that the diamond fields essentially have "fallen under the control of a select few at the top of the country's security forces." These military leaders are poised to earn millions of dollars, and "[i]t is feared that they intend to use the wealth to enrich themselves and entrench their power. . . ."
Brilliant Earth strongly disagrees with the KP's decision not to suspend Zimbabwe. Until Zimbabwe can establish that the human rights abuses in the eastern part of the country have come to an end, its diamonds should not be circulated on the international diamond market and certified by the KP as conflict free. The KP's lack of backbone in this instance once again demonstrates how the KP is a flawed system. The KP, if it wishes to maintain credibility, should not be fooled by the steps that Zimbabwe has taken so far.
We also hope that developments in Zimbabwe will force an adjustment in the position of the World Diamond Council (WDC), an influential organization of diamond manufacturing and trading companies. The WDC in November chose to support the KP in not banning diamond exports from Zimbabwe. "The ability of Zimbabwe to harness its natural resources, including diamonds, for the benefit of its people is our primary concern," said WDC Chairman Eli Izhakoff, explaining why Zimbabwe should not be suspended from the KP. Yet, if reports are true, mining operations in eastern Zimbabwe are not broadly benefiting Zimbabwe's people, but are enriching just a select few—Mugabe and a few unsavory military leaders.
We call upon the WDC to reverse its support for KP certification of Zimbabwe's diamonds and to speak out against continued military control of Zimbabwe's diamond fields. Individual companies in the diamond industry, as well as jewelry retailers, can do their part by refusing to buy diamonds from Zimbabwe. Change is possible, but in the absence of international controls or a more responsible government in Zimbabwe, businesses and consumers must demand it.