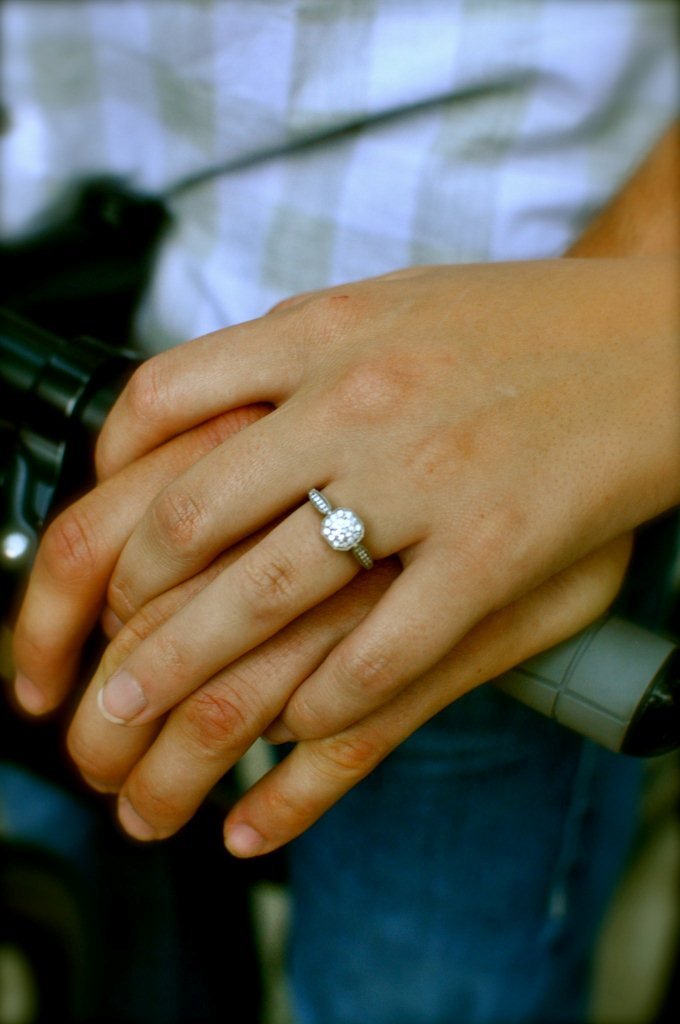 The most important aspect of a proposal is that you are absolutely in love with, committed to, and confident about your partner. You have imagined spending the rest of your life with that person—through the good and the bad, in sickness and in health—and you are excited at the prospect. You desperately want to share a mortgage, change your tax filing status, and eventually amble down the street together with matching walkers.

Now that you're sure about your partner, you will want to make sure that both of you are on the same page. Before renting the horse and carriage, scattering the rose petals, and lighting the candles for the proposal, it's a great idea to discuss certain aspects of your future, such as your opinions on marriage, children, finances, job prospects, and whatever else you feel as though you should discuss before a promise of forever. Communication is key!

If you've had this discussion about marriage, one topic has surely come up: the engagement ring. Based on that conversation, you can figure out how to propose and choose between three engagement ring options: proposing without a ring and choosing one later, proposing with a "filler" ring or gemstone, or proposing with THE ring. Every woman has a different opinion of what the perfect situation is, so discussing the ring is highly suggested!

Proposing Without a Ring

There are two main reasons to propose without a ring: you want your significant other to be a part of the process of picking out the ring (there are so many options!), or the proposal was done without premeditation.

Spur of the moment proposals are some of our favorites. Occasionally someone will be looking at their better half and realize that they can't stand another minute without getting down on one knee, taking her hand, looking into her eyes, and popping the question. These proposals are driven by heightened positive emotions, uninhibited by the nerves that come along with elaborate plans, and they often result with her temporarily wearing a keychain loop, an orange juice pull tab, or a tied paper napkin around her left hand finger. Who knew that such insignificant items can become so precious! These couples will usually then go ring shopping together for the true ring after the proposal.

The other reason you might propose without a ring is that you are uncertain (or she is uncertain) about what ring she really wants. If you ask your significant other what her dream ring looks like, some women will produce a response such as this, "I like princess cut diamonds, but I also like round, but I'm not sure what clarity and color grades are right for us, and I really like yellow gold but rose gold is so gorgeous, and I like modern styles with a natural twist, or even something vintage. Or maybe an antique ring? But I also like sapphires, but look at that halo!"

Expecting a man to decipher exactly what ring you love from a description like this is cruel and unusual punishment!

If she isn't sure what she wants, ask her if she would like you to wait to buy a ring so that she can come with you. If she agrees that this is best, go ahead and plan how to propose without a ring! Everything can be the same; the little box (if you choose to use it) will just be empty.

If she says she would like to be proposed to with a ring, go ahead and do your best with the description she has given: she likely anticipates adoring it just because it came from you. In fact, the Huffington Post reported on a lifestyle study that claims that 61% of women are fine with whatever ring is chosen for them.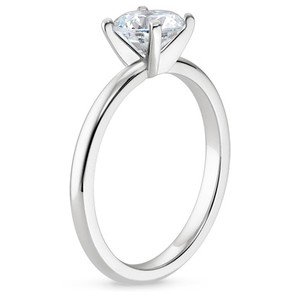 Proposing With a Filler Ring

Filler rings are a wonderful option that many couples are unaware of. A filler ring is a temporary setting that you can place your diamond or gemstone in until you are sure which permanent setting she loves. Our temporary setting is our 18K White Gold 2mm Comfort Fit Ring. This simple, classic style truly shows off your diamond.  When you choose this option, you have sixty days to propose and then send the ring back. You can then work with your now-fiancé to determine the forever setting for that gorgeous gem! This is also a great option for if you are unsure of what her ring size is. If you are interested in using a filler ring, please contact us to place your order or receive more information! Learn more about our temporary setting policies.

Proposing With "The Ring"

Many women want to be proposed to with a ring, and an empty box would be disappointing. The best case scenario is that she knows exactly which ring she wants you to propose with, and she hands you the picture with specific instructions. Though this may seem unromantic, it can be a complete lifesaver for many men. If the ring she wants is financially feasible, it saves him the research and stress of picking one out on his own! It has been found that 78% of men want to know if they have chosen the wrong ring, showing that men are very concerned with finding the ring she wants the most. If she hands you a photo of a ring that is out of your budget (celebrity engagement rings anyone?), have a discussion with her about it and use that style as inspiration for her own stunning engagement ring.

This is a great option for women who are particular about their jewelry. Some women do the research and know exactly what they want—and they're not afraid to be specific! If this seems painfully pragmatic, don't worry. You can still give the ring a little something special that will be a complete surprise. Personalized engravings allow you to put a very special, heartfelt message on the inside of the ring. When you propose with the ring she will be excited to see it, but she will be swept off her feet by your words of love and devotion that are etched inside. In addition, once you know the style ring she loves, you can still make the wedding ring a surprise!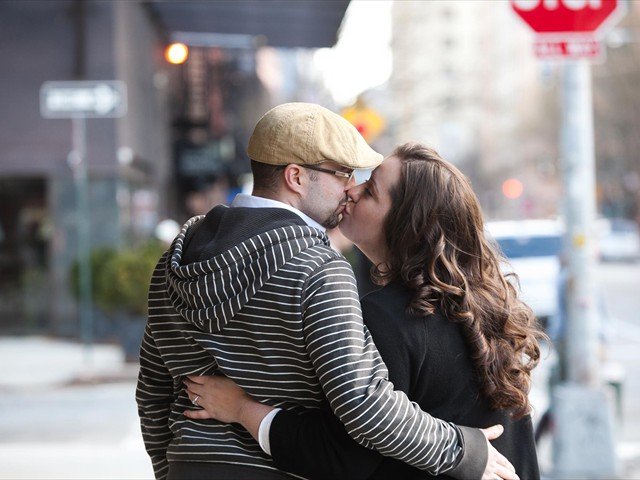 If you've been open about marriage but she doesn't feel comfortable directing you right to the ring, keep an eye out for her family members and friends. If her sister or best friend starts a conversation about rings, join that conversation! She has probably been instructed to drop hints, or even take you ring shopping herself!

If all else fails and you know she wants a ring at the proposal but hints are scarce, choose a ring that speaks to you—a ring that reminds you of her and your relationship every time you see it. And remember to read our blog post on What Women Want in an Engagement Ring!

Final Thoughts

No matter which way you go about it or which ring eventually takes up residence on her ring finger, she will doubtlessly adore it for the rest of her life. The best way to end up with the perfect ring is to have open communication, listen closely, determine the situation that would make her happiest, and go forward with complete confidence. We wish you the best of luck!

Ring, no ring, filler ring—what would you prefer? How were you proposed to? We would love to hear your stories on Facebook, Twitter, or in the comments!