When couples are selecting one of our unique, one-of-a-kind vintage engagement rings, one question they frequently ask is "How will I pair it with a wedding ring?" In many cases choosing a vintage engagement ring means that your wedding ring won't match exactly. However, this opens up a world of gorgeous style possibilities.
Here, Brilliant Earth jewelry specialist Mary Newcomb tells her personal story of finding a wedding band to complement her antique engagement ring, and shares advice on how you can do the same:
Our collection of antique engagement rings, which is comprised of one-of-a-kind pieces dating from the late 1800's through the late 1900's, presents many incredible options for a stunning engagement ring. These rings were historically worn alone, so their shapes and designs are often quite whimsical and detailed. That beautifully distinctive quality can present a dilemma when choosing a wedding band because the rings may take up more space on the finger, feature gemstones in interesting patterns, have detailed engraving, or have other attributes that make them both uniquely beautiful and challenging to pair with a standard wedding band.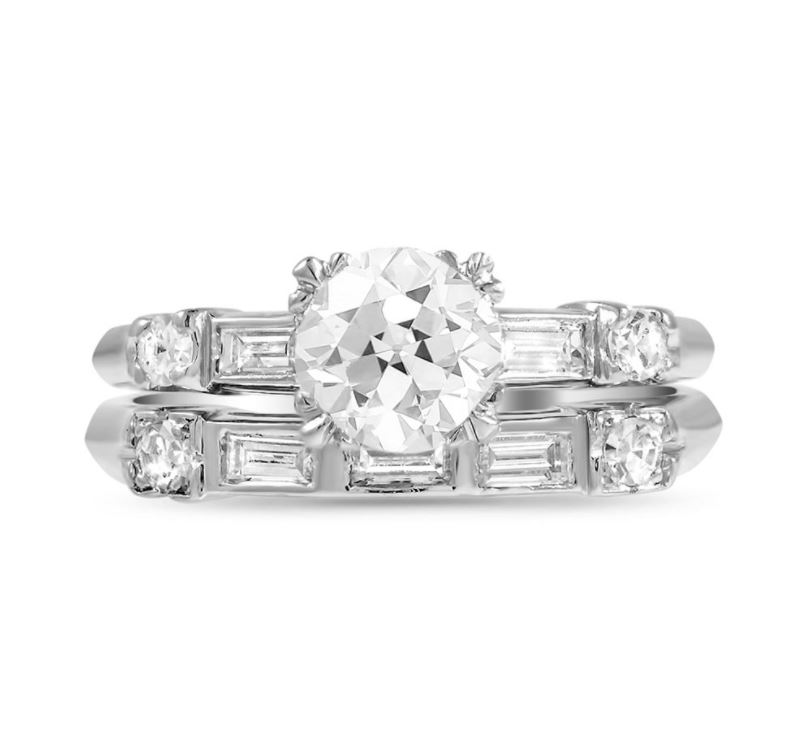 There are a few ways that you can pair a wedding band with an estate ring, each of which I personally had to explore when I fell in love with an Art Deco ring from the 1920's. Once I tried on wedding bands, I felt a bit overwhelmed about what to do next. To my dismay, nothing looked like it "matched" my ring! I explored all of my options, and this is what I found.
Embrace the Gap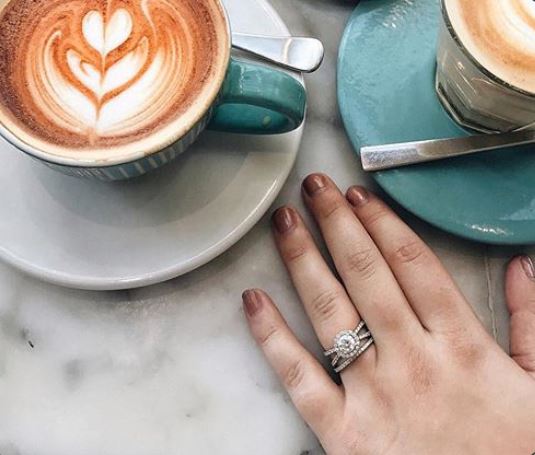 Many people are surprised to realize that the custom of pairing an engagement ring and a wedding band in a completely flush style is a relatively recent, modern one. Some of the world's most famous engagement rings have showcased unique shapes; Queen Victoria's snake ring, Jackie Kennedy's split shank emerald ring, Princess Diana's sapphire halo, and Audrey Hepburn's stacked set of bezel rings are some of fashion's best known engagement rings, and none of these would sit flush with a wedding band.
Having a slight gap between your engagement and wedding rings is actually more common than not–even many new rings have a slight a gap with a wedding band, so why fight it? Go with the flow. It shows the world that you have individual style, and certainly makes selecting a wedding band easier. For a unified look, you can choose a wedding ring that shares similar design elements with your engagement ring, such as diamonds of the same scale or special details like milgrain or engraving. Or you can choose to keep all of the focus on your stunning engagement ring, by selecting a timeless plain precious metal band as a wedding ring.
Choose an Antique Matched Set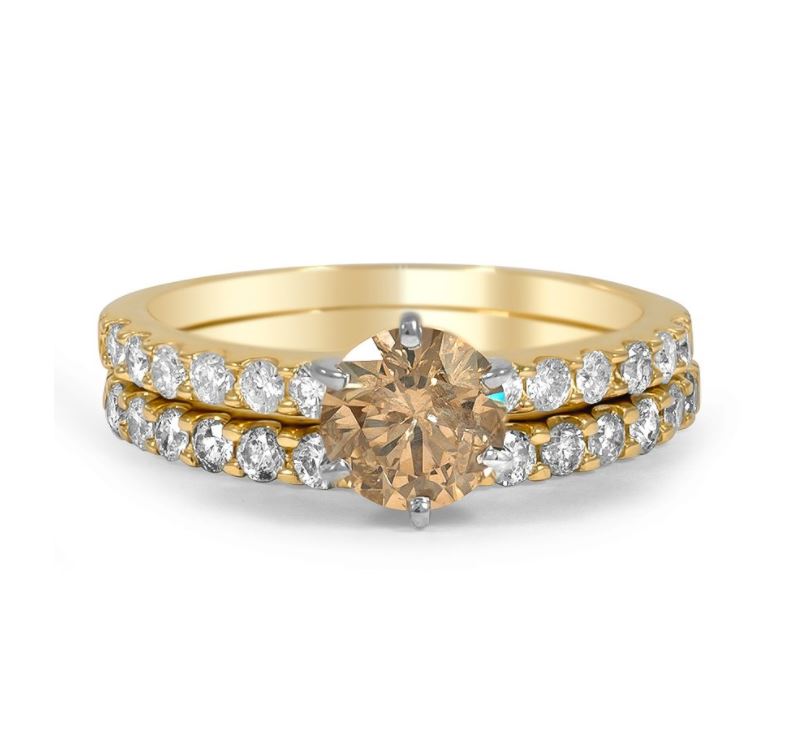 Some vintage engagement rings are available with a matching wedding ring as part of a matched set. Matched sets are more common in designs from the Retro era, which is when the custom of wearing coordinating engagement and wedding rings started to take hold.
Customize a Wedding Band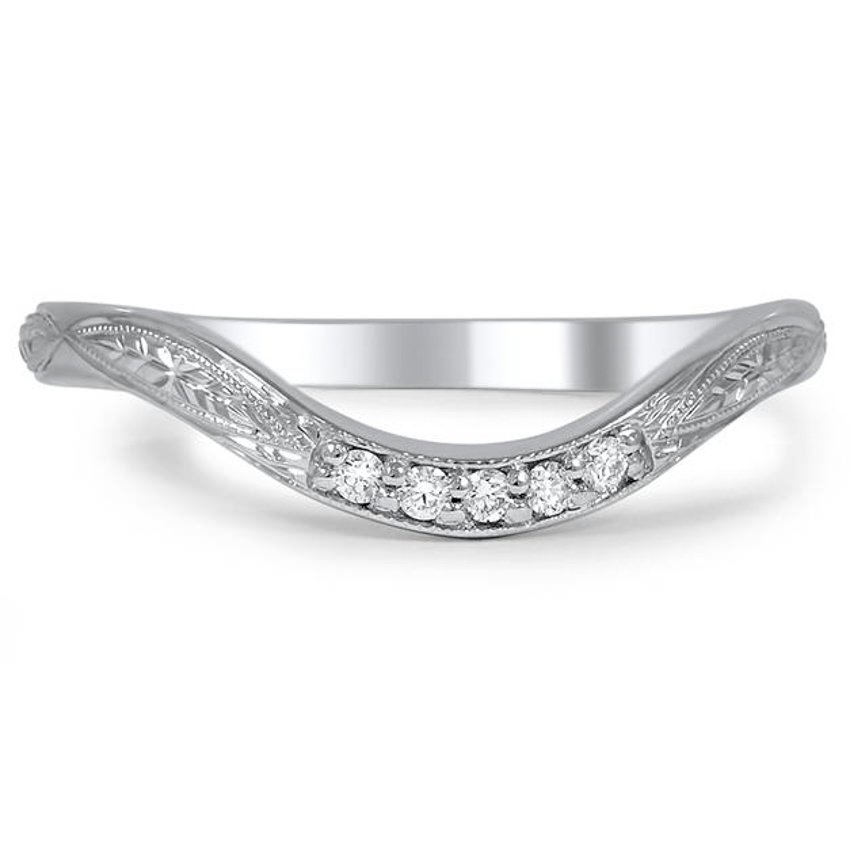 One of the most rewarding challenges we face as designers is custom designing a wedding band to accompany a client's unique vintage engagement ring. Brilliant Earth's team of design experts can create a wedding band that is custom contoured to fit with your estate ring in such a way that the two look like a matched pair. For inspiration, view our gallery of recently designed custom wedding bands.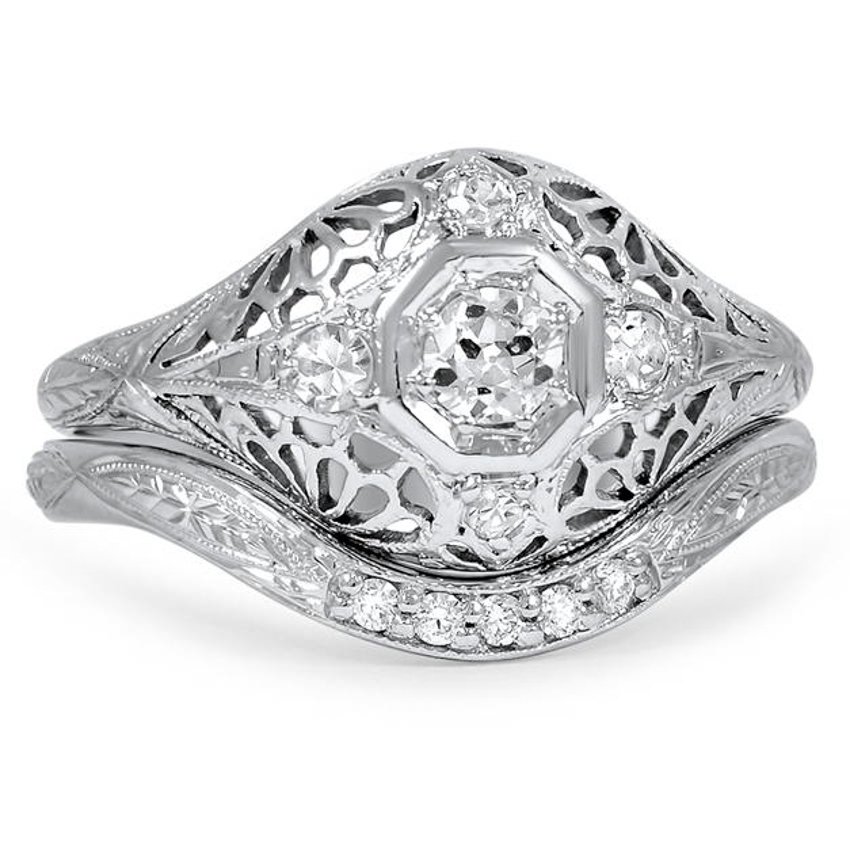 With your engagement ring in hand through the process, they will use either CAD imaging or hand carved wax techniques to ensure that your antique engagement ring and new wedding ring will sit perfectly flush. Our jewelers can add an incredible amount of vintage detail to your custom designed wedding ring, by using hand finishing and revisiting old world techniques, so you can keep adding to the history of your one-of-a-kind design!
Wear Your Rings on Different Hands
This is the route that I eventually chose, and is historically how an engagement and wedding band were worn, back when most antique engagement rings were created. For me, this choice allowed the most flexibility with my wedding band options and avoided the gap that would have existed with any non-custom ring. I wanted to still be able to wear the wedding band alone, something I did not feel I could do with a customized ring due to the contour, and found that wearing the rings on different hands solved all of my problems. It also allowed me to choose whatever look I liked, and didn't take any of the spotlight away from my engagement ring.
Final Thoughts
No matter which route you choose, rest assured that an antique engagement ring and wedding ring can be worn together in harmony. Contact Brilliant Earth's jewelry experts for more information on the gorgeous options available, and guidance to help you choose the right look for your fashion sense and lifestyle!