If you are looking to have a comfortable, intimate wedding, there is no better place than in your favorite backyard. We've come up with eight tips on how to have the best backyard wedding ever!

 1. Hire set up and tear down help

Imagine that it is the morning of your backyard wedding. The sun is out, the birds are chirping, and the rental company has dropped off your tables and chairs at the end of a very, very long driveway. Now what do you do? To prevent yourself from having to carry heavy furniture to its proper place (and back the next morning), find a rental company that will deposit your tables, chairs, benches, and any other furniture you have ordered exactly where you want them. It might cost a bit more, but the help is completely invaluable!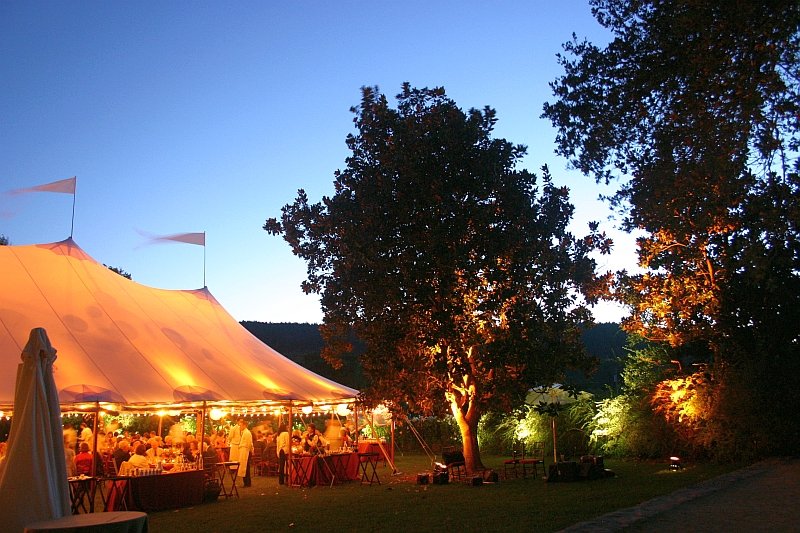 2. Pitch a tent

Tents are a great idea for backyard weddings because they act as a backup plan in case of rain. Your host has lent you their backyard for the wedding, not their house, so if the rain starts pouring you should have somewhere for everyone to take cover. Tents can be very easy to decorate and they help to create designated spaces for your event. It is also a good idea to hold the ceremony under a tent so that your guests aren't sitting directly in the sun or squinting their eyes to see you! Photo: Zephyr Tents

3. Bring the dance floor

Just because you're having a backyard wedding doesn't mean that you can't have a rocking dance party! Many tent rental companies offer portable dance floors that can be set up in pieces. This is a great option if you don't have enough hard surfaces in the backyard. People candance on grass, but some women will have to worry about their high heels sinking into the ground, and the bottom of your wedding dress might turn green! Plus, how else are you going to show off your breakdancing moves when your favorite wedding song comes on?
4. Choose rings inspired by nature

When you get married outside, you are surrounded by nature's beauty. The flowers, trees, creeping vines, and local birds all witness your union. You dine and dance under the sun and the moon, breathing in fresh air and gazing at the stars. Such an evening puts you in touch with nature, so show your connection with a wedding band that was inspired by it. These rings imitate nature's creations with floral buds, twisting vines, and other organic shapes. Our Bridal Fashion Guide is a great place to find more fashion ideas for your natural bridal style!



5. Rent heaters, air conditioning units, and restrooms

You want to make sure that your guests are comfortable and that they aren't all sneaking inside. We suggest renting heaters and air conditioners, just in case. You will probably be running on adrenaline and therefore be immune to the weather, but your guests won't be so lucky! Depending on the size of your event, it is also a good idea to rent extra restrooms. Even if you're positive that they number of bathrooms is appropriate for the size of your event, don't get stuck in case of a toilet emergency! This is a better-safe-than-sorry situation.

6. Use creative lighting

Utilizing a traditional indoor venue often limits your lighting options. Though many places are beginning to offer lighting alternatives, usually you're stuck with what they provide. Having a backyard wedding opens up a world of possibilities. Tents are a beautiful place to hang lights, and it can also be easy to add unique lighting options on trees and decks. We highly recommend using twinkling string lights, hanging lanterns, and even inexpensive chandeliers. These options softly illuminate a backyard and look stunning as the sun falls behind the horizon. Below: Pottery Barn Teen lighting

7. Keep the music moderated

Although technically you are not subject to a venue's rules about music, you do have to be considerate of your neighbors, particularly if you share a fence with them. We suggest that you perform a test—blast music in the backyard for a bit during the day and walk around the neighborhood to see how far the sound travels. Deliver letters to the neighbors that are within hearing distance informing them of your upcoming wedding and thanking them in advance for their patience and understanding. Finally, check your town's website to find the noise laws so that you don't inadvertently get the police called on your wedding!

8. Hire a caterer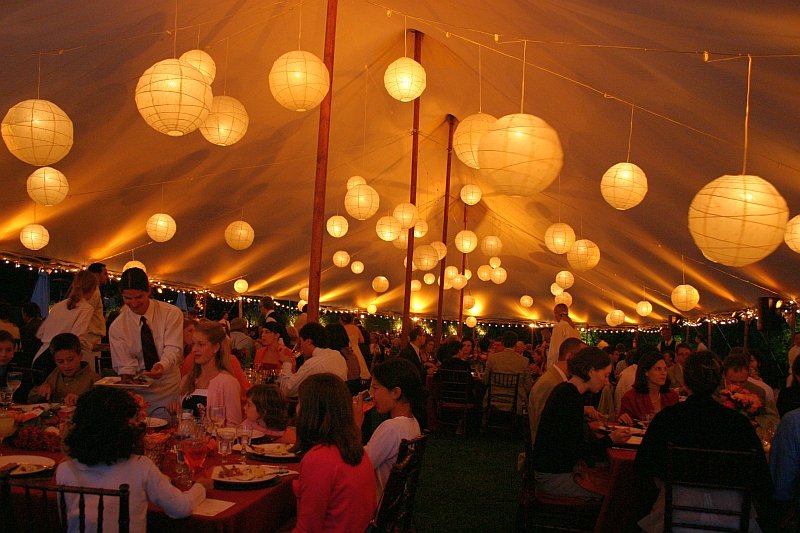 Unless you are trying to save money (in which case having your guests bring dishes and barbequing is an awesome idea) it's best to hire a caterer. This means that there won't be any dishes to wash and the food isn't your problem. A fun new trend is to get your favorite food truck to pull up to your wedding and allow your guests to order from there. Photo: Zephyr Tents

Final Thoughts

Backyard Weddings are traditional weddings (aka not an elopement!) that are intimate, beautiful, and surprisingly easy!  Make sure that you have seen to your guests' comfort and everything else should fall into place. Enjoy your wedding day as it takes place in a familiar, comfortable, wonderfully unique location!