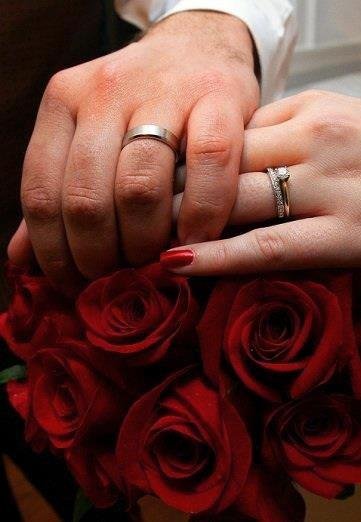 Wedding photography might have come from humble beginnings, but it has experienced an extraordinary evolution over the last 180 years. Photography came about in the first half of the 19th century, but the majority of weddings up until World War II were undocumented. Before then photography was too expensive for most couples to afford and the equipment was too cumbersome to allow on-site shoots. Instead of wedding photographs, many newlyweds would travel to a studio wearing their best clothing and sit for a posed photo. During the 1940s, however, improved technology would allow photographers to attend the actual event, paving the way for unforgettable memories.

In 1970, the wedding photography game changed yet again. Simple posed photos gave way to a documentary style, where the photographer would record the event. There became a list of photographs that couples came to expect, such as the bride with her father, the walk down the aisle, the exchanging of wedding vows and wedding rings, the first kiss as husband and wife, the walk back up the aisle, the dinner speeches, the cutting of the cake, and, of course, the first dance. This was the status quo for quite some time, but the internet has allowed for the broader exchange of images and ideas, spurring creativity and changing what a couple expects out of their wedding photos. Wedding photographers have become artists, with the bride and groom trusting him or her to capture the essence of the event. A great photographer will capture details, listen to your desired stylistic approach, and end up feeling less like a vendor and more like a friend.

You can have stunning wedding photos whether you choose to have a traditional wedding or an elopement, so here are five must-have wedding photos to inspire you!

1. Location

Many couples forget to ask their photographers to do a bit of shooting outside of the actual wedding space. Great photographers will focus on the spirit of your wedding location, because it is obviously important to you as a couple. You can request photos of local landmarks, a favorite spot, or a scenic vista.
For example, if you are in San Francisco, make sure that you get stunning photos of the Golden Gate Bridge, the Powell streetcar, or the skyline with the Transamerica Pyramid and Coit Tower visible. On the opposite end of the spectrum, if you are getting married in the middle of the forest, ask for picturesque photos of the afternoon light filtering in through soaring trees. You can choose whether you want to actually be in these location photos or not, though the focus should be on the scenery.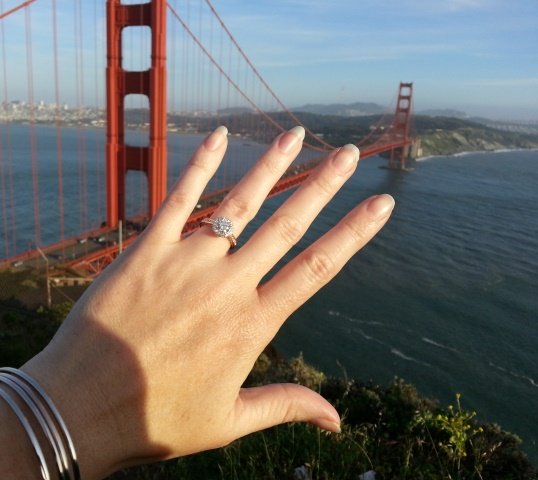 2. Dressing Up 

Though it can be difficult to remember at times, we must acknowledge that a wedding isn't just about the bride and groom. When you get married you bring a number of complete strangers together and bind them as family. Your family and friends—many of whom have known and loved you for longer than your fiancé—are experiencing this joy with you, so make sure that your photographer captures those moments. Maybe your aunts will help you into your dress as your grandmother clasps your necklace. Perhaps the photographer will capture a moment of hilarity as you dance around the dressing room to some upbeat songs or if your best friend crawls under your princess sized ball gown to slip on your shoes. Maybe your mother is simply holding your hand. These are special moments that you will look back on during hard times and remember how much you are loved.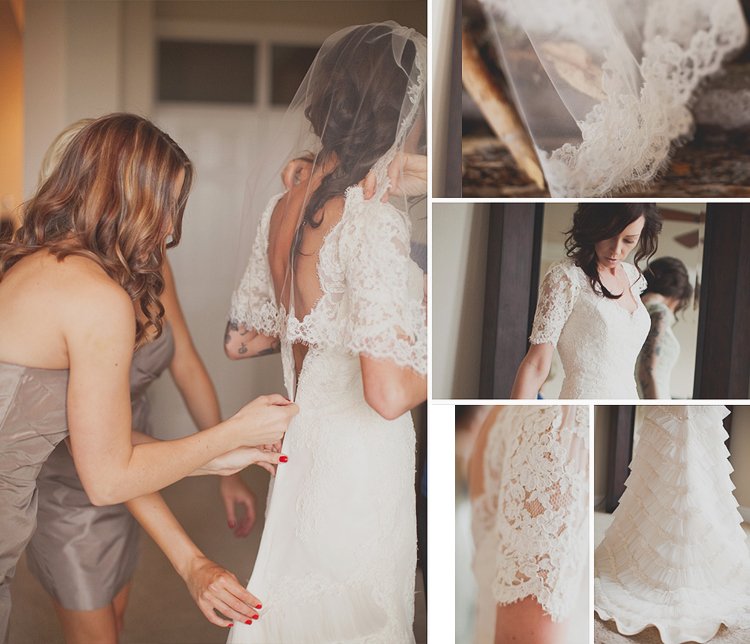 3.  Wedding and Engagement Rings

 Before your wedding rings take up permanent residence on your fingers, make sure that your photographer takes a beautiful photo of them. Your wedding rings represent you for who you are. If you love the sparkle and shine of diamonds, your wedding and engagement rings will likely be glamorous, while if you love things that are vintage and have a romantic history, you may have an antique engagement ring. A little piece of you is in that ring. Photographing your rings together is highly symbolic of the union that is to come. It shows the quiet solemnity of the event, and artistic renderings can create a dramatic effect.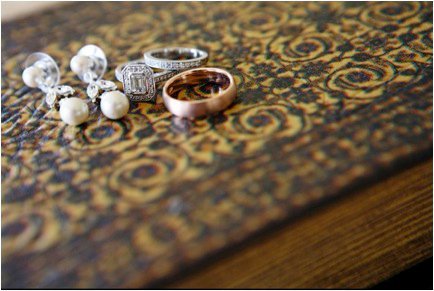 4. The Bride's Dress and/or Shoes  

Going through wedding photographers' galleries, you might have stumbled across a few stunning photographs of a bride's dress or shoes. This idea goes along the same lines as the photograph of the wedding rings, but this one is just for the bride. The empty dress and shoes are simply waiting with baited breath to serve their duty of the day—to enhance your natural beauty and sweep you down the aisle in style! You will only wear this dress once, and you (most likely) labored over finding it. You want to show it off! Put the dress on a nice hanger (personalized wire hangers that spell out your future name in the twisted wire are stunning) and hang it in front of a window or the most interesting part of the room. The effect of the light streaming through a gauzy dress in black and white is truly stunning. Similarly your shoes will be taking you down the aisle, so featuring them right before you step into them is momentous, because you will step out of them with a different name.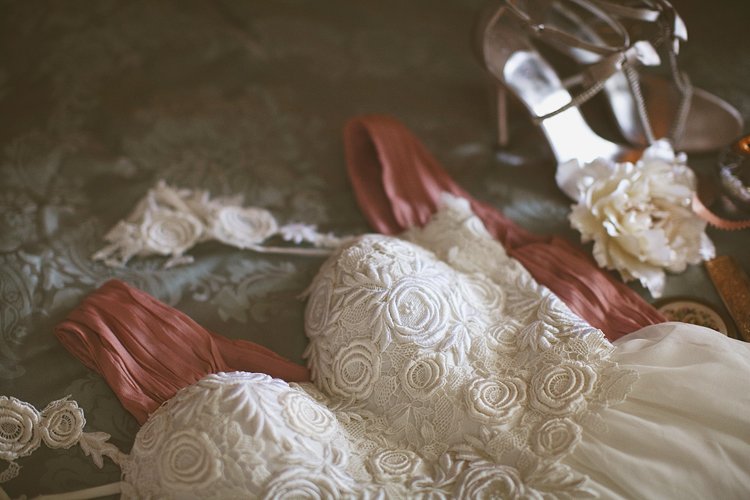 4 1/2. The Reveal  

This is an optional must-have photograph that depends on how you want to reveal yourself to your fiancé on your wedding day. Some couples choose to see each other before the ceremony starts, and this is a great time to have a (subtle) photographer capture the emotion of the moment. When you see them for the first time walking down the aisle, all eyes are on you and there isn't exactly time for a conversation. If you would prefer to see him beforehand, have him wait in a private location with his back turned, and tap him on the shoulder when you're ready. Make sure to capture the priceless look on his face!

 5. A Little Detail 

The best photographers are those that notice the little details in life that many of us miss, such as the way the sun hits the pavement at a certain time of day, or the intricate grain of a wood table. If this sounds like you, you should probably take up photography! Your photographer should try to capture the little moments and details that hold great weight and emotion. In between taking shots of the ceremony, he or she might notice a beautiful look on a grandfather's face and quickly snap a photo. Or perhaps the photographer sees a pair of shoes on the edge of the dance floor. These photographs tell entire stories. Some photographers do structured details, such as lining up boutonnières, unique wedding invitations, or a beautiful lace accent. These little details are indicative in the shift in wedding photography. Whereas couples used to be lucky if they could get one photograph of the day, now we have permanent images that—when crafted properly—can take you back to how you felt on your wedding day, almost to the point where you can smell the flowers and taste the cake.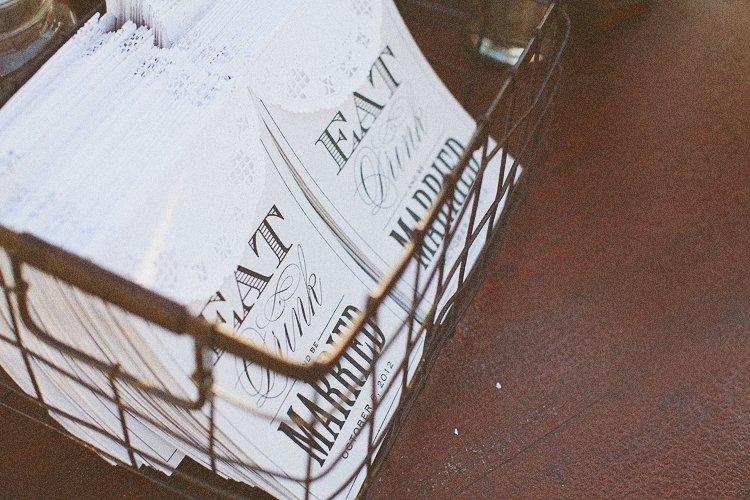 Final Thoughts

There are an increasing number of couples that are choosing to have proposal, engagement, and rehearsal dinner photo shoots in addition to their wedding photos. Look for photographers who can really get to know you will work with you to make your shoot memorable.

If you have a personal wedding website, make sure that you post your photos so that your friends and family may enjoy them as well!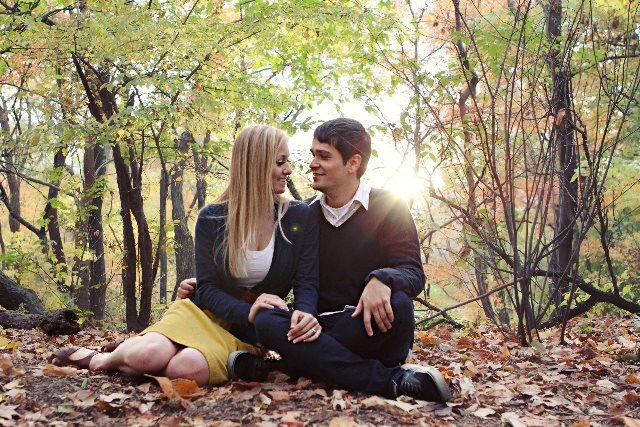 What are your favorite wedding photos? Let us know on Facebook, Twitter, or in the comments!