Brilliant Earth is proud to announce that our cofounder, Eric Grossberg, has been named one of the top 20 under 40 in the jewelry industry by JCK Magazine!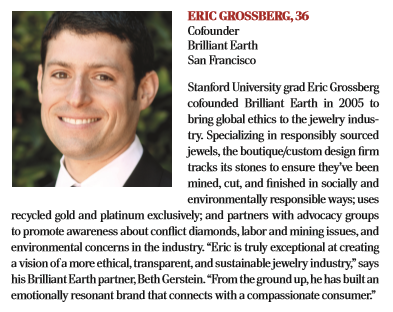 The 2013 Power List featured 20 young men and women who are poised to become the future movers and shakers of the jewelry industry. Eric appeared on the Power List alongside bloggers, social media gurus, and other forward thinking entrepreneurs. Also gracing the list were a few prominent jewelry legacies, including the Kwiat brothers, Paul Tacorian, and Lita Asscher.  This article positions Eric—the cofounder of a company that was built on ethical practices and transparency—as a future industry leader. This recognition is a promising indication that there is a sea change coming in the jewelry business.
Change is an uphill battle, but it is a battle that we are passionate about. We are hopeful that Eric's recognition on JCK's Power List is a sign that the future leaders of the jewelry industry will focus on bringing positive change to the industry.
"I am very excited to see a leading publication such as JCK recognize the efforts of Brilliant Earth to bring more responsible practices to the jewelry industry," says Eric, "All of us at Brilliant Earth remain optimistic that our values will continue to gain broader adoption across the jewelry landscape."
This change may come about due to a variety of reasons, though consumer education and increasing demand for ethical diamonds will play a large role. Brilliant Earth was established when Eric and cofounder Beth Gerstein recognized the ethical failings of the diamond industry. Years later, Brilliant Earth is poised to lead the industry toward ethical and sustainable practices.