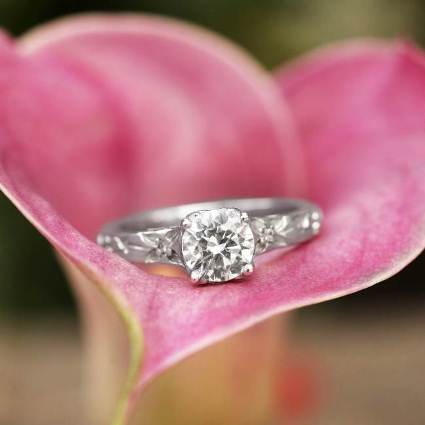 Do you prefer to be outside under the great open sky?

Do you fill your home with flowers and plants?

Would you rather take a long hike instead of going to the movies?

Do you happily spend crisp spring days tending your flower beds?

Do you want to get married outside with nature as your wedding décor?

If you answered yes to any of these questions you will adore our nature-inspired engagement and wedding rings! These whimsical designs are incredibly elegant and will stand the test of time.
The Willow Diamond Ring is an all-around favorite. The gently curving strands of precious metal and the sparkling diamond marquise buds create this delicate, feminine trellis ring. The Willow collection also includes the Budding Willow Ring and the Luxe Willow Diamond Ring. Matching wedding rings complete these delicate creations. To make the Willow even more beautiful, consider replacing the budding diamond accents with gorgeous green gemstones!










The Twisted Vine Diamond Ring is a stunning portrayal of nature's intricate growth. Diamond encrusted vines of precious metal twist together elegantly, leading up to a sparkling center diamond. We also offer a Petite Twisted Vine Diamond Ring and three matching wedding rings: the Twisted Vine Diamond Ring, the Luxe Twisted Vine Diamond Ring, and the Luxe Eternity Twisted Vine Diamond Ring for those who crave more sparkle!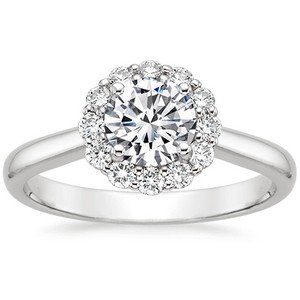 The Lotus Flower Diamond Ring is a halo style ring that is subtly sculpted to resemble a beautiful blooming flower. If you love the glamorous brilliance of halo style rings and the elegant, organic shapes of flower inspired engagement rings, the Lotus Flower halo is perfect for you!






The Flower Bud Ring features glittering diamond accents at the center of each intricately engraved flower, creating the appearance of flowers dotted with sparkling morning dew. Additional engravings and a stunning round diamond adorn the gallery of the ring, completing this beautifully detailed engagement ring.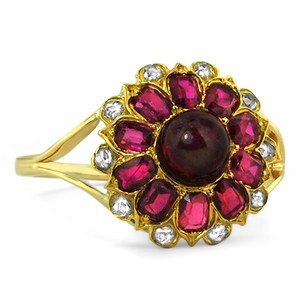 Numerous antique engagement rings feature gorgeous floral designs such as the Bougainvillea Ring. This gorgeous, colorful ring is set with a lovely cabochon cut ruby at the center. Eleven rubies form the surrounding "petals," and rose cut diamonds add a final sparkling touch. Discover more floral, one-of-a-kind vintage rings in our antique ring gallery!