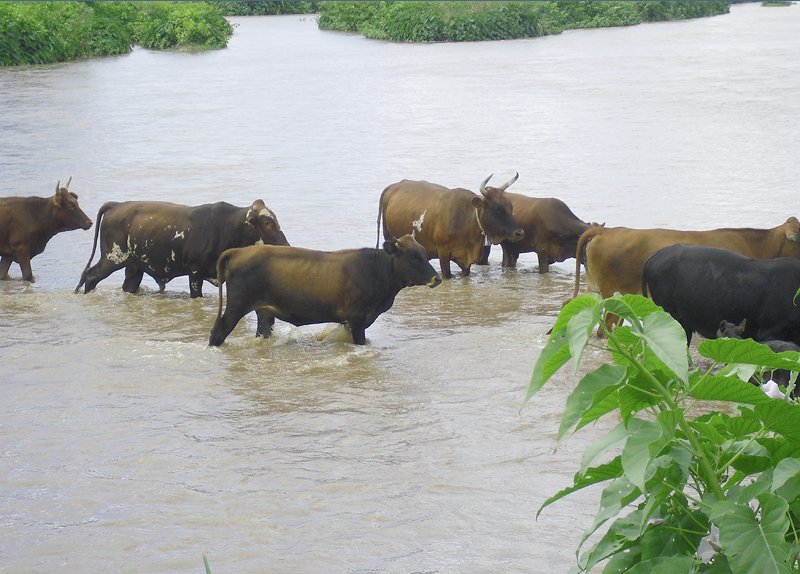 The people in the semi-arid Marange district of eastern Zimbabwe depend on the  Odzi and Save rivers for drinking water and agriculture. During the past few years, though, the rivers became muddy and dirty. Cattle died and people bathing in the rivers developed rashes. Experts sampling the water found high levels of nickel and chromium. They declared it unsafe to drink.
The source of this water pollution is well known: nearby diamond mining companies have been releasing toxic waste directly into the rivers.
In any other part of the world, this story would be shocking. When it comes to Zimbabwe's Marange district, however, it just seems normal. Indeed, those responsible for diamond mining in Zimbabwe almost seem to have created a list of abuses known to the diamond industry, then gone down that list and systemically crossed them off, one by one.
That list of abuses is long. In 2008, soon after the discovery that the Marange district held one of the world's biggest diamond deposits, the military seized the area, hoping to claim the diamond wealth for itself. More than 200 local residents were massacred. Children and adults were enslaved, and many people were beaten and tortured. After an international outcry, Zimbabwe's government turned over diamond mining to a group of private companies. But those companies, which are mostly controlled by people loyal to President Robert Mugabe, haven't exactly placed social and environmental responsibility high on their priority list.
Local residents trespassing on mining company land have been beaten, tortured, and killed. One company evicted an entire village, then denied financial assistance to the people it displaced while sponsoring Zimbabwe's biggest soccer tournament. It is also believed that the companies are selling diamonds in off-book transactions, denying money to the Zimbabwean treasury. Since 2009, an estimated $2 billion in diamonds has been smuggled out of the country.
And then there's the issue of pollution. Diamond mining is usually less environmentally harmful than other types of mining, such as a gold mining. But if companies are reckless enough, they can inflict quite a lot of harm. That appears to be the case in the Marange district, where the local rivers have become contaminated. A journalist in 2012 interviewed Richard Maramba, a local herdsman, who estimated that 100 cattle had died from drinking the water.  "We don't know what these diamond companies are discharging into the river," Maramba said then. "But whatever it is, it is not good for us and our livestock."
The good news is that residents and environmental advocates have been fighting back. In 2012, a group called the Zimbabwe Environmental Law Association commissioned a study from The University of Zimbabwe. The study confirmed that the rivers were polluted and found that residents were at risk of getting diseases such as cancer, cholera, and typhoid. The group sued the companies in court. Three of the four companies it sued reportedly have now improved their environmental practices, while one continues to pollute. But the group still worries that companies don't have an incentive to protect the environment. Zimbabwe's environmental regulatory agency is empowered to assess only small fines of $5000 per violation. It is often cheaper for the companies to pay the fines rather than stop polluting.
What can be done to encourage more social and environmentally responsible mining practices in Zimbabwe? At Brilliant Earth, we're trying to do our part. We've funded a group that monitors rights abuses in the Marange diamond fields. We've also supported training for government regulators in diamond-producing countries. But ultimately, solutions will have to come from within Zimbabwe itself. We're glad that local groups are fighting for justice and getting some results.