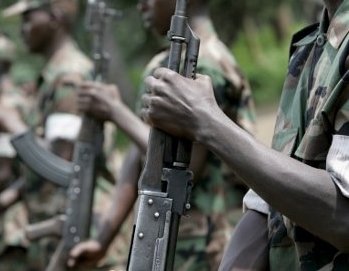 One of our core beliefs, at Brilliant Earth, is that transparency can transform the jewelry supply chain. The idea is that if all jewelers are expected to disclose the origins of the precious metals and gems in their products, consumers will be better positioned to demand responsible jewelry. Standards throughout the jewelry industry will rise. Everyone, from miners to consumers, will benefit.
This belief, however, is still mostly a vision of change. That's because Brilliant Earth remains one of the only jewelers that provides consumers a country of origin for every diamond and that is transparent about its precious metals sourcing. (We use only recycled precious metals in our jewelry and also offer a Fairmined gold collection.) Nevertheless, thanks to a law passed by Congress in 2009, we've lately started to get a glimpse of how powerful transparency can be when it becomes an industry norm.
In 2010, as part of the Dodd Frank financial reform bill, Congress required large, publicly-traded companies in the United States to report to the Securities and Exchange Commission (SEC) whether their products might contain certain "conflict minerals"—gold, as well as tin, tantalum, and tungsten—from eastern areas of the Democratic Republic of Congo. Mining for these metals is contributing to a terrible civil war in Congo that since 1998 has claimed more than 5 million lives. The war has been called the deadliest war since World War II.
One of the first questions that the law faced was whether compliance would be too burdensome. Business groups even filed a lawsuit challenging the SEC's implementing rules. (An appeals court recently upheld the rules but struck down a part of them.) Most of these feasibility concerns seem to have been overblown. June 2, 2014 was the first filing deadline for companies under the rules. About 1,300 companies, some of them jewelers, managed to file statements with the SEC as required. (At Brilliant Earth, although we're not subject to SEC reporting, our precious metals are conflict free because they're all from recycled and fair trade sources.)
The more important question, though, is whether the mere act of requiring more transparency from companies will have a positive effect in Congo. Based on a new report by the Enough Project, an anti-genocide group, it already has. The report finds that many multinational companies, preparing to comply with the U.S. law, have been avoiding conflict minerals, thereby cutting off funding for rebel warlords. The biggest advance has been in breaking the link between armed groups and the "3Ts" (tin, tantalum, and tungsten, minerals mostly used in electronics). An Enough Project survey found that armed groups are no longer present at about two-thirds of 3T mines. In 2010, almost all those mines were militarized.
The report makes other encouraging findings. The U.S. law has spurred the creation of programs to certify conflict free minerals from eastern Congo. This has reduced the money that armed groups can earn from the 3T mines they do still control. Tin, tantalum, and tungsten that isn't verified as conflict free is now selling for 30 to 60 percent less than before the law. Another welcome finding is that economic dislocations haven't been as bad as some critics worried. Although there is now less demand for tin, tantalum, and tungsten from eastern Congo, creating some job losses, former 3T miners in the region have found other occupations.
The war is not over. Despite the conflict minerals law, and despite some key military defeats, rebel groups are still operating in eastern Congo and profiting from the mineral trade—especially from gold. Overall, though, it's been striking how a single U.S. law could lead to so many changes in Congo. The conflict minerals law is a great demonstration of how supply chain transparency can help raise standards—and even help stop a war.
The Dodd Frank conflict minerals provision, to be sure, is a very limited provision. All it does is ask companies to say whether certain minerals could have funded a war in a certain area of Congo. It doesn't require them to investigate whether their supply chains are tainted by forced labor, environmental degradation, or other abuses. It leaves the jewelry supply chain only slightly more transparent than before. Someday, though, we hope it will become customary for every jeweler to identify an origin for every diamond and for every scrap of gold or platinum. Based on what has happened in Congo, that kind of transparency could make a big difference.