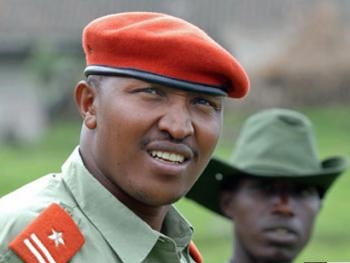 A warlord in the Democratic Republic of Congo known as "the Terminator" – and who used gold and other conflict minerals to finance a violent insurgency – has turned himself in to the International Criminal Court (ICC). On Monday, General Bosco Ntaganda unexpectedly walked into the U.S. Embassy in Kigali, the capital of Rwanda, and asked to be handed over to the court. The United States will likely do exactly that.
The civil war in Congo has been going on since the late 1990s and has caused the death of more than 5 million people, making it one of the deadliest conflicts in history. The war is now mostly confined to parts of eastern Congo, where gold and other minerals such as tin, tantalum, and tungsten have been helping rebels to buy weapons and continue the fight. Ntaganda has been deeply involved in exploiting Congo's natural resources to support his rebel troops. According to one recent estimate, he earned about $15,000 a week in conflict mineral sales.
An ethnic Tutsi born in Rwanda, Ntaganda fought in the ethnic conflict that tore Rwanda apart in the early 1990s and that led to the Rwandan Genocide. After that, he moved on to Congo and has stayed more or less on a permanent warpath.
The ICC indicted him in 2006 for war crimes and crimes against humanity. The activities he is accused of are heinous and include murder, rape, sexual slavery, and the recruitment of child soldiers. In this video, Human Rights Watch describes some of the atrocities Ntaganda is allegedly responsible for. One of them is an incident in 2002 in which he allegedly ordered the killing of 800 people in a gold mining village called Mongbwalu.
Although he had been indicted by the ICC, Ntaganda and his soldiers were integrated into the Congolese army as part of a peace agreement in 2009. But in April 2012, Ntaganda withdrew from the army to form M23, a new rebel group. M23 has now splintered into two factions, the other one led by Ntaganda's rival, Sultana Makenga. It appears that Makenga got the upper hand, recently pursuing Ntaganda and his men into Rwanda. Observers do not know why Ntaganda decided to turn himself in; his surrender was a complete surprise. But one theory is that he surrendered in the belief that his best chance of survival was to go prison.
Peace talks to end the war are now underway in Kampala, Uganda. Ntaganda's arrest, we hope, will increase the chances that the civil war in Congo will finally reach a negotiated end.
How to Stop a Civil War 
Ntaganda's arrest brings us back to an important question. In trying to stop civil wars and violence fueled by natural resources, what is the best approach?
At Brilliant Earth, we are dedicated to breaking the link between jewelry and violence. We therefore have been most vocal about a different strategy for ending the war: stopping the flow of gold and other conflict minerals from war-torn parts of Congo. But how does that strategy relate to what the ICC is doing: namely, arresting a violent leader like Ntaganda and bringing him to justice?
Actually, we think that both kinds of strategies – legal ones and economic ones – are worth pursuing. So are political strategies like negotiations.
That is why we have been extremely supportive of efforts to bring to justice other individuals who have used violence to exploit Africa's natural resources. Last year, Charles Taylor, the blood diamond dictator from Liberia, was convicted for his crimes. In Angola, a journalist named Rafael Marques is trying to hold Angolan army generals accountable for crimes in Angola's diamond fields. We also hope that someday, in Zimbabwe, Robert Mugabe and his generals will be held legally responsible for massacring more than 200 diamond miners and enslaving others in the Marange diamond fields.
It is also possible that legal, economic, and political strategies can be complementary, reinforcing one another. Efforts to stop the flow of conflict minerals from Congo, such as the transparency measures in the Dodd Frank financial reform bill of 2010, are only beginning to be implemented. The arrest of Ntaganda, in the best-case scenario, could help bring about a political resolution to the conflict – which in turn, could be consolidated by stopping remaining rebels from earning profits on conflict minerals.
How events will play out in Congo is difficult to guess. Ntaganda's decision to turn himself in was itself a surprise. But as events unfold, we will continue to advocate for steps that we think could help reduce the violence – and to hope that the bloodshed comes to an end.