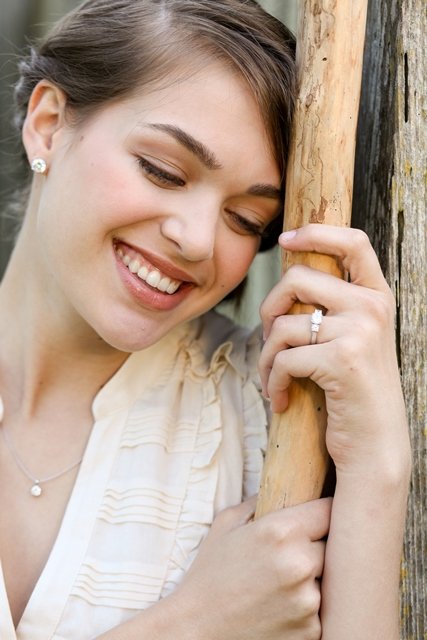 A classic is the best of its kind, something that society continues to praise as years go by. For example, "Casablanca" and "The Godfather" are classic movies, while Great Expectations and The Adventures of Sherlock Holmes are classic books. Classics can also be items, such as a 1969 Chevrolet Camaro or a pair of Air Jordans.

What do all of these examples have in common? They're widely recognizable, they're expertly crafted, and they increase in value and importance over time. Great Expectations—originally published in 1861—is still being read in classrooms across the globe, and car aficionados are still on the lookout for classic American muscle cars. Similarly, classic engagement rings have attained their status through their beauty and enduring popularity.

Solitaires

Diamond solitaire engagement rings are the ultimate examples of classic engagement rings: simple, clean, and absolutely stunning. They often put the spotlight on the center diamond by featuring a thin, elegant band. Diamond solitaires are both modest and impressive, and they are great for women who want a single diamond of extraordinary quality to take center stage.

When deciding which center diamond is best for your solitaire, keep in mind that round diamonds are the most popular choice for solitaire engagement rings. The round brilliant cut displays the most fire and brilliance of any diamond shape. Round diamonds date back to the 1800s and have been the standard for stunning classic engagement rings for years.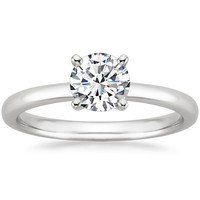 If you want the quintessential classic look, round diamonds are the way to go. However, if you want a slightly more unique twist on the classic solitaire, consider fancy shapes such as pear, princess, and asscher shaped diamonds.

If you are in love with solitaire engagement rings but you're on a budget, take a look at our blog on maximizing your budget for a one carat diamond ring!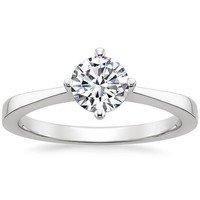 Tapered Bands

There's something about a tapered band that makes a solitaire look even more stunning. While a wider band creates a beautiful contrast of sparkle and shine, a band that tapers brings more focus to the center diamond. The taper brings an extra dash of elegance and delicacy. You will often see tapered rings that feature trellises, which are crisscrossing prongs that hold your diamond in place between them for maximum security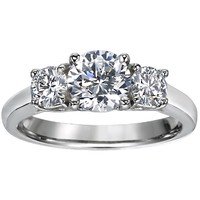 Three Stone Rings

If you love the clean lines of a solitaire but you're looking for a bit more drama, consider three stone engagement rings. This classic style has special meaning, symbolizing your past, present, and future life together. Three stone rings are also a great way to integrate classic colored gemstones such as emeralds and sapphires!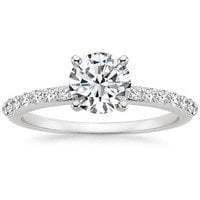 Diamond Details

If one, two, or three diamonds isn't enough sparkle, there are even more classic options! Many classic engagement rings feature stunning pavé, prong, or channel set diamonds accents lining the band.
Brilliant Earth Style Tip: If you are looking for a truly classic ring, we suggest the streamlined look of channel set diamond accents .
If you love intricate details but you don't want to go overboard, milgrain is the way to go. Milgrain is a decorative accent where tiny beads of precious metal are applied along the edges of a ring. Though "classic engagement rings" is not synonymous with "antique engagement rings," some of the qualities definitely overlap. Milgrain used to be a common detailing technique, and you can spot it on many of our antique engagement rings. This style has endured, and it can often be seen bordering pavé diamond rings.

Final Thoughts

Craftsmanship is vital when it comes to classic engagement rings. How can we expect a style to endure for ten, twenty, or even fifty years if it isn't made well? Just as classic literature is written by brilliant authors and classic cars are built by skilled designers, classic engagement rings are designed and crafted by experts who understand what makes a ring endure the ages.
Do you agree? What do you think makes a classic ring? Let us know on Facebook, Twitter, or in the comments below!