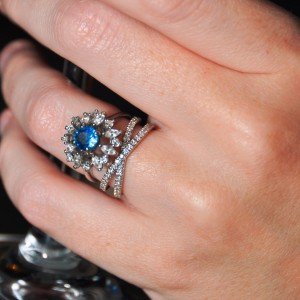 Looking for an alternative engagement ring—one that is a little different than the traditional diamond solitaire? You're in luck, because today's couples have nearly endless unique engagement ring options. Colored gemstones, vintage rings, and one-of-a-kind custom designs are just a few of the possibilities available to couples seeking a ring that stands apart from the pack. Read on to learn how you can bend tradition—slightly or substantially—when making this meaningful choice. For more ideas, read our Unique Engagement Ring Guide.
Think beyond the diamond
About 90% of engagement rings feature center diamonds, which means that simply by choosing a gemstone other than a diamond you will achieve a distinctive look. The second most popular choice is a sapphire, favored for its durability and suitability for everyday wear. While deep blue is the most frequently seen sapphire color, sapphires are available in just about every hue on the color spectrum. Yellow, pink, green, purple, peach, and orange are all options, as you can see in our Unique Colored Gemstone Collection. Another idea: Personalize your engagement ring by featuring the gemstone that represents the month of your (or your bride-to-be's) birth. Keep in mind that some may be more susceptible to surface scratches, and may not be as durable for daily wear. To discover what different gemstones have symbolized in various cultures, consult our post on Gemstone Meanings.
Some of the most stylish celebrities wear engagement rings featuring gemstones other than diamonds. An oval sapphire sparkles from the center of Penelope Cruz's antique ring, both Jessica and Ashlee Simpson wear gorgeous ruby rings, and Halle Berry and Zoe Saldana's engagement rings showcase lovely green emeralds.
Consider an alternative shape
Engagement rings featuring round or princess cut (square) gemstones are by far the most common (about 40% of all diamond engagement rings feature round center diamonds), so choosing a different shape of gemstone will give your engagement ring a stand-out look. Stunning non-traditional choices like oval, marquise, and pear shapes can fulfill your desire for something different, while still providing a timelessly elegant effect. Larger diamonds in these fancy shapes look spectacular, especially when offset by a delicate band.
Choose a contemporary setting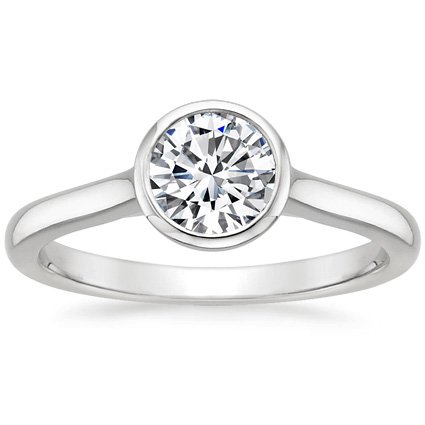 A chic way to break from tradition is to select an engagement ring setting with a more modern feel.  Consider a design that features a bezel-set gem (in which the center gem is encircled by a thin band of metal), or a finish that is matte, brushed, or hammered rather than high polish. Often, it is occupation or lifestyle that influences the engagement ring setting for brides. For example, the low profile of a bezel setting may be the best choice for a woman who actively uses her hands all day.
Other contemporary engagement ring settings include gemstones that are set horizontally rather than vertically (this is referred to as an "east-west setting") and those that have a more structured, wider band. View our collection of Modern Engagement Rings.
Forgo a "featured" center gemstone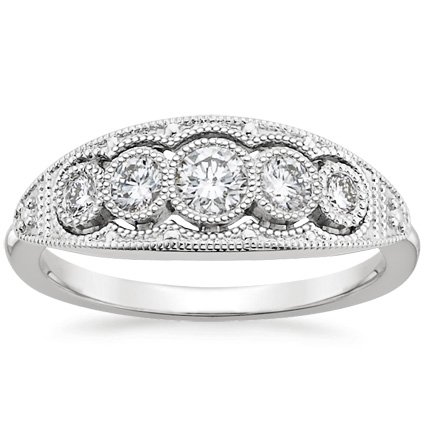 There's certainly no rule that an engagement rings has to feature a large gem centered on a thin band. If you choose an engagement ring without a prominent center gem you expand your options to include some absolutely exquisite rings, and you'll probably spend less as well. Eternity bands (which feature gemstones all the way around) make beautiful engagement rings, as do chic rings that feature multiple small diamonds arranged in distinctive designs (the Leaves and Buds Diamond Ring and the Bisou Diamond Ring are two stunning examples). These alternative engagement rings can be layered or paired with unique wedding bands for a truly incredible look.
Forge a new "something old" tradition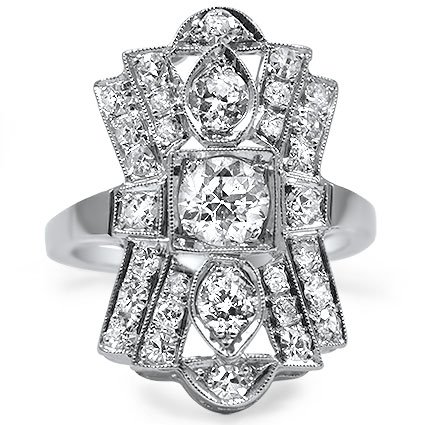 Perhaps there is a special ring in your family that could make a beautiful engagement ring. You can keep the family heirloom exactly as it is, preserving its unique look, or you can reset the center gem to create a ring that suits your style, with details that speak to you. This is both an ultimate expression of tradition and also a deeply romantic way to fulfill your desire for an alternative engagement ring.
But if your family doesn't have any lovely rings to offer, you can purchase a vintage engagement ring and create a new family heirloom. Celebrities including Scarlett Johansson and Mary Kate Olsen have helped fuel the trend for vintage engagement rings, and a growing number of couples are looking to the past to find a satisfying symbol of their shared future. If you love art, literature, or music from a certain historical era then you might seek out a ring from that decade. Or simply choose a vintage ring with a look you love.  A vintage ring is certain to have unique features that you wouldn't see in a new ring, and may even be one-of-a-kind! Browse our Vintage and Antique Collection, a curated, continually updated selection of engagement rings from past eras.
Design a custom engagement ring
If you can't find a ring unique enough for you, or if you want a design that is guaranteed to be one-of-a-kind, then consider having your dream ring custom designed.  Working with Brilliant Earth's design team to create a custom engagement ring is a thrilling and rewarding process, and the resulting ring will fit your personal definition of perfection.  Let other styles inspire you, but you decide how your commitment should be represented.
Final Thoughts
Do you have (or crave) an alternative engagement ring?  Shop our most alternative engagement ring designs, and let us know on Facebook or Twitter, or in the comments section!