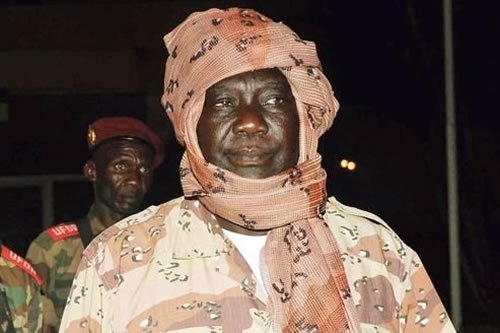 A coup has taken place in one of Africa's diamond-rich countries, the Central African Republic. A week ago, rebel forces took over the country's capital, Bangui, and overthrew the ruling dictator, Francois Bozizé, who has fled to Cameroon. The rebel leader, Michel Djotodia, has installed himself as president.
We've been following events in the Central African Republic with concern for some time now. In 2011, clashes between rebel groups over diamond mining territory led to the death of 50 people. By late last year, rebel forces had unified and were poised to take over the capital. A last minute peace deal was brokered in January, but rebels accused Bozizé of failing to live up to his side of the bargain and renewed their offensive.
The Central African Republic has been wracked by repeated coups since it gained independence from France in 1960. Bozizé himself took power in a coup in 2003. It's hard to know whether this latest coup represents the start of a transition to democracy or more of the same. Djotodia has retained the previous government's prime minister and has pledged to hold new elections. However, his spokesman says that elections will not held be for three more years.
Is there any reason to believe that things could change?
The Central African Republic is rich with diamonds and other natural resources like gold, oil, and uranium. The pessimistic view is that disputes over these natural resources, combined with the ethnic tensions and grinding poverty, will condemn the Central African Republic to more years of political instability – that the country's destiny can't be changed.
But that point of view, we think, also ignores plenty of evidence that natural resources like diamonds and gold are not necessarily incompatible with peace and democracy in Africa. They can even help build it.
For instance, Botswana and Namibia are two African countries that are rich in diamonds (we source many of our diamonds from them), that have used diamond wealth to raise standards of living, and that are also democracies. A recent report ranked Botswana as the 30th most democratic country in the world, only two spots behind France and two ahead of Italy. Namibia came in 72nd. The Central African Republic, sadly, was ranked 157th out of 167.
It could be argued that Botswana and Namibia simply have stronger democratic traditions and that their success says little about what is possible in the Central African Republic. So we should also probably consider another diamond-rich country, one that has historically been troubled but where democracy is now becoming stronger: Sierra Leone.
Sierra Leone is by no means a country where diamond mining is conducted using the most ethical practices. Child labor is common, and irresponsible diamond mining has left many areas littered with abandoned mining pits. Furthermore, just as in the Central African Republic, artisanal diamond miners do not earn enough money to escape extreme poverty.
But Sierra Leone is also a diamond-rich African country that has emerged from a period of violence and political instability. In the 1990s, a diamond-funded civil war in Sierra Leone took 50,000 lives and left many others injured, maimed, and displaced. The scars of that civil war are still present. But democratic progress has also been real. In November, Sierra Leone elected a new president in the third peaceful democratic election since the war ended in 2002. Last Thursday, President Obama hosted Sierra Leone's new president, Ernest Bai Koroma, at the White House and praised Sierra Leone for its democratic gains.
Because democracy is beginning to take root in Sierra Leone, there is now a chance to help consolidate it by making diamond mining more fair and responsible. Our non-profit fund is therefore funding a pilot project that will help Sierra Leone's diamond miners join together to defend their rights and earn a greater share of mining profits.
So what will happen in Central African Republic? We cannot predict. But we also cannot succumb to the pessimism of believing that diamonds and other natural resources will inevitably and forever drag the country down. A new path is possible for the Central African Republic. Natural resources like diamonds, if managed properly, can even help.