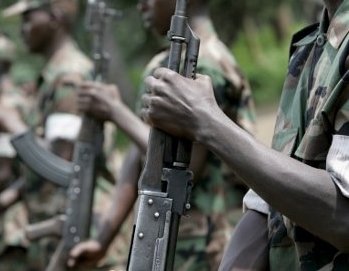 The news coming out of the Democratic Republic of Congo, where a brutal civil war has been festering since the 1990s, is almost always quite bleak. But on Friday came some positive news. The United Nations announced the rescue of 82 children, some as young as eight, who had been kidnapped by a rebel group and forced to fight as child soldiers.
Human rights abuses such as the recruitment of child soldiers are all too common in Congo. The country is experiencing a civil war that ranks as one of the worst humanitarian catastrophes in history. To date, more than 5.4 million people have died as a result of the war.  More than a million people have been displaced and at least 200,000 women have been raped. (For just a glimpse of the suffering being endured by the Congolese people on a daily basis, take a look at this powerful new video recently produced for The New York Times.)
In this instance, the children had been captured by a militia called the Mai Mai Bakata Katanga, which is active in the Katanga province in southeastern Congo. They ranged in age from eight to 17 and included 13 girls. Local child protection agencies found and rescued the children between August 11 and August 15.  As of last Friday, 40 of the children had been reunited with their families and the rest were receiving care and treatment.
Child protection agencies, with United Nations involvement, played the key role in rescuing these children. But what can be done to prevent tragedies like this? Unfortunately, as long as Congo is at war, human rights violations like this will probably occur. And that's why, when talking about Congo's civil war, the conversation inevitably comes back to mineral resources.
The Mineral Resources Question
The fighting in Katanga is partly an outgrowth of Congo's troubled relationship with its abundant precious metals. Although Katanga is rich in copper and cobalt, many in Katanga believe that the central government pockets the province's mineral wealth and neglects local communities. As a recent Amnesty International report shows, mining companies are moving into Katanga and evicting people from their homes. Meanwhile, the people of Katanga suffer from high infant mortality rates, malnutrition, and diseases like cholera and malaria. Feeding off the grievances of local communities, the Mai Mai rebels are building in strength.
Elsewhere in Congo, the link between the civil war and the country's mineral resources is even stronger. The epicenter of the war is in the North and South Kivu provinces, in Congo's east but to the north of Katanga. (This new infographic shows the complicated web of armed groups operating in the country.) In the Kivu provinces, the various rebel groups get much of their financing directly from the sale of "conflict minerals" – namely gold, tin, tantalum, and tungsten.
In Katanga, although more investment in local communities and a fairer distribution of mining proceeds is needed, it's not clear that preventing the export of Katanga's copper and cobalt would help. In the Kivu provinces, however, many NGOs believe that peace would be more likely if rebels no longer had the ability to profit from conflict minerals.
Conflict Minerals Rule Upheld
This brings us to another piece of good news: a federal court has upheld a law which may help stop the export of conflict minerals from Congo.
As part of the Dodd Frank financial reform bill in 2010, Congress required large U.S. companies to investigate their supply chains and disclose to the Securities and Exchange Commission whether their products contain conflict minerals. Industry groups sued to invalidate the implementing regulations. But in a victory for human rights, a federal judge recently decided that the agency's regulations are fair.
The ruling means that as of next May, companies will start reporting to the SEC as scheduled – and many companies will immediately make efforts to avoid buying conflict minerals. We hope that as this new law takes effect, all areas of Congo can find a path to peace.