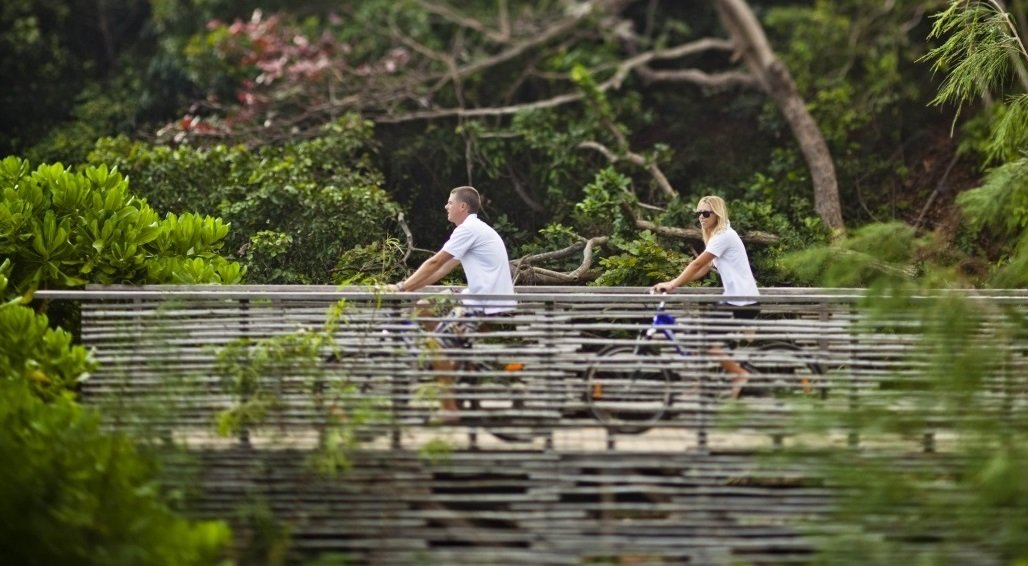 We get it, you want a honeymoon filled with luxury, adventure, exotic discovery, or ideally even all three—without feeling like your romantic vacation comes at the expense of the environment. At Brilliant Earth we believe that there shouldn't be a conflict between luxury and conscience, with your jewelry or your honeymoon plans.  So we put together this round up of some of the most eco-friendly and romantic honeymoon destinations on the planet.

Six Senses Con Dao, Vietnam: The Six Senses worldwide hotel and resort chain chooses sites in breathtaking remote locations and aims to exist in harmony with the local environment and culture. Their sustainable practices include energy and water saving programs, recycling and composting, sustainable timber sourcing, and using fresh produce from local organic gardens. Con Dao is a five-star resort in an unspoiled Vietnamese archipelago that has been protected for decades as a national marine park, and the resort was designed to blend seamlessly with the traditional fishing villages of the area. A portion of the site's proceeds are dedicated to funding a clean water system for the island's schools. Honeymooners can scuba, snorkel, sail, hike or relax in the private infinity pool that's adjacent to each villa-style room.

The Lodge at Chaa Creek, Belize: Surrounded by a 365 acre private nature reserve, this resort (recipient of Caribbean Travel and Life's Best Eco Resort in the Caribbean award for the past four years) features a saltwater swimming pool and an indulgence-equipped spa, and offers guests activity options including mountain biking, touring Mayan temples, and bird and butterfly watching, just for starters.

Chumbe Island Coral Park, Zanzibar: The intimate resort on the private Chumbe Island nature reserve (off of the coast of Tanzania) consists of seven thatched-roof bungalows set next to a coral reef teeming with Indian Ocean sea life. The resort aims to have zero impact on its setting with features including solar-powered lighting and composting toilets. Honeymooners can snorkel, scuba dive, take guided or solo hikes and generally relish being romantically secluded (without TV or other electronic distractions) in one of the most gorgeous corners of the world.

Lapa Rios Ecolodge and Wildlife Reserve, Costa Rica:  If you think the sounds of macaws, monkeys, toucans and tree frogs just outside your room would sound as romantic as any slow jam, then this rain forest resort might be your dream destination. Surrounded by 1000 acres of pristine creature-filled rainforest alongside the Pacific, the Lapa Rios Ecolodge combines adventure (waterfall hikes and horseback riding) with indulgence (massages and yoga). Lapa Rios has many romantic offerings for honeymooners, including lunch for two next to a rainforest waterfall (and the chance to swim in it after dessert) and the option of planting a tree to commemorate your stay and symbolize your new life together.

Hawaii Island Retreat at Ahu Pohaku Hoomaluhia, Hawaii: If you'd prefer an eco-resort that doesn't require you to renew your passport, consider this Big Island sanctuary, which offers both natural light-flooded hotel rooms with private balconies, and more rustic (and affordable) yurts. The resort uses the sun and wind to generate its own power and grows much of its food on site. Honeymooners can partake in any of Hawaii's famous pleasures, from beachcombing to volcano touring to snorkeling.
Final Thoughts

Do these eco resorts sound like dreamy honeymoon locations to you?  Have you ever been to an eco-friendly hotel that you'd recommend?  Let us know on Facebook or Twitter or in the comments section!