A three stone engagement ring is a classic style that continues to be extremely popular. A timeless look rich with symbolism, a three stone ring is an ideal choice for engagement, anniversary, or other special occasion.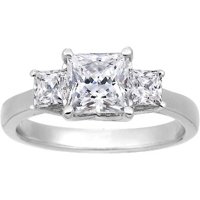 As the name implies, three stone rings feature a center gemstone highlighted on either side by accent gemstones, generally smaller in size than the center gem. Three stone engagement rings commonly feature the same gemstone, often diamonds, or may highlight a diamond at the center with a pop of color (such as a deep blue sapphire or stunning emerald) on either side.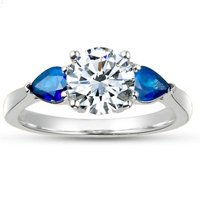 Many brides and grooms choose three stone rings because they symbolically represent their past, present, and future as a couple. Couples appreciate their romantic meaning, as well as their beauty.
Three Stone Engagement Ring Styles
Brilliant Earth is proud to offer a variety of three stone engagement ring styles, ranging from classic to contemporary, with many options in between. Some couples even choose to design a custom three stone ring, incorporating their favorite gemstones and details into a one-of-a-kind piece.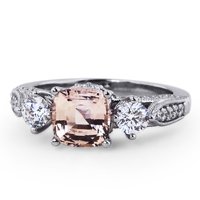 Classic Three Stone Engagement Rings
The most classic and timeless three stone engagement rings feature three round brilliant diamonds. The largest diamond is featured at the center, perfectly framed by a scintillating gem on either side, as in our Petite Three Stone Trellis Ring.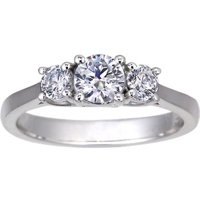 Another elegant three stone ring with a distinctive look is our Tapered Baguette Diamond Ring, which features a round brilliant center diamond flanked on either side by a sparkling diamond baguette. This style combines the sparkle of a round brilliant diamond with the shimmer of a step-cut diamond for a supremely elegant effect.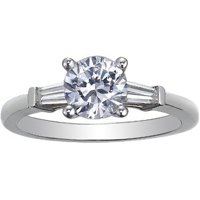 Intricate Three Stone Engagement Rings
If you are drawn to more glamorous or vintage inspired looks, we offer three stone rings that include delicate scrollwork, pave diamond accents on the band, and even a lariat design element. Stunning examples are our Antique Scroll Three Stone Ring, and our Lumiere Three Stone Ring.
Colorful Three Stone Engagement Rings
Three stone engagement rings are gorgeous with a pop of color, no matter where you decide to incorporate the colored gemstone. A ring with a center diamond accented by sapphires is magnificent and unexpected, and because of the durability of all of the gemstones, perfect for everyday wear.  Likewise, an engagement ring that features a brilliant sapphire center stone with two diamonds on either side is a beautiful way to incorporate a beloved colored gemstone with the sparkle and fire of diamonds.
Custom Three Stone Engagement Rings
Designing your own engagement, wedding, or special occasion ring is exhilarating and gratifying. Get inspired, get creative, and get excited about designing the three stone ring of your dreams. Using our custom design process as well as inspiration from our custom design gallery, you can create a three stone engagement ring that exceeds your expectations.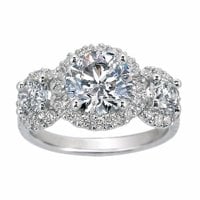 Our custom jewelry designers love to work with customers on three stone rings and can guide you through gemstone and precious metal selection and through every last detail.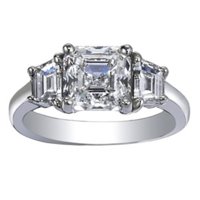 With a custom designed three stone engagement ring, you get to make all of the decisions yourself. All diamonds? All sapphires? Include unexpected gems, like emeralds? Opt for gemstones that match in size, or for one larger center gem offset by smaller accents? Clean lines of precious metal or beautifully adorned halos? The options, and the opportunities, are endless when you design your own ring. Here are a number of our favorite three stone rings from our custom gallery.
Final Considerations for Three Stone Rings
Much like choosing a classic solitaire, it's hard to go wrong when you select a three stone ring for your engagement or other special occasion. These sparkling beauties are truly timeless in their appeal. Select a three-stone engagement ring for the perfect way to represent your union.  Three gems: one to honor your history, one that allows you to live in the moment, and one to remind you to plan (and leave room for) your future.