Many 2013 weddings featured photo booths with wacky props, drinks in Mason jars on burlap table cloths, and custom cake toppers. Those trends are far from over (after all, doesn't any drink taste better in a Mason jar?), but we're curious to get a peek at what the "next big things" in weddings will be. We asked wedding professionals from around the country about what they predict will be the big wedding trends of 2014, and these are some that we think Brilliant Earth brides will love:

Elegant Affairs:
 "2014 brides have described their wedding visions to me as 'simple, classic and elegant'," says Chicago wedding planner Camille McLamb of
Camille Victoria Weddings
. Planner Kia Martinson of
Engaged Connecticut
agrees that the trend will be toward a less rustic aesthetic. "Neutral color combos, like whites, creams and light blush tones are hot, as are metallic colors, especially copper and gold." Elegant touches are even being incorporated into rural settlings like vineyards and barns, says planner Melanie King, owner of
Dreamers and Heroes
in California wine country. "Even in a rustic setting couples want a sense of refinement. Barns can contain chandeliers, we're doing flowers in tighter shapes and seeing more satin on the tables."  Adds Martinson, "Our rental department is getting more requests for church pews for outdoor weddings."
Festive Nostalgia:
Not all 2014 couples are focused on refinement, however. "We're seeing wedding décor becoming more celebratory, with lots of fun festive touches, like glitter, sequins, feathers, sparklers, paper honeycomb décor, fun garlands and paper lanterns," says Rachel Miller, editorial director of wedding planning website
Loverly
.  She adds, "Many couples are adding fun and nostalgic classic party features to the mix, like piñatas, homemade Bingo games and lawn games. There's a new playfulness to weddings."
Naked Cakes:
Don't let the name confuse you, these cakes aren't for bachelorette parties—they're traditional wedding cakes that have been stripped of their frosting. They have multiple layers and lots of filling in between, and could be a great choice for couples who aren't crazy about frosting or who just want a unique, rustic look. Janell Brown, dessert chef and owner of Utah's One Sweet Slice, saw an uptick in naked wedding cakes in 2013 and predicts the trend will continue. Do naked cakes look under-dressed to you? Brown also names "ruffled" frosting and buttercream as two fresh and beautiful options in the coming year.
Old-Fashioned Photography:
 The past few years have seen the rise of the wedding day Instagram hashtag, which ensures you get a huge number of digital images of the big day. Maybe for this reason, couples are looking for more tradition from their official wedding photographers. "We are seeing couples falling back in love with the look of traditional film photography," says Brian Elledge of 
Divine Light Photography
 in New York and Florida. "The look is nostalgic, because it's how our childhoods were captured, and it still can't be duplicated by photo editing software." 
Regardless of whether they go film or digital, couples will place more emphasis on classic poses and settings in 2014, predicts 
NYC photographer G.E. Masana
. "There's a swing of the pendulum back to timeless and classic, yet modern, wedding images," says Masana. "I've been hearing from lots of couples who've been eyeing their friends' wedding albums piled high with recent trendy poses, like 'jump-in-air' and 'whisked away by balloon,' and deciding that's not for them. So I believe we'll see wedding couples steer clear of contriving things to do just for the camera's sake and honoring their real lives by being their authentic selves."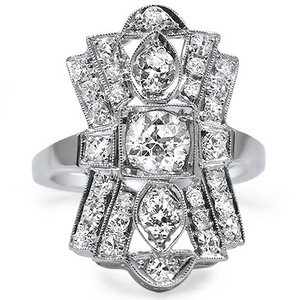 Retro Glam Brides:
The coming year will see a continuation of the trend of glamorous vintage style, including Gatsby-esque 1920s-style dresses, 1930s-influenced old Hollywood looks and clean-lined 1950s-style gowns. In terms of accessories, "Art Deco pieces are popping up everywhere—bracelets, earrings and vintage engagement rings," says Andrea Calvert of
Happily Ever Borrowed
, an e-boutique which rents accessories to brides for the big day. She predicts that brides will accessorize their hair with floral wreaths and embellished headbands. Looking for the perfect piece of vintage jewelry to accessorize your retro glam bridal style? Learn more about
Art Deco style
and browse our selection of
one-of-a-kind antique jewelry
.
Highly-Styled Guys:
  "Grooms are really starting to show off their style, often by returning to the traditional tuxedo but having fun with the bow ties and vests" in different colors and patterns, says Martinson. Bright, patterned socks are popping up on both grooms and their wedding parties. Sock brand
Cole and Parker
reports that one of their biggest customer segments is brides shopping for the male members of the wedding party and choosing flashy socks, often in colors that coordinate with the rest of the wedding.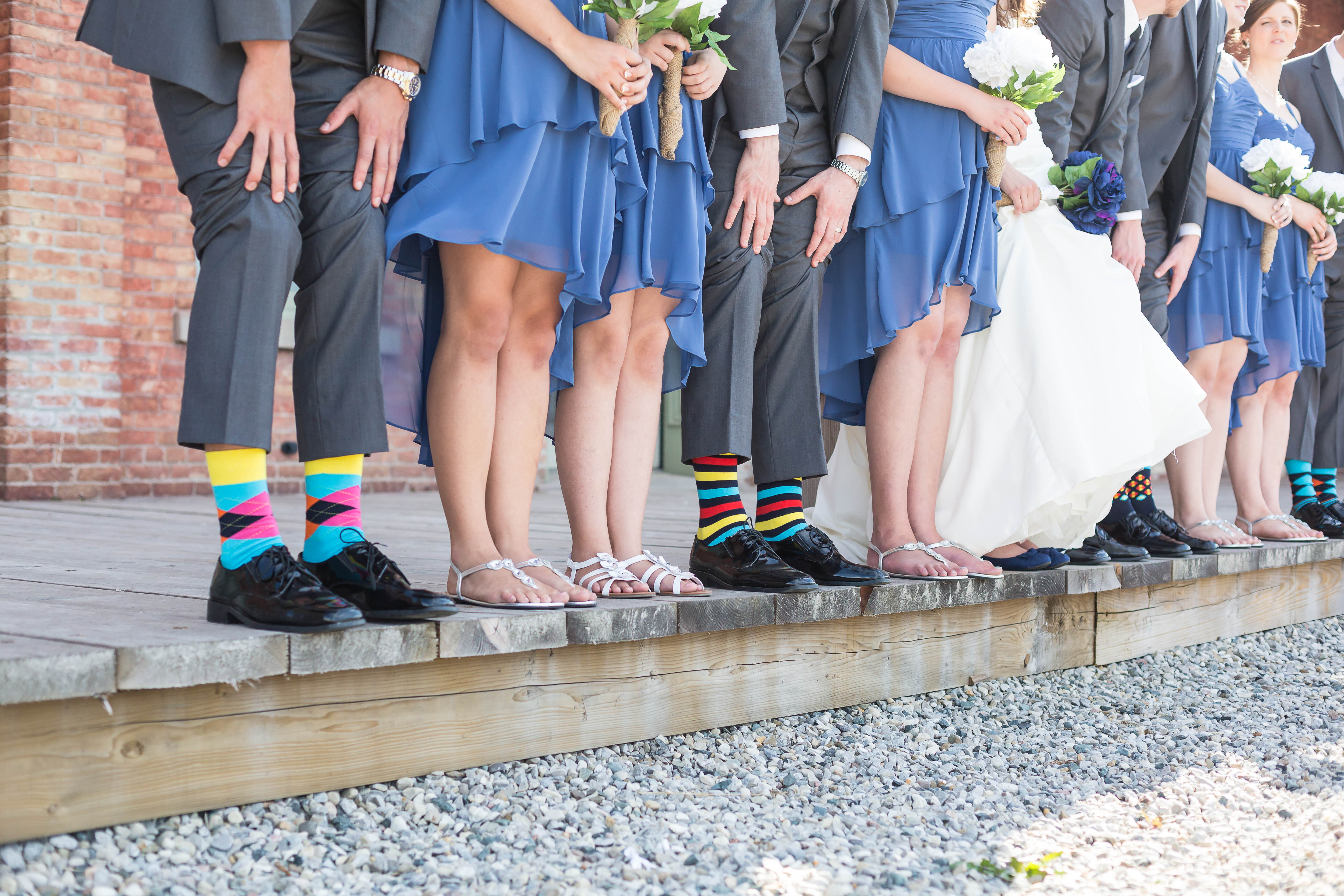 Live Music:
 Perhaps because on-demand music services like Spotify have made great digital music a constant of modern life, couples are deciding they want the less predictable feel of live music at their receptions. "For years, the DJ was a staple at weddings, but now I'm seeing more bands," says King. "Plus, we are finding that couples have moved beyond the standard wedding cover band –we've had bluegrass bands, rockabilly bands, R&B, even a New Orleans brass band. They want the texture and energy that a band can bring to a wedding."
Personal History:
One current trend that will keep going strong in 2014:  Personalizing weddings by weaving in childhood memories or bits of family history. "I'm seeing a lot of brides showcase the wedding photos of parents and grandparents at the reception," says McLamb. Another way to personalize things, says Miller: Including old family recipes on the menu.
Final Thoughts
It's always fun to predict trends, but keep in mind that it's your day and you should do whatever you want with it!  "Trends come and go quickly, so trying to plan a wedding that is totally new and different and 'in' is just going to be exhausting," points out Miller. What do you think of these 2014 trend predictions?  Do you love some of these ideas, loathe others?  Let us know on Facebook, Twitter, or in the comments!