Canadian Diamonds
The uncompromising beauty of Canadian diamonds derives from their pure history. Brilliant Earth's Canadian diamonds are mined, cut, and polished in alignment with environmentally responsible and fair labor practices. Diamonds from Canada are untouched by violence and human rights abuses.
Canadian Diamonds: Pure Origins
Read Brilliant Earth's environmental and social assessment of Canadian diamond mining.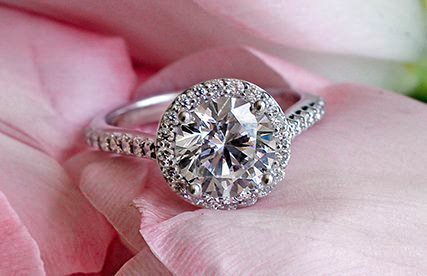 Canadian diamonds lay hidden beneath the pristine tundra of the Canadian Arctic, and remained undiscovered well into the last century. When Canadian diamonds were eventually discovered, special priority was placed on negotiating mutually beneficial agreements with local indigenous populations and respecting the Arctic environment.
Canadian Diamond Mining: High Standards
Canadian diamonds are mined in alignment with Canada's strict environmental laws - which are among the most rigorous in the world. These high standards protect caribou and other wildlife, water, and Canadian
diamonds are
mined in alignment
with Canada's strict
environmental
laws.fish habitats. Brilliant Earth sources Canadian diamonds from mines that have integrated sustainable development into their practices. Currently, Brilliant Earth's Canadian diamonds originate from two Canadian diamond mines, the Diavik and the Ekati Diamond Mines. Both of these mines have demonstrated a strong commitment to the local Aboriginal people. The Diavik Canadian Diamond Mine promotes sustainability through its environmental monitoring agreements and labor training programs with the Canadian Government and local indigenous tribal groups. A management plan governs the environmental stewardship of land and water at the Ekati Canadian Diamond Mine, which includes comprehensive tracking and response programs for wildlife and aquatics. Both mines are independently monitored and certified as ISO 14001 compliant for their environmental quality and control processes.
Brilliant Earth's Canadian diamonds originate from ethical and environmentally responsible sources to give you peace of mind that your Canadian diamond is beyond conflict free. Canadian diamonds are tracked from the mine to the customer, meaning that no unnatural treatments or alterations have been made. Our Canadian diamonds are tracked with procedures consistent with those established by leading Canadian diamond certification authorities such as the Canadian Diamond Code of Conduct, CanadaMark, or the Government of the Northwest Territories.
Choosing a Canadian Diamond
What should you look for in Canadian diamonds? At Brilliant Earth, you can choose a Canadian diamond that truly represents your values, without compromising quality or selection. Whether you are looking to optimize your diamond for size, value, or quality, you can find your perfect Canadian diamond at Brilliant Earth.