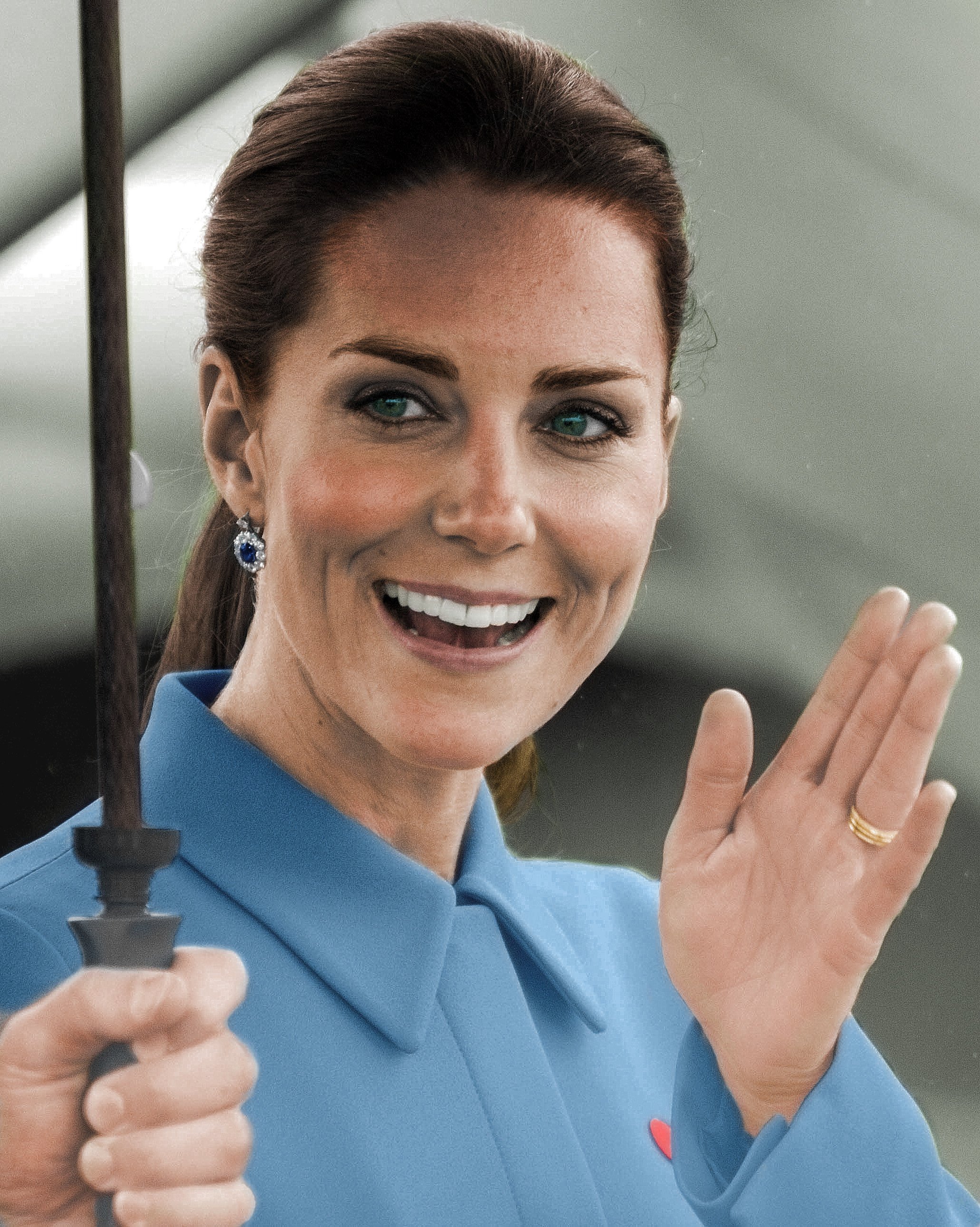 And baby makes three! We would like to extend our heartfelt congratulations to Kate Middleton and Prince William for the safe arrival of their baby boy, George Alexander Louis. The pair walked out of the hospital together the day after the birth, introducing the future King of England to the world. Kate was glowing—yes, even more so than usual!
According to ABC news, Kate said the experience has been "very emotional," and that any parent would "know what this feeling feels like."
William added, "He's got her looks, thankfully."
A Royal Engagement Legacy
Jewelry has played a large role in the public and personal lives of this royal couple, beginning with Kate's stunning sapphire halo engagement ring. This beautiful ring formerly belonged to the beloved Princess Diana, who selected it herself in 1981. The ring features a large oval blue sapphire surrounded by 14 diamonds in 18K white gold.
About the ring, William said, "It's very special to me. As Kate's very special to me now, it was right to put the two together. It was my way of makings sure my mother didn't miss out on today and the excitement, and the fact that we're going to spend the rest of our lives together."
Jewelry takes on the life and memory of whoever owns it, turning it into a very emotionally charged item. William kept a firm grasp on the ring as he and Kate toured around Africa, as he was terrified of losing it. At week three he proposed to her out of the blue. The reemergence of this ring was exciting and hopeful, with only a touch of wistfulness. When Middleton walked out to announce their engagement wearing a stunning blue wrap dress that complimented her engagement ring, it sparked a fashion phenomenon. Kate had always been admired for her fashion choices, but that combination rocketed her to fashion icon status.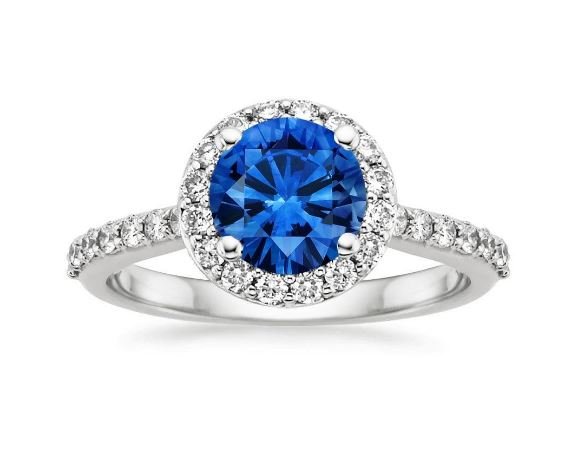 Sapphire halo rings (and sapphire and diamond rings in general) became an overnight sensation as people across the world realized that this royal style was completely accessible to them. Sapphire halo rings are available in a variety of gorgeous styles, from vintage inspired to classic to exceptionally glamorous. If you desire a perfect replica of the royal engagement ring, you also have the option to custom design your engagement ring. Pick the perfect sapphire and allow our custom design team to perfectly re-create Kate and Diana's sunburst halo style.
You can also keep an eye out for antique sapphire halo engagement rings! Like Kate's ring, antique engagement rings tell a story, and they are just waiting to witness yours.  Perhaps you will have your own ring to pass along someday!
The Royal Tiara on Loan
In 1936, The Duke of York (before he was King George VI), custom ordered a tiara for his wife, Elizabeth. For those of you unfamiliar with the royal lineage, this couple had a daughter:  Elizabeth, the current Queen of England. The Queen received the halo tiara as a gift when she was still a princess and the diamond encrusted tiara joined a stunning collection of royal jewels. The queen allowed Kate to wear this stunning headpiece for her wedding, finishing off her perfect ensemble. (Which, if you recall,sparked another bridal fashion obsession.) The Queen gave Diana a royal tiara as a wedding gift, so someday this stunning tiara may join Kate's own collection of fairytale jewelry.
Diana's Sapphire Earrings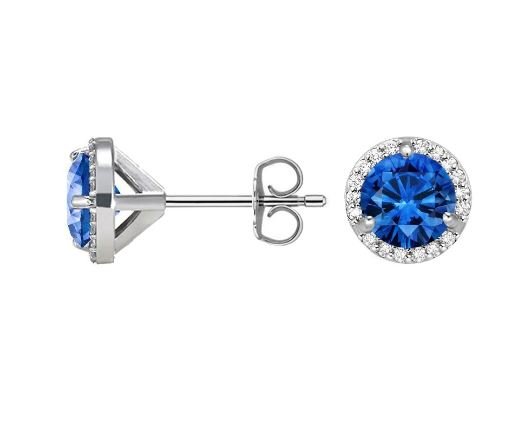 Shortly after the pair married, William gave Kate his mother's sapphire and diamond earrings, a near perfect match to her sapphire engagement ring. They were modified from studs into drop earrings, showing the true versatility of fine jewelry. (The queen has a large aquamarine necklace that can become a detachable brooch.) Our stunning sapphire halo stud earrings are designed to give a touch of this royal elegance. These sophisticated earrings feature beautiful sapphires surrounded by a circle of pavé-set diamonds.
The complementary sapphire halo pendant creates a regal set.
Jewelry for the Birth of the Royal Baby
Will Kate receive a piece of jewelry to commemorate the birth of her first child? The birthstone for the month of July is a ruby, so we will be keeping an eye out for a ruby mother's ring, or perhaps even a pair of earrings or a necklace. Prince George of Cambridge shares this birthstone with his grandmother, making the ruby even more meaningful to this small new family.
Final Thoughts
What is your favorite piece of royal jewelry? Let us know on Facebook, Twitter, or in the comments!
PHOTOGRAPH BY RICKY WILSON, DISTRIBUTED UNDER A CC-BY 2.0 LICENSE.