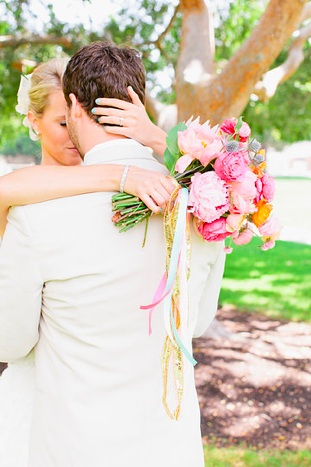 Even in modern celebrations, most weddings maintain some traditions and superstitions. Whether you take them, leave them, believe them, or dismiss them, wedding traditions and superstitions can be fun to explore.
A Traditional Rhyme

Something old, something new, something borrowed, something blue…Did you know that this traditional rhyme describing what a bride should wear on her wedding day actually ends with the line, "and a silver sixpence in her shoe"?

So what does this rhyme represent?

Something Old

Typically the bride will wear something that has been in her family. It may be her mother's gown, veil, or a special piece of jewelry. Whether it's as much as a dress or as small as a lace handkerchief, donning "something old" on your wedding day gives a nod to your past as you walk happily toward your future.
Something New

Generally there is no shortage of new things for a bride to wear on her wedding day. Most common is the dress she selects, but anything new for the occasion works to satisfy this requirement. Wearing something new on your wedding day signifies the freshness of your commitment and the start of your journey as a couple.

Something Borrowed

Borrow something from a family member or close friend—tradition says it's best to choose among those who are happily married—and add a special element to your wedding attire, and a bit of luck to your marriage.

Something Blue

Brides can incorporate "something blue" in a number of ways. Many brides choose to wear a blue garter, while others go for blue shoes. Lucky brides who have a sapphire engagement ring have this one covered! Why blue? This color is said to represent fidelity and love.

…And a Silver Sixpence in Her Shoe

To ensure a life full of good fortune, a bride should wear a sixpence in her left shoe. Can't find a sixpence (A British coin from the 16th century)? Substitute any silver coin to satisfy this wedding tradition.
To See or Not to See?
On their wedding day, tradition dictates that a bride and groom should not see one another before their vows. This particular wedding superstition dates back to when most marriages were arranged. Worried that seeing one another in advance would cause uncertainty and even revocation, brides and grooms were kept apart. Many of today's couples choose to uphold this tradition, not because they worry about being left at the altar, but because it feels more meaningful and exciting to wait to see each other. Less superstitious couples forgo this tradition and opt to meet in a private moment before their wedding ceremony to dissipate jitters. Other couples like to use this time to get started on photos so that they have more time to celebrate with family and friends during the reception.
The Wedding Veil
Wearing a veil on your wedding day has several origins and connotations. In arranged marriages, the veil offered coverage to the bride and a sense of mystery (in case the groom did not approve of what was unveiled). Romans believed that a wedding veil warded off evil spirits and protected the purity of the bride. In many religions, wearing a veil is a gesture of respect and modesty. Today's bride has innumerable options when it comes to veils, if she chooses to wear one at all. Some brides feel that their wedding look is incomplete without a long, lacy veil, while others feel more comfortable with minimal adornment.
Rain on Your Wedding Day
Most couples hope for moderate temperatures and brilliant sunshine for wedding day weather, but if you are superstitious, you won't let rain bring you down. In fact, you may see it as a sign of good luck! Rain on your wedding day has been said to symbolize fertility, the tears you will shed as a couple over the course of your marriage (shared sorrow and joy), and good fortune. From a practical and optimistic perspective, rain can make for great photos (good lighting and fun props like umbrellas and rain boots).
Exchanging Rings
The wedding ring is the quintessential symbol of union and commitment. Wedding rings are traditionally worn on the fourth finger of the left hand, to connect with the "vena amoris," or love vein, which was believed to run from that finger straight to the heart.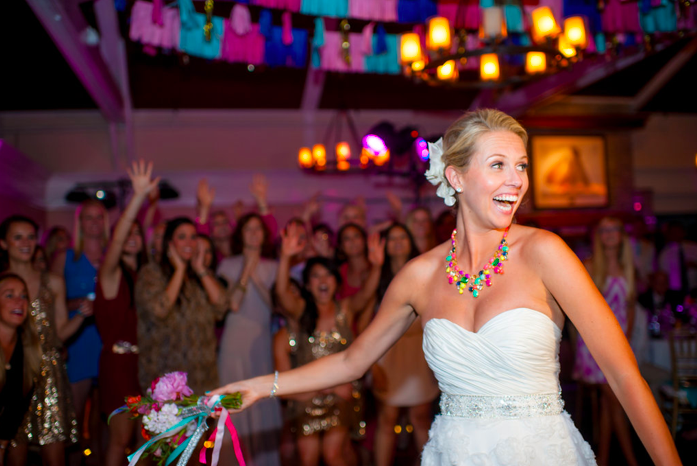 Throwing Things: Bouquets, Garters, & Rice
Many weddings still incorporate the traditions of tossing…most commonly rice (to conclude a ceremony), the bridal bouquet, and the bridal garter.
Rice

The tradition of throwing rice at a newly wedded bride and groom comes from rice as a symbol of fertility and prosperity (as in a prosperous harvest). Concerned about the safety of rice for birds, some couples ask guests to throw birdseed, rose petals, or blow bubbles instead.
Bridal Bouquet & Garter
The modern day tradition of tossing the bridal bouquet dates back to the 14th century when wedding guests would take pieces of the bride's dress (literally off her person) for luck. In an effort to stop this ritual, brides started to throw items to their guests. Over time, it became customary for a bride to toss her bouquet to a gathered group of single women, and supposedly, whoever catches the bouquet will be the next to get married. The same goes for the garter toss, which is typically tossed by the groom to the single men in attendance. More and more couples are moving away from the bouquet and garter toss, either opting for a different tradition (giving the bouquet to a special family member, for example) or abandoning it altogether.
Say Yes to Insects!
Believe it or not, English lore says that finding a spider on your wedding gown is a sign of good luck.
Final Thoughts
Weddings are full of traditions and superstitions—some quite popular and applicable to modern couples, and others more unknown and outdated. As with all aspects of this exciting time in your life, remember to make choices that feel right to you as a couple: include the wedding traditions and superstitions that are meaningful to you. Or, enjoy starting a tradition of your own.