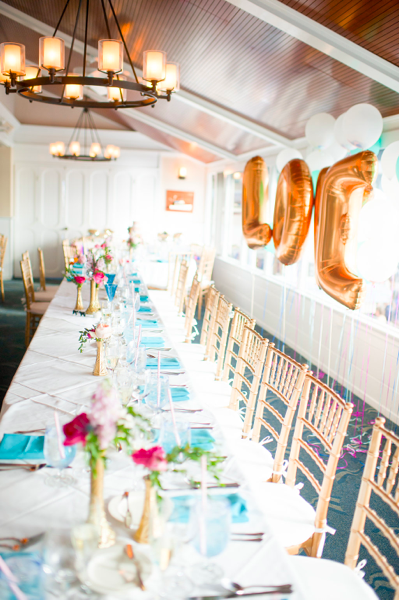 After the euphoria of the proposal dies down, many couples will sit down to plan their wedding and come to a horrible realization: they have no idea what they're doing!
With the exception of professional party planners, a wedding is the most intricate event that most of us will ever plan. It isn't until we see a list of the necessary tasks that we realize how much work needs to be done!
A wedding planning checklist is a great tool to have to make sure that you haven't forgotten anything. These guides, however, are not one size fits all! According to a recent poll conducted by Wedding Paper Divas, 40% of couples have a 13 to 18 month engagement period while 23% wait even longer, 19 to 24 months! On the other hand, a whopping 31% of couples get married in less than a year.
Everyone's wedding requires a different plan of attack. We have divided the most common wedding tasks into four different stages.
Stage 1
Stage 1 tasks should be completed ASAP, preferably right after you get engaged. Don't lollygag, particularly if you have less than a year to plan. Nothing can be done too soon, but everything can be done too late! If you call a company to book their services but they don't make plans that far in advance, ask when you can make a reservation and call back then.
Wedding Planer
If you have the funds, you might want to consider hiring a wedding planner. This will make the entire process much, much easier!  On the other hand, leading the wedding planning yourself can make you feel even more intimately connected to the special day.
Get Organized
Start thinking about the bigger picture—who, what, when, and where. Gather all of your ideas on a Pinterest page and create a file in your work area for all of your paperwork and receipts. Get everything in writing and keep it organized!
The Guest List
Decide how many guests you're going to invite. This might take a couple of weeks, but making a tentative list will help you figure out your budget and venue needs. Once you've talked with family and solidified your list, pick your save the date cards and have them printed.
The Budget
Before you start spending money, sit down with your partner (and any other relevant family members) and figure out your budget. Print out a pre-made wedding budget planner and make sure you take everything into consideration. Always assume that everything is going to cost more than you hope it will. It's better to overestimate your budget and end up spending less than it is to end up spending thousands more that you planned on!
Pick Your Date
Make a list of your top five dates and keep them in mind as you're looking for a venue. You might have to be flexible to get your top choice.
The Venue
Choosing a venue must be done ASAP! This is particularly important if your engagement period is going to be shorter than most. Some venues are booked two or three years out! Make a list of your top five venues, go explore them, and ask about their availability.  Be prepared to compromise if your top venue isn't available on your favorite date.
Doing this early means that you should have your pick of venues instead of having to take anything you can get. Ask your venues about their event planning services—if you haven't hired a dedicated planner this service is a wedding day lifesaver! Consistently check in with your venue throughout the planning process to make sure that everything is coming along smoothly.
The Vendors
Research and hire your vendors directly after choosing your venue. The best vendors are booked up early, particularly if you're getting married during the most popular wedding months. It's recommended that you book your photographer, ceremony musician, caterer, officiant, florist, wedding cake artists, rentals, and entertainment at least a year ahead of time, if possible. Lock down their services for your desired date now and make appointments to hammer out the details later. If you let them know your wedding date they can tell you when you will need to meet.
*Remember to stay in contact with your vendors throughout every stage of the process! It is especially important to talk to them the week of your wedding to make sure everything is going according to plan.
The Wedding Dress
Many women who want a custom made wedding dress must start shopping 9-12 months before their wedding. Custom dresses take months to make, and you'll want to plan for around three dress fittings. If you haven't left yourself enough time there are still gorgeous wedding dresses out there that you can purchase and begin your fittings right away. Some bridal salons will sell their sample dresses at a highly discounted price!  For a vintage look at a lower cost, many vintage or pre-owned dresses are available both in vintage stores and online and can be tailored to fit.
Hotels and Transportation
If you're having out of town guests come in, determine how many hotel rooms you will need to reserve and do so as soon as possible. Great hotels can be booked early! Make a list of your top three hotels and split your reservations between the two if need be. Now is also the time to book your transportation. The amount of guests you are inviting will determine how many shuttles/limos you'll need, or consider asking guests to carpool or taxi if you're looking for a more budget-friendly option.
The Wedding Party
The last thing you'll want to do for stage one is to figure out who you are going to ask to be in your wedding party. Asking them early will guarantee that they will be available on that date, plus they get to start helping you plan!

Stage 2
Once you've caught your breath from stage one, you'll want to promptly get started on stage 2. Now is when you really start getting into the details of the event. Many of these tasks are time sensitive as well, so get started right away!
Dress Your Wedding Party
Custom bridesmaid dresses can take quite a bit of time to complete as well. Choose and order your dresses with 6 to 7 months to spare if you have the time. If you find you've waited too long you can always find beautiful dresses from a department store, or you can simply ask your bridesmaids to wear their own dresses. This is also a good time to have the groom and the groomsmen fitted for tuxes or go on a shopping trip to buy an informal suit during this stage.
Planning the Honeymoon
You'll want your honeymoon to be unforgettable, so book early to reserve the experience you're dreaming of! Remember that international vacations may require extra time to plan.
Wedding Website
Now that you have the date, location, hotel, and transportation info, you should make a wedding website! These sites are a great way to provide up to date information for your guests. They are also a great way to get people to RSVP!
Wedding Registry
Register early at two to three locations so that you're guests can purchase gifts at their leisure. Popular options are Bed, Bath, & Beyond, Crate and Barrel, JCPenney, Macys, Pottery Barn, Williams Sonoma, Bloomingdales, and Target.
Invitations
Make sure you get the invitations done early! Typos and other mistakes can send your invitations back to the printers. You'll want to mail your invitations 2 to 3 months before the wedding, so order them early.
Stage 3
Stage 3 tasks are all about odds and ends. These are the little things that can easily slip through your fingers! If you have the time, give yourself 1 to 4 months to complete these tasks.
Make a Day-Of Schedule
This includes readings, wedding speeches, and toasts. Sit down and create a timeline of the actual ceremony and the cocktail hour/reception that follows. Send this info to your venue and your vendors, making appointments if necessary. If you want to give your guests programs, have them designed and printed now. Print your menu cards at the same time, if applicable.
Hair and Makeup
Schedule hair and makeup for the day of your wedding. You should also schedule a trial run so that you can perfect the look early. Take tons of pictures so your stylist will remember exactly what you loved!
Rehearsal Dinner
Discuss the rehearsal dinner with whoever's in charge to make sure everything is going smoothly.
Music
Work out a music playlist and discuss it with your DJ (professional or otherwise).
Final Headcount
Check in with guests who haven't responded to your invitation. Sometimes this means calling them multiple times! You should have heard from everyone who is attending by now, so you can finally arrange your seating. Send the seating arrangement and head count to the proper vendors.
Wedding Vows
We recommend leaving yourself plenty of time to write and edit your wedding vows. Don't let writer's block hit you at the last minute!
The Little Things
Now is the time to work out the little details. This includes decoration, finishing touches, centerpiece additions (your flowers should be ordered already), and anything else you've fallen in love with on Pinterest. This is a great time to complete DIY projects! Decorations can take months to complete, so start sooner rather than later!
Have Your Final Dress Fitting
Make sure you know how to bustle!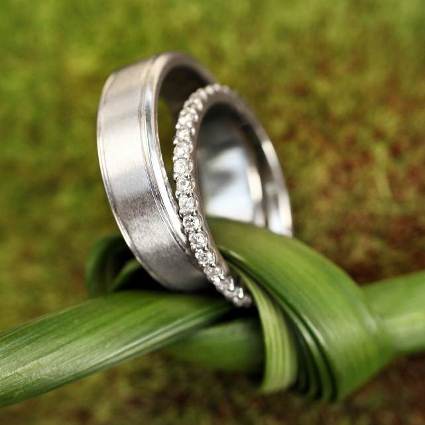 Wedding Rings & Accessories
Handcrafted wedding rings are made to order, so it's best to order them a few months before your wedding if possible. Put them in a safe place! You can also purchase all accessories for the bridal party. This includes a veil, undergarments, wedding jewelry, and shoes for the bride.
Thank You Gifts
Purchase thank you gifts for your bridesmaids, groomsmen, and whoever is hosting the rehearsal dinner.
Marriage License
Apply for and pick up your marriage license. In many states a marriage license is valid for 90 days. About 6 to 8 weeks before your wedding is a good time to file for your license.
Stage 4
Stage 4 tasks are generally last minute needs that you'll complete the week of your wedding. Delegate these tasks if you can!
Have Your Wedding Rehearsal
Payments
Make any last minute payments and set aside tips. You don't want to have to write any checks or worry about payment on the actual day!
Pack for Your Honeymoon
Pick Up Your Dress and Tuxes
If your attire has required further altercations, send someone you trust (or do it yourself) to pick everything up.
Last Minute Beauty
Have any last minute beauty appointments. Try not to do anything that you don't have experience with, like getting a fake tan. It's also a good idea to assemble a wedding emergency kit for the big day!
On the Big Day
Relax and trust that you've done everything within your power to make things run smoothly. Let the mishaps roll off your shoulders and go with the flow! Everything truly important is taken care of.