Wedding invitations are one of the last strongholds for written invitations. Today, it is common for invites to other events to be extended via quick, economical methods: text, email, social media, phone call, or in person. Wedding invitations, however, are still expected to arrive in the mail. Invitations may seem like an inconsequential detail, but websites such as Pinterest and Etsy have made those details important. Graphic designers and DIY enthusiasts are eagerly responding to the rising demand for distinctive, artistic invitations. With a little effort you can find unique wedding invitations that are in perfect harmony with your upcoming nuptials.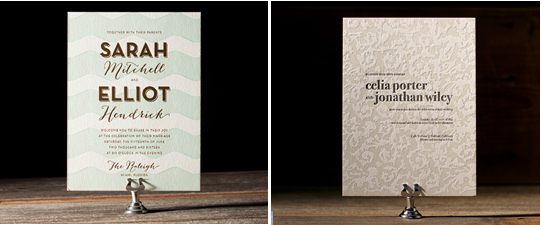 "Viceroy" and "Lush" Letterpress Wedding Invitations from Bella Figura
Images and Infographics
If you love graphic design and informative visuals, you might want to consider adding infographics to your invitation. This is a great way to provide your guests with facts about the couple's history, the bridal party, and the day's schedule. This is also an amazing way to inform out-of-town guests about what there is to do in the area, where they might want to stay, and what they should bring with them. If you want an invitation like this, you will want to consult a graphic designer who specializes in visual designs.
 

Infographic Wedding Invitation by graphic designer Natalia Grosner
Invitations Made Easy
For those couples who are looking for unique wedding invitations that are also budget friendly, take a look at companies such as Wedding Paper Divas. They make it easy to preview and order your invitations, and everything is at a reasonable price. Wedding Paper Divas, which is affiliated with Shutterfly and Tinyprints, offers a comprehensive range of designs that includes a letterpress collection! Many of these invitations come in a range of colors so that they can match your wedding color palette. This is a particularly good option if you are looking to include an image (perhaps from an engagement photo shoot) on the card.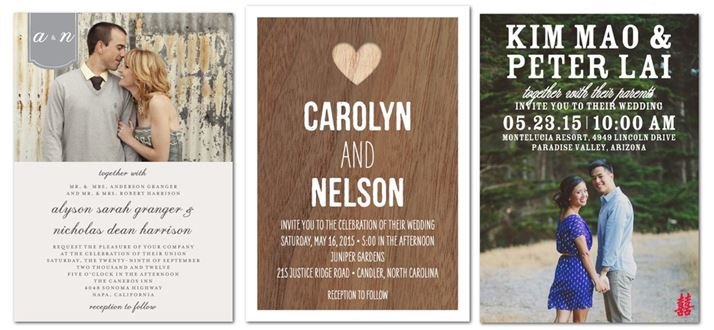 Wedding Invitations from Wedding Paper Divas
Support Small Business
On Etsy.com, there is an abundance of beautiful, unique wedding invitations that are just waiting to be discovered. Don't be surprised to find quite a few crossovers between Etsy and Pinterest—both sites appeal to DIY and craft enthusiasts. Etsy is a direct marketplace where business-minded crafters can sell their products—everything from fashion to art to home decor. Check out Etsy for wedding decorations, favors, veils, accessories, dresses, and, of course, those unique wedding invitations!

Wedding Invitations by SouthernlyBasic, lovetocreatestamps, and avie. Find them on Etsy.com!
Keepsakes
Does a wedding invitation have to be limited to a two dimensional piece of paper? No! Why not send your guests something that they can use and appreciate? The adventurous couple may want to consider putting their invitation on paper weights, coasters, or labels that can be affixed to a favorite jar of honey or bottle of wine. A shadowbox to store the mementos from your wedding is a thoughtful keepsake as well. According to the seller, the wooden egg keepsake shown below is meant to be a reminder of new beginnings. If you are on a tight budget, it might be a good idea to only send keepsake invitations to your closest friends or family members.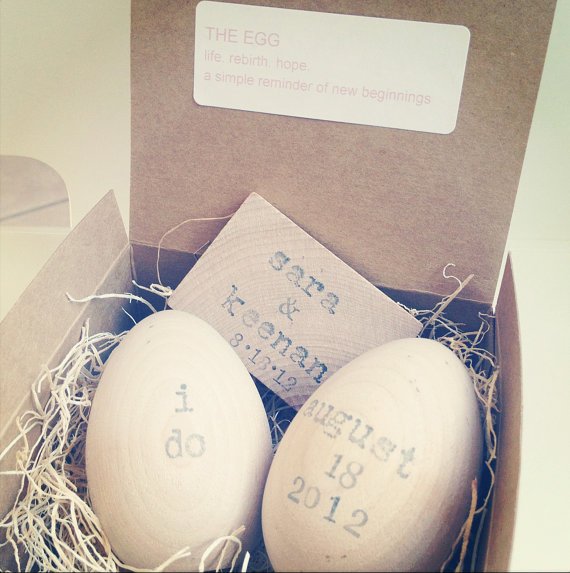 Wooden Egg Keepsake Wedding Invitation by indobay on Etsy.com!
Sustainability
Brilliant Earth is all about sustainable practices, so we like to root for companies that are looking out for the environment. Keep an eye out for printers that supply recycled options as well as 'virgin paper' that complies with the Sustainable Forestry Initiative. Also, look for inks that have low VOC (volatile organic compounds), such as soy-based inks.
If sustainability is important to you, do a bit of research on the printing industry before you order those invites!
Just Plain Cool
Unique wedding invitations require a great deal of creativity and originality. If you put your mind to it, anything is possible! Here are a couple examples of awesome invitations that anyone would love to receive: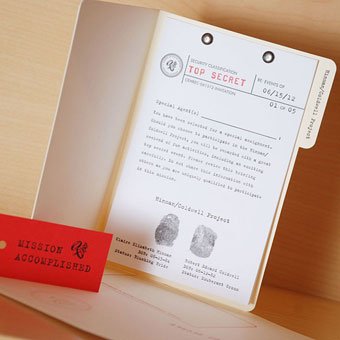 The Claire Wedding Suite from Spark Letterpress Love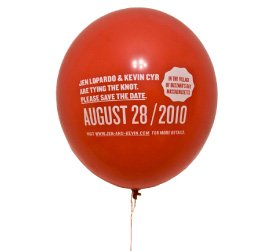 "Please Inflate" Wedding Invitation from L'OFFICE OPTIMISTE
The Typographical Revolution
Great wedding invitations all have one thing in common: they use beautiful, experimental typography. The emergence of personal design software has led to an explosion of typographical innovation. How did we get here, to the point where new typefaces are showing up every day and invitations can be printed on demand?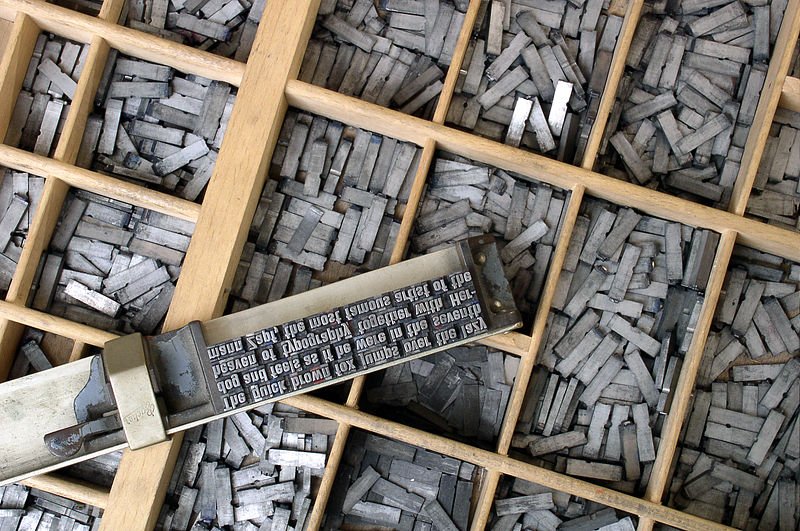 Movable Type. Image by Willi Heidelbach
Let's go back to the beginning. In the 1400s, Johannes Gutenberg rendered scribes obsolete when he created letterpress printing. Letterpress is a form of relief printing that uses movable type (printing that uses mobile character molds to produce a document). In the early 20th century, offset printing replaced letterpress due to its ability to print large volumes at lower costs. Today letterpress printing is mostly used by hobbyists and boutique printing presses. However, there has been a resurgence of interest in letterpress in recent years. Many people find letterpress printing to be beautiful because of the look and feel of the final product. This is another example of the increasing appreciation of traditional craftsmanship, which is also seen in Brilliant Earth's one-of-a-kind vintage engagement rings.
In in the past twenty years we have integrated personal computers and printers into our daily lives. Today, all it takes to create a font family is: a pen, paper, a scanner, Photoshop, ScanFont, and font editing software. With these tools you can take the font you've drawn, transfer it to the computer, and print it back out on paper as an official font. You can even sell your original font online.
This is why there is no excuse for boring typefaces! Whatever you choose is going to appear on your wedding invitations, save the date cards, ceremony guides, seating cards, menus, thank you cards, and more. Take the time to look for a unique font (or a selection of coordinating fonts) that you adore!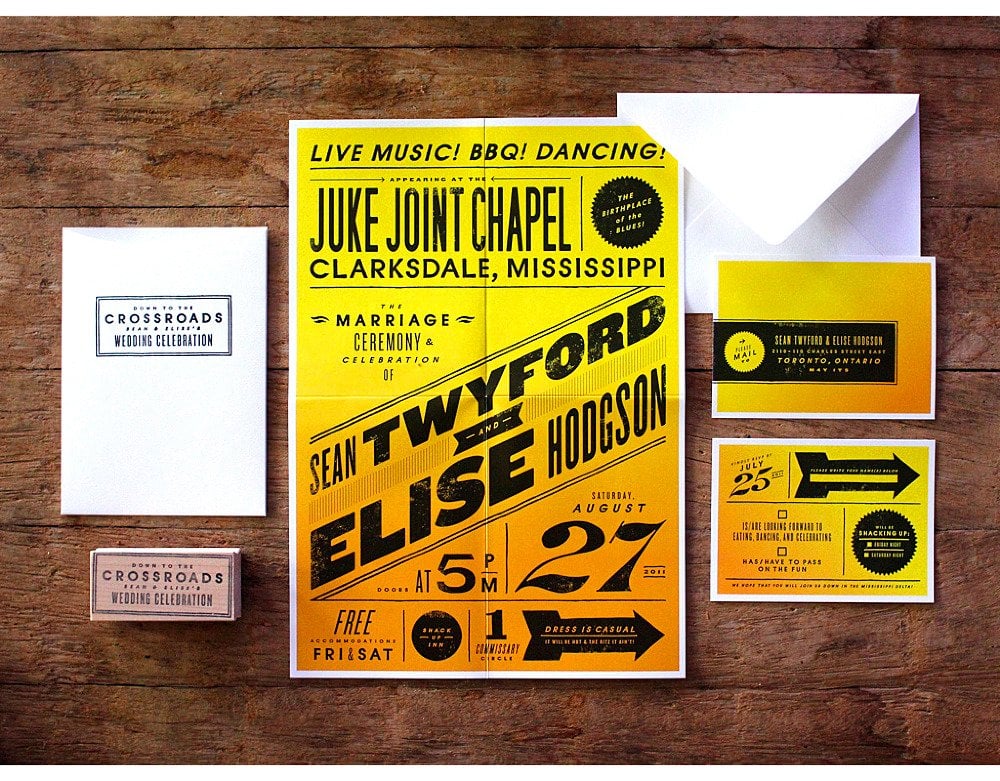 Blues-Rock Wedding Invitation by Erin Jang
Final Thoughts
An invitation or a save-the-date card is the first chance that you will get to show your guests what your wedding is going to be about. Is it going to be softly romantic, rock-and-roll, or maybe even secret-agent themed? Are you going to travel to far off places or celebrate your local culture? The devil is in the details, but creating a unique wedding invitation doesn't need to cost you an arm and a leg. Creativity and research are all it takes to come up with a unique wedding invitation that is guaranteed to delight.