Paint, pencils, and clay aren't the only way to create a masterpiece any more! Cake has become an art medium, and many brides are using it as one more way to make their wedding picture perfect.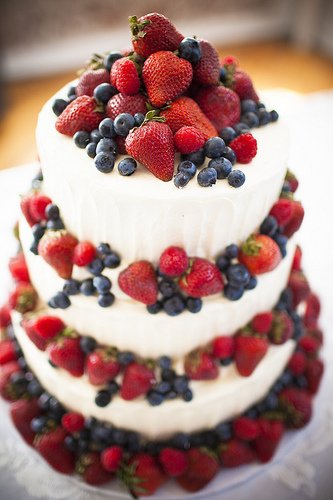 The History and Symbolism of Wedding Cakes

Have you ever wondered why we eat cake at weddings? These ceremonial delights can be traced back to Ancient Rome, where a savory wheat cake was broken over the bride's head for good luck. The new couple would then share a few bites of the crumbled cake in a ceremonial first meal. The guests would then be given a handful of sweet nuts and berries called confetto. These tasty treats were occasionally thrown above the bride and groom, an ancient form of confetti!1

In medieval England, a bride and groom would attempt to kiss over a towering stack of buns in a quest for good luck. If they managed to kiss without knocking down the tower, their future would be blessed. Though the superstition of the kiss has been lost over time, most couples still lock lips after slicing their towering cake!

Later on, a "bride pie" made of meats and spices was considered to be an important part of the wedding ceremony. Each guest would take a bite of the pie—not doing so was considered rude. As sugar became more plentiful, these "bride pies" slowly morphed into bride cakes. These cakes were associated with fertility, happiness, and fidelity.1

White frosted cakes have been a longtime favorite. At first they indicated that a family was wealthy because they could afford a certain type of sugar. Like wedding dresses, however, they slowly came to represent the bride's innocence.1 In the last ten to twenty years, wedding cake rules and expectations have gone out the window, paving the way for some incredibly unique cakes!

Unique Wedding Cake Ideas

As you can see, modern wedding cakes are deeply rooted in the customs, traditions, and superstitions of the past. It's a good idea to let go of the notion of a "traditional cake" because this sweet custom is constantly changing! Cake designers are becoming so talented that the options for wedding cakes are virtually endless. Here are some fun ideas for exciting, unique wedding cakes that will wow your guests!

♦ Go avant-garde. Dream up a cake that looks like a modern painting or something straight off of a high fashion runway. Giving your cake designer some artistic freedom will make for a truly unique treat.
♦ Make a Scrabble cake (or is Words With Friends now?) to spell out a special message.
♦ Find cake toppers that are characters in your favorite video game, book, or movie. Think Mario and Peach, or even Pacman and Ms. (Mrs.) Pacman! This is a great way to express common interests.
♦ Choose strange flavors. This is the great part of having a layered cake—you can offer safe choices like chocolate or vanilla, but you can also have a layer that lets you have a bit of fun. Ask your bakery whether they experiment with flavors!
♦ Pay homage to a particular city that both of you love by requesting the skyline to wrap around your cake. We have even seen cakes that are covered with subway maps! For avid travelers, find a specialist who can craft layers of cake to look like vintage suitcases.
♦ Make a comic book cake! Each square layer can feature one frame on each side, packed with plenty of vintage POW! If you are truly looking to impress, craft a comic strip that tells the story of your relationship.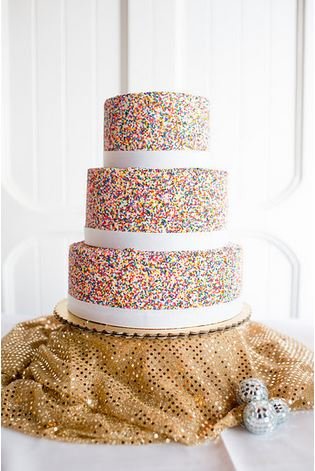 ♦ Make your cake look like your sparkling engagement ring! Cover the entire surface in a fine layer of metallic, glittering sprinkles for a unique, sparkling cake! You can even find cake stands that are dripping in crystals for a luxurious look. If you'd prefer something with a little more color, cover your cake in classic multicolored sprinkles for a fun and funky look.
♦ Talented designers can create wedding cakes that feature incredible textures and patterns. For example, if you are having a nature-inspired wedding, request a cake that resembles rough, natural wood. These cakes from Charm City Cakes feature stunning designs that might just inspire your unique wedding cake!
♦ Ditch the cake! Cake pops, cupcakes, and mini bundt cakes are becoming a popular choice for modern weddings.

Final Thoughts

Keep in mind that if you need to keep the cost of your cake low, you can always have a faux cake. These cakes look as though they are completely edible, but they actually only contain one small layer of cake that the bride and groom cut into. Simple sheet cake can then be discreetly cut and served in a back room!

A piece of wedding etiquette advice: if possible, don't leave a wedding until the cake has been served. This is a sign that you can leave gracefully!

If you're interested in reading more about the history of wedding cakes, read Carol Wilson's fascinating article, Wedding Cake: A Slice of History.

What would your dream wedding cake look like? Let us know on Facebook, Twitter, or in the comments!

(For unique groom's cake inspiration, check out these photos of 11 Outrageous Groom's Cakes.)
1 Carol Wilson,"WeddingCake: A Slice of History," Gastronomica, Spring 2005, accessed September 2013, http://www.gastronomica.org/wedding-cake-a-slice-history/.
Photo Credit: