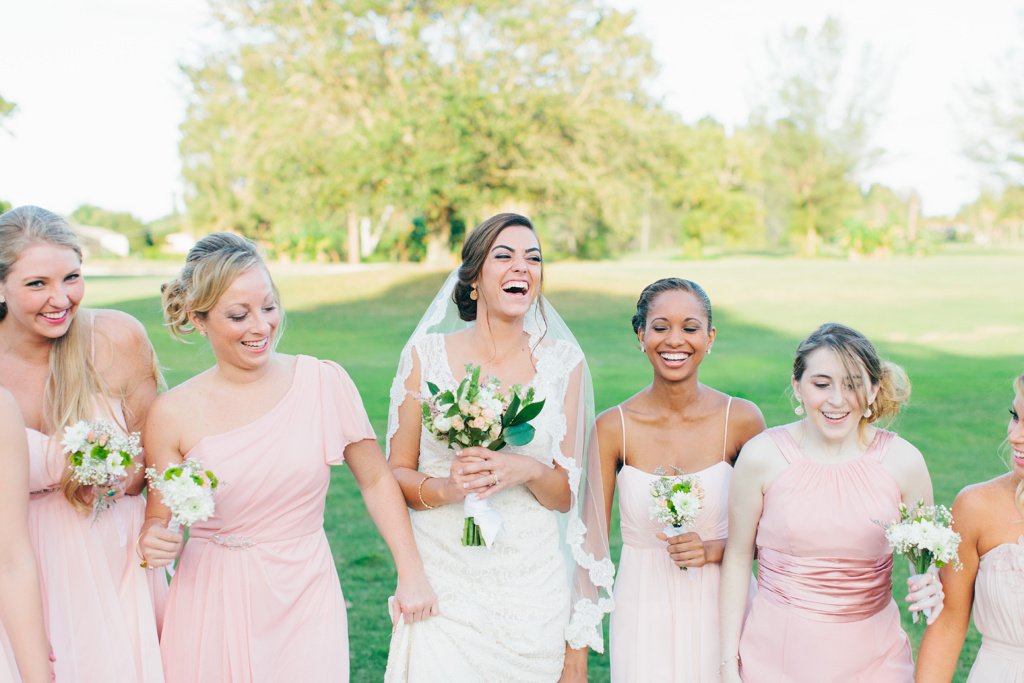 Being asked to serve as a bridesmaid is a wonderful honor and a fun opportunity to be intimately involved in a very special event. But helping your friend plan what's likely the most important party of her life is not without its (occasional, hopefully) stresses. Plus, the guidelines for being a good bridesmaid today are different than they were when your mom got married.
If you're new to being a bridesmaid, or think you need a refresher, use these pointers to navigate the wedding attendant terrain:
Do Be Enthusiastic About Her Plans.
If your friend is the type of bride who relishes planning every last detail of the big day, and sharing those details with you over texts, shopping excursions, or shared Pinterest boards, you should indulge her, even when it feels like a bit much.
Don't Be Too Honest.
Even if she asks for your opinion, she may not actually want it. Unless you think she's going off the edge into terrible judgment territory, tell her that all her decisions around the wedding details sound like perfection.
Do Make Plans Offline.
When you need to collaborate with other bridesmaids on the shower, bachelorette party, dress shopping missions or wedding logistics, lean toward picking up the phone or meeting to discuss in person if possible. Group emails and texts can be fertile ground for miscommunications and hurt feelings, clearly not ingredients for a happy wedding party.
Don't Type Anything Catty.
Never, ever, write anything negative about the bride or another member of the wedding party in an email or text, which can be misread as more harsh than you might have intended, and can easily be forwarded. If you must vent at some point, do it to a friend who doesn't know these people.
Do Befriend Other Bridesmaids.
If you aren't close with all of the other bridesmaids, see it as an opportunity to make new friends. If the bride loves you all enough to include you in the wedding you are bound to have things in common, and are likely to be a part of each other's lives going forward (at your friend's future baby showers, milestone birthdays, and more).
Do Divide and Conquer.
It's a smart idea to meet with the other bridesmaids early on and decide who will be in charge of what—for example, one person heads up choosing a shower venue, another takes on coordinating the bachelorette party games, and so on. Having a clear leader for each big aspect of the bridesmaid jobs is more efficient than having to decide every little detail by committee, and there's more likely to be an equitable distribution of labor when everybody knows her role.
Do Set Financial Limits.
The costs of being a bridesmaid can quickly rack up. If you're expected to travel to a destination bachelorette party, help host a shower, and pay for a posh dress, your savings could be circling the drain by the wedding day. Be clear with the bride upfront that you will spend what it takes for the events or items that are most important to her—so she should clarify what those are—but you might be unable to shell out for everything.
Do Deliver on the Big Day.
At the wedding it might be tempting to guzzle champagne and gossip with your friends or flirt with a groomsman, but remember that as a member of the wedding party you are a co-host of sorts. Stay within eyeshot of the bride so you can step in if she needs you, chat up the groom's ancient Aunt Edith when you spot her alone in a corner, and let the event staff know that they can come to you with any issues or questions (so they don't have to interrupt the bride).
Don't Forget to Have Fun.
Once the toasts have been made and the first songs played it's time to hit the dance floor with your hands in the air, to celebrate the happy couple and congratulate yourself on a job well done.
Final Thoughts
Do you agree with these bridesmaid rules? Is there anything we forgot? Let us know on
Facebook or Twitter, or in the comments section!
Photo Courtesy of:

Kha Do Photography