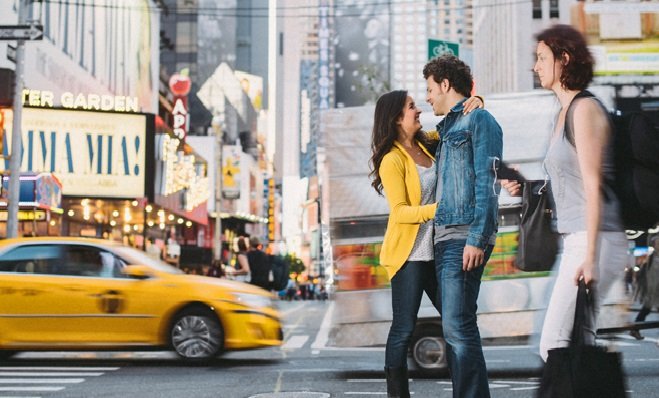 Looking for proposal location inspiration? We researched the most popular spots to get engaged in ten major US cities.  What these locations might lack in originality, they more than make up for in romantic atmosphere and iconic status:
New York City: The top of the Empire State Building might be a hot spot for tourist proposals, but NYC locals are more likely to get engaged during a walk in Central Park (the Bow Bridge is one of many proposal-perfect park settings) or on the High Line, a serene downtown park and walking path built on a former elevated train platform.  Brooklynites love to propose in that borough's gorgeous botanic garden. Professional proposal consultant (yes, that's a job) Michele Velasquez says that she's often contacted by men wanting to propose on a NYC rooftop. "It doesn't even matter how cold it is or if it is snowing!" she says.
Los Angeles: It's all about the beach for LA's soon-to-be fiancés, though many couples opt to get engaged at one of the many lookout points in the Santa Monica Mountains or Hollywood Hills. Men who crave a glamorous backdrop often get down on bended knee in the gardens of the Hotel Bel Air.
Dallas: A five-star rooftop restaurant with floor-to-ceiling windows and it spins? With all that going for it, it's a given that 560 by Wolfgang Puck, atop Dallas's Reunion Tower, is a go-to engagement spot for many Texas couples. Those who want their romantic moment to take place outdoors often pick the Dallas Arboretum.
Washington, DC: It's no surprise that capitol-based couples use the city's historically significant spots as backdrops for their big life event. The steps of the Lincoln Memorial, with the honest Abe statue looking on, and beneath the rotunda of the Jefferson Memorial are both classic proposal spots. To combine historical significance with chilled champagne, many seal the deal in the rooftop lounge at either the W Hotel, which overlooks the White House and Washington Monument, or the more traditional Hay-Adams hotel, just across from the White House.
Atlanta: The most popular setting for outdoor proposals is probably Piedmont Park, and top-rated Bacchanalia restaurant is a go-to place to get engaged over dinner. Atlanta couples seeking a bucolic setting often take a day trip to Callaway Gardens in Pine Mountain (about an hour from metro Atlanta), which reports they typically see between 40 and 50 proposals during the holiday season alone, when the gardens host a Fantasy in Lights holiday event.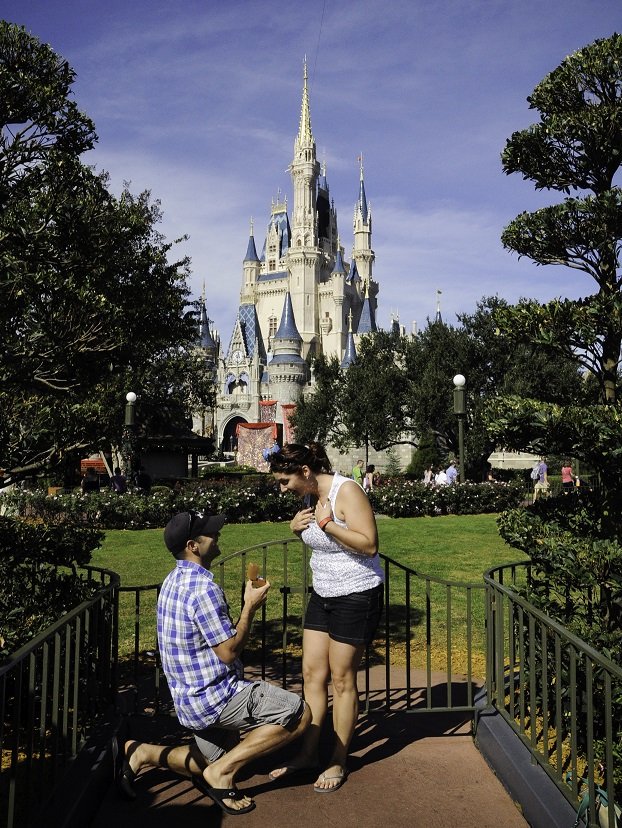 Orlando: Disney fans flock to a spot in front of Cinderella's castle for their special moment, but Orlando offers non-amusement park engagement options as well. A swan boat on downtown's Lake Eola can make a romantic setting, and arranging to propose via the big screen at an Orlando Magic basketball game is an excitement-packed option. If you want fireworks without amusement park crowds, consider the rooftop garden restaurant at the Four Seasons Hotel, where you can see the nightly fireworks from well above the fray.
San Diego: Unsurprisingly, the region's beautiful beaches rule as a proposal setting, especially Torrey Pines beach, with its dramatic cliffs. Couples who want to keep it urban often choose Balboa Park, which contains lots of secluded spots perfect for creating a lifetime memory.
Chicago: The Skydeck of the Willis Tower is an iconic spot, but nature lovers are more apt to get engaged in the garden of the Art Institute of Chicago, or on Burnham Park's Promontory Point, a lakeside lookout where you can take in the city skyline and propose over a picnic. The landmark Frank Gehry bridge that connects the Art Institute to sculpture-filled Millennium Park is a popular spot for art lovers to get down on bended knee.
Seattle: The top of the Space Needle is a well-traveled, can't miss, proposal setting, as is Snoqualmie Falls, the breathtaking water falls outside the city. For a slightly more low-key, but equally beautiful, proposal, pop the question on one of the many ferry boats that travel between Seattle and surrounding islands, like Bainbridge Island.
San Francisco: With water on three sides and hills providing breathtaking views, Brilliant Earth's home city is packed with prime proposal spots. Many men pop the question mid-way through a walk across the Golden Gate Bridge—a windy and very public place to propose. A less expected but nearly as iconic setting: next to Cupid's Span, a Claes Oldenburg sculpture of a bow and arrow on the waterfront near the base of the Bay Bridge. Nature lovers are likely to propose on a hike in the Marin Headlands or Land's End, and those seeking city lights ask that magical four-word question over drinks at the Top of the Mark (atop Nob Hill's Mark Hopkins hotel) or after a sunset climb to the top of landmark Coit Tower.
Final Thoughts
What are the most popular places to get engaged in your city or community?  Let us know your thoughts on Facebook or Twitter or in the comments section!