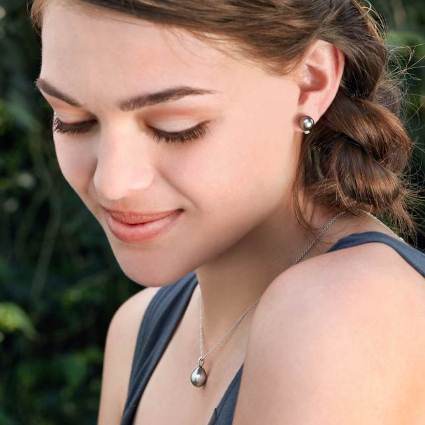 Vermeer's Girl with a Pearl Earring has captivated the world for hundreds of years. The young woman who is depicted in the masterpiece remains a mystery, though her soulful eyes have touched so many. She is widely known for her blue headscarf and, of course, the subtle glint of her large pearl earring.
Natural pearls have been harvested for thousands of years. Over time these small, valuable gems became important symbols to many cultures and religions. Natural pearls were (and still are) extremely rare, and have commonly been owned by the nobility or those blessed extreme wealth. The turn of the twentieth century brought about the invention of cultured pearls, making this stunning jewelry accessible to nearly everyone.
Tahitian pearls, known for their dark grey luster, are cultured pearls that are highly valuable due to their low production rate. Our pearls come from a sustainable pearl farm off the northeast coast of Tahiti that holds itself to superior environmental and social standards. These pearls are expertly farmed, and the result is a pair of deep, stunning pearl earrings that you can be proud to wear.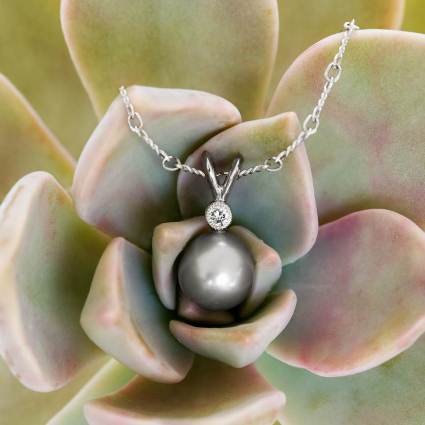 In modern American society, pearl earrings imply elegance and refined style. They are also highly versatile—simple pearl studs can be worn every day while pearl studs with diamond accents are perfect for a classy occasion. The smoky grey color of Tahitian pearls is a unique alternative to plain white pearls, and they make a wonderful gift for graduation, birthdays, or holidays.
Pearls don't just make stunning earrings! They also make for gorgeous rings and elegant pendants. Discover our collection of stunning, sustainable pearl jewelry and become a girl with a pearl earring yourself!