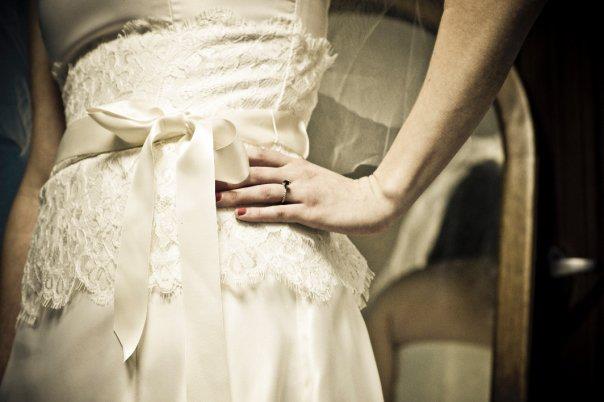 Yesterday we posted a blog on Six Reasons to Elope, so today we will be discussing the benefits of a traditional wedding!  How does a traditional wedding differ from an elopement or a tag-along elopement?  Traditional weddings typically include a larger guest list than just the bride and the groom, and they adhere to certain timeless customs.  Here's a bit of a rundown of a contemporary American wedding affair:
After the ceremony (which is usually attended by everyone who will be at the reception, though sometimes fewer guests are invited to ceremony) there is usually a cocktail hour. Culinary delights and tasty drinks are followed by the couple's grand entrance. They have usually been taking pictures during this time, but now they're ready to join the party! They have their first dance in front of the adoring crowd, and then they settle down at the head table to begin the main meal of the night, with speeches and toasts given in-between courses. Nearing the three hour mark of the reception, guests abandon their tables and scraps of food to hit the dance floor to boogie down. About an hour or so later (depending on your guests' energy levels) the bride and groom will cut the cake. If the guests are up to it, they might dance or mingle for another hour, but then the night draws to a close with the last dance, and the couple makes their grand exit amidst cheers from family and friends, off to whatever grand destination awaits them. At some point during the celebration the bouquet is tossed, the garter removed, and a variety of other cultural traditions are fulfilled.
If all of this sounds exciting and appealing, you should definitely have a traditional wedding! When you look at all of the aspects that are included in a traditional wedding, it is easy to see how vastly it differs from an elopement. Generally, elopements and even "elopement packages" are much shorter and much more subdued. There usually aren't cocktail hours, grand entrances and exits, formal meal courses, dancing, or entertainment. Even the most comprehensive elopement package from a venue or resort doesn't include a sit down meal—you have to request it as an extra or reserve a table at their restaurant.
Though eloping cuts down on costs, stress, and potential family meltdowns, traditional weddings have a few particular benefits that have made them a beloved custom for years.
Traditional Weddings Typically Include an Engagement Period
When you look at wedding planning charts, the first column usually consists of things you must complete within nine to sixteen months before your wedding. According to a survey by weddingpaperdivas.com, only 4% of couples get married within four months of getting engaged, with most people waiting around 13-18 months. This is an amazing, exciting time for you and your fiancé! As you plan out your big day, you can discuss what your lives will be like after you get married. What does your future hold? Do you ever want to live in another country? Change jobs? Have children? When you are married you will be making decisions that affect both of you, so your engagement period allows you to discuss issues that you might not have felt comfortable broaching when you were just dating. After an engagement period, you may find that you are mentally and emotionally closer to your partner than ever before.
Traditional Weddings Open Up the Money Conversation
The way a couple handles money is a huge factor in determining the happiness (and longevity) of a marriage. During the engagement period it is a good idea for you and your partner to sit down and have an honest conversation about wedding funds and your general financial health. Hopefully the two of you are able to have an open discussion that ends in compromise and responsible decision-making. If not, you will want to take some time to work on this aspect of your relationship. Cost is one of the biggest reasons why couples elope, so if you want to have a traditional wedding, make sure that you and your fiancé are on the same financial page.
You can treat the planning of your wedding as a budgeting exercise, the first of many that you will face with your partner. Throughout your life together you will most likely be spending a large amount of money on cars, homes, and maybe even children (they are expensive!) It is better to discover financial discrepancies between you and your partner early on instead of three years down the road.
Surprisingly, most couples on a budget spend 30% more than they originally planned on their nuptials. Even those with the best financial intentions can underestimate costs or get caught up in the wedding frenzy. To make sure that you keep a handle on your finances, sit down with your partner and discuss each decision. This removes spontaneity and emotion from the equation, allowing for rational, responsible decision making. For example, if you get a call informing you that your reasonably priced venue accidentally double booked you, don't rush out and grab any venue that is open. You'll likely end up paying a premium when there are still plenty of options within your budget, such as moving it to someone's backyard or finding a venue that is off the beaten path.
Don't take the easy road out by slapping down your credit card, because the easy road often leads to crushing debt. Having a traditional wedding is a great idea because it teaches you and your partner how to work as a team and make compromises.
Traditional Weddings Allow for Religious or Cultural Traditions

If you are highly devoted to fulfilling your religious or cultural traditions, elopement might be out of the question. For example, many Catholics want their marriages to be recognized by the church, so a courthouse wedding isn't sufficient. Some couples may want to pay homage to their heritage by following some rules and rituals. A traditional marriage allows you to show your family and friends that you are proud of where you came from.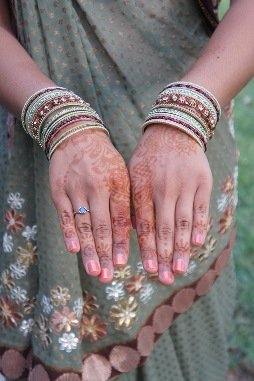 Traditional Weddings Join Two Families Together

It is becoming a common practice to post a sign at the ceremony that says, "As two families become one, we request that you pick a seat, not a side." This message recognizes that as soon as the ceremony is over, virtual strangers will have become family. While some families have gotten to know each other very well before the wedding, oftentimes distance makes it so that they have not had the chance to meet before that day.
A wedding is a great time for families to meet for the first time because there are plenty of conversation topics, tons of great food, and maybe even a few drinks to get everyone dancing! Traditional weddings can also be a bargaining tool to convince quarreling families to get along (at least for one day!).
Hosting a ceremony and reception is a great way to thank your family and friends for the support they have given you over the years. These are the people that listened to you rave after your first date and cry after your first fight, and they deserve to see your joyful union. Your wedding is the day where you proclaim your love to your partner, but it is also a time when your family and friends let you know how much you mean to them as well. If you elope without allowing any of your family or friends to tag along, you are denying yourself an experience that could strengthen friendships and familial bonds.
Traditional Weddings Assure That There Aren't Any Hurt Feelings

Elopements and quasi-elopements (small, pre-arranged weddings) occasionally step on a few toes, especially if you have a large family and many good friends. Traditional elopements only include the couple, while quasi-elopements generally include 25 people maximum. If you choose this intimate setting, how do you decide who gets a coveted golden ticket? There is no guideline to follow, especially as families become more diverse and complex.
The solution to this problem is to have a traditional medium to large (more than 25 people) wedding. This way you can invite all of your family members, friends, coworkers, and those that have previously invited you to their wedding. If numbers are creeping up, you can request that children be left at home and leave "plus one" off the invitation. If a guest is married or in a serious relationship, you will probably know about it beforehand and send that person their own invitation. If you simply can't cut anyone out of the list and cost is becoming a concern, scour the internet for ways to have an economical large wedding. You can have it in a backyard, ask guests to bring a potluck dish, buy your dress on sale, and hire photography or music students from a local university!
Traditional Weddings Are Just Plain Fun

How often do you get to dress up, have all eyes on you, eat great food, be around your entire family, receive tons of gifts, and dance the night away? You will probably attend many weddings throughout the course of your life, but only one of those will be yours. During difficult times, a good wedding will perk your loved ones up by reminding each other that you will always have family, and that there will always be occasion to come together and celebrate.
Final Thoughts

Whether you tie the knot in front of a thousand of your nearest and dearest or it's just the two of you in front of an Elvis impersonator in Vegas, the end result is still the same. Evaluate your personal situation and follow your gut. Don't feel as though you need to live up to some standard, but don't elope if that's not what your heart is telling you to do. You only marry your partner once, so take the time to make sure you're doing it right! If you're thinking of eloping but you need a bit of convincing, check out yesterday's blog, Six Reasons to Elope.
Did you elope or did you have a traditional wedding? We'd love to hear your story in the comments or on Facebook and Twitter!