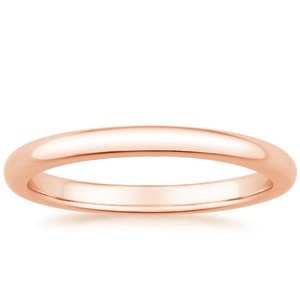 The wedding band options available to today's bride and grooms are nearly infinite. From sleek and modern styles to glamorous, diamond-embellished designs, from centuries old antiques to unique custom rings, if you can dream it, you can probably wear it as a wedding band.  But even with so many alluring choices available, many couples still seek more traditional, plain wedding bands—and these elegant and understated wedding rings have a lot to offer.

The Advantages of Plain Wedding Bands
Though they might not be as eye-catching as more complex or dazzling ring styles, simple wedding bands are a beautiful choice for a few reasons. For one, they express the symbolism of a wedding ring in its purest essence—a physical representation of your eternal vow, no embellishment necessary!
Plus, a simple band is utterly timeless and versatile.  It will never go out of style, and you can easily pair it with any engagement ring and with other rings (think baby gifts and anniversary bands) that you may add in the future.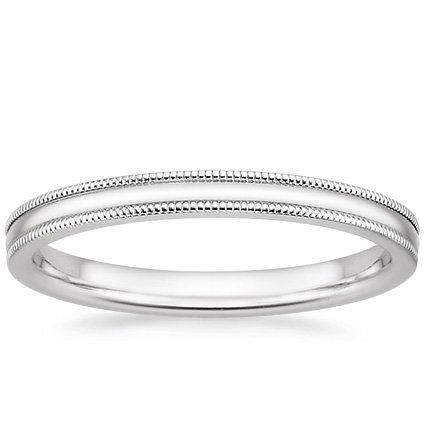 Simple Wedding Ring Styles
Even if you want an understated wedding band, you still have decisions to make. Do you want a band with gently rounded edges, such as the 2mm Comfort Fit Wedding Ring, or one with squared edges, such as the 2.5mm Low Profile Wedding Ring? You might choose a plain wedding band with a milgrain border, like the 3mm Milgrain Wedding Ring or you could go for one with a sculptural knife edge, like the Classic Wedding Band.
Men looking for a plain wedding ring have similar options, and also need to decide if they want a traditional high-polish metal finish, as in the 4mm Comfort Fit Wedding Ring, or a ring with a matte finish, such as the 5mm Matte Comfort Fit Wedding Ring.

Precious Metal Options
The decision on which precious metal to choose is an important one, since you'll be wearing it for the rest of your life. Platinum is the strongest metal, is hypoallergenic, and it maintains its color for a lifetime. If you like the silvery sheen of platinum you can achieve a similar look with white gold, at a significant savings. Yellow gold has a warm, classic look, and rose gold has a romantic vintage feel. Whichever precious metal you choose, we always recommend eco-friendly recycled precious metal.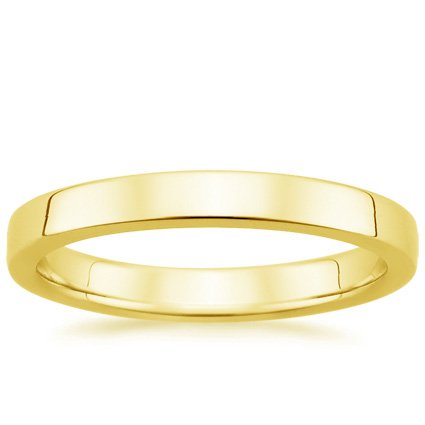 Personalizing Plain Wedding Bands 
A wedding ring that looks plain and simple to the outside world can feature some very unique and personal touches on the inside. You can have it engraved with your new spouse's initials or your wedding date, some other personal message, or a few words from a favorite poem or song (for inspiration, check out Ideas for Engraved Wedding Bands).  Or, you might choose to have a hidden gemstone (perhaps your beloved's birthstone?) set on the inside, or create a fingerprint ring, with part of your new husband or wife's fingerprint engraved on the inside.  With any of these options, you'll be wearing something with special meaning against your skin.

Final Thoughts on Plain Wedding Bands
Do you love the purity and elegance of plain wedding bands?  Why or why not?  Let us know on Facebook or Twitter, or in the comments section!