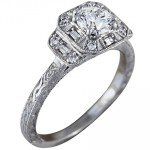 A new survey conducted by TheKnot.com and TheWeddingChannel.com reports some interesting findings on engagement and wedding ring preferences. More than 10,000 brides and 1,000 grooms either engaged or married in the past year participated in the survey. Questions covered everything from metal choice (73 percent chose white gold engagement rings) to diamond shape (53 percent chose round diamonds).
There's a lot here, but we'd like to highlight two of the survey's most intriguing findings. First, the majority of brides help their groom select an engagement ring. According to the survey, 65 percent of brides, or nearly two-thirds, are at least "somewhat involved" in the selection process. Nearly a third, or 31 percent, are "very involved."
We think this is good news. Surprises are wonderful, and what works for couples is always different. However some communication about ring preferences can be very helpful; it can ensure that the bride receives a ring she likes, and it can make the shopping process more relaxed for both bride and groom.  This survey suggests that most brides aren't hesitating to make at least some of their preferences known. Furthermore, these statistics should help dispel any myth that grooms are required to shop for engagement rings in complete silence.
A second survey result we'd like to draw attention to is this: more couples are customizing or personalizing their engagement rings. More than two out of five grooms, or 41 percent, add personalized elements to their engagement ring selection. For couples choosing luxury engagement rings, customization is even more popular. More than half, or 59 percent, include custom design elements in their engagement ring, the survey found. We're delighted by this finding, because it suggests that we're serving our customers' needs. Our online platform makes it easy for customers to build rings that are tailored to their preferences. Also, we are able to custom design any ring you can dream up.
Are these two findings related in any way? It's hard to know, but perhaps greater communication between bride and groom about the bride's ideal ring is facilitating increased customization. Or perhaps, it works the other way: desire for personalized engagement rings may make it necessary for couples to talk more about ring preferences. In any case we will keep working hard to provide our customers with exceptional customer service and remarkable selection, so that they can choose the very finest in personalized, ethical origin rings!