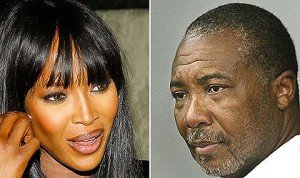 Supermodel Naomi Campbell has been subpoenaed to testify at the trial of former Liberian President Charles Taylor, who is accused of using blood diamonds to help finance a brutal, decade-long civil war in Sierra Leone that ended in 2002. Campbell, who has said publicly that she "does not want to be involved in the case," has been reluctant to testify so far.
The civil war in Sierra Leone was among the worst diamond-fueled conflicts in recent memory. At least 50,000 people died and 2 million people were displaced in a war that was fueled, in large part, by the sale of rough diamonds. It is alleged that Taylor, then Liberia's president, traded in rough diamonds and used the proceeds to support the rebel side of the conflict in neighboring Sierra Leone. He is now being prosecuted for war crimes and crimes against humanity by an international criminal tribunal, the Special Court for Sierra Leone, which is conducting proceedings in the Hague, Netherlands.
Taylor and Campbell were both guests at a 1997 reception hosted in South Africa by Nelson Mandela. Actress Mia Farrow, who also attended the reception, has said that Campbell confided to her that the night following the reception, Taylor's agents knocked on Campbell's hotel room door. Farrow says they then presented Campbell with an enormous rough, or uncut, diamond as a gift. Because Taylor has testified that he never possessed any rough diamonds, Campbell's testimony could help connect him to the blood diamond trade.
Campbell is already well-known for her tantrums and violent outbursts, and it seems that this latest spat over her testimony is not improving her reputation. When asked about Taylor's diamond gift by ABC News in April, Campbell became visibly irritated. "I didn't receive a diamond and I'm not going to speak about that," she said before storming away from the interview and punching a camera in a producer's hand. Campbell has told Oprah Winfrey that she is concerned that testifying against Taylor would put her own family's safety in jeopardy. She has not yet said whether she will appear in court in response to the subpoena. If she does not appear, she could face as long as seven years in prison and a fine of about $500 for contempt.
We would hope that Campbell can summon the courage to share with prosecutors whatever information she can provide. One way to ensure that diamonds are mined in an ethical way is to put in place mechanisms capable of tracking and certifying diamonds that are mined responsibly. But criminal law also has an important role to play in breaking the link between diamonds and violence. Holding Taylor accountable for his actions could be a powerful deterrent to future leaders who would use diamonds to wage war.