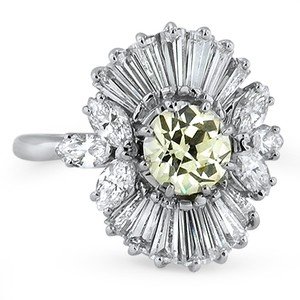 If learning about vintage and antique jewelry feels like a history lesson, that's probably because it is! Jewelry dates back to the Paleolithic period, and ever since then it has had a prominent place in almost every civilization. Jewelry is so fascinating because over the ages it has mirrored changing fashions, architecture, and cultural trends.

If you are confused about the difference between antique, vintage, and estate jewelry, here is a brief explanation of the differences:

Antique: The most common definition claims that antique jewelry is at least 100 years old. This means that new pieces become antique every day as they turn 100! This encompasses Georgian, Victorian, Art Nouveau, and most Edwardian jewelry. Jewelry from ancient civilizations, the Middle Ages, the Renaissance, and the Baroque period are generally referred to by the name of their particular period rather than "antique."

Vintage: Vintage jewelry is not old enough to be considered antique (these pieces are less than 100 years old). However, vintage does not include contemporary or modern jewelry. Vintage generally refers to Art Deco, Retro, and some Edwardian jewelry. Keep in mind, however, that jewelers will often use the terms antique and vintage interchangeably, so make sure that you inquire as to the actual date of a piece.

Estate Jewelry: Despite the name, estate jewelry has nothing to do with belonging to an estate! This term simply indicates that a piece of jewelry has been previously owned. This means that every piece of jewelry that has been owned and worn is considered an estate piece, whether it is ancient, antique, vintage, or modern.

The most common estate eras are: Victorian (1827-1901), Art Nouveau (1890-1910), Edwardian (1901-1920), Art Deco (1920-1935), and Retro (1935-1950).

Diamond Estate Jewelry

Diamonds in estate pieces have changed over time. Single cut diamonds date back to the year 1300 and are extremely rare. This diamond usually has 18 facets and was amongst the earliest set cuts. A rose cut diamond has anywhere from three to twenty-four facets and it said to resemble a rose. These diamonds date back to the year 1500 and begin to show up in Georgian and Victorian jewelry.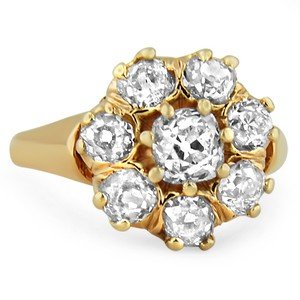 The old mine cut was similar to today's cushion cut, while the old European cut was the predecessor to the modern brilliant diamond and could be found during the Victorian, Edwardian, and Art Nouveau eras. These antique diamond cuts are sometimes preferred for their warm, romantic glow.  Most modern and vintage pieces feature the modern round brilliant cut, the most dazzling diamond cut designed to date.

Estate Engagement Rings

One of the most desirable pieces of estate jewelry is an estate engagement ring. These pieces are full of history and romantic associations. Estate rings are completely unique, just like your relationship. Each ring features its own rich history and pure values. These rings are an environmentally friendly choice because they do not require any new mining to create. They are also commonly lower in price than their modern counterparts.  Maintaining these beautiful rings and passing them on is a beautiful thing!

Some of the most popular estate engagement rings are from the Edwardian, Art Deco, and Retro eras. Edwardian engagement rings are admired for their delicate filigree and adornments. The Art Deco era is famous for its architectural geometrics, whereas the Retro era is known for its early versions of modern engagement rings.

Brilliant Earth Style Tip: These estate "engagement rings" aren't only for engagements! They make wonderful gifts and can be worn on the right hand as stunning statement ring or as a demure everyday piece.

Estate Wedding Bands 

If you are looking for a truly unique wedding band, consider a gorgeous estate piece. These bands feature precious metals—many of which contain intricate hand engravings and milgrain details—and sparkling diamond accents. You can often find matching sets that align in perfect harmony. Many estate wedding bands are grander than today's wedding rings, with large, bold diamond designs. Choose a romantic estate wedding band to give to your partner on your big day and keep the tradition of love alive!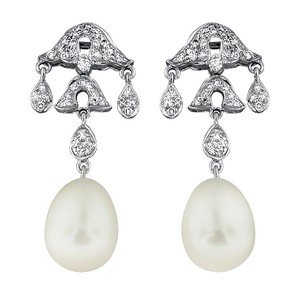 Estate Earrings and Necklaces

If you are looking for a truly stunning pair of diamond earrings or a brilliant necklace, take a look at our gorgeous estate jewelry. If you love vintage bridal fashion, the right estate piece can be the finishing touch to your vintage bridal style! Some of these earrings feature glittering diamonds and iridescent pearls set in stunning chandelier designs. With a fabulous up-do, these earrings will highlight your face with antique glamour. Similarly, estate pendants can be true conversation pieces.

Estate Re-creations

If you miss out on the estate piece of your dreams, all is not lost! You can work with our brilliant custom design team to completely re-create your desired piece.

Final Thoughts

Do you love estate pieces? What is your favorite era and what do you love about it? Tell us on Facebook, Twitter, or in the comments?