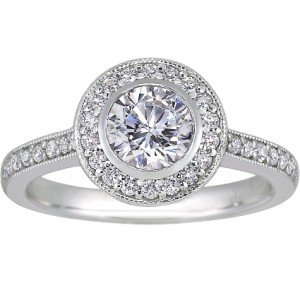 Tracking an upward trend, wedding website The Knot recently surveyed 9,000 newlywed couples and found that 67 percent of the brides were involved in the selection and/or purchase of their engagement rings. The results reflect an increase of 5 percent from just a few years ago. The website also tracked shopping habits in cases where the bride was involved in the ring-purchase process. It found that couples spent an average of $5,800 on an engagement ring.
In generations past, brides were most often surprised with rings chosen by their fiancés, but these days it is increasingly popular for a bride to participate in her ring selection. After all, not only will she be wearing the ring for the rest of her life, but there is also now a much wider selection of rings styles, diamond shapes and cuts, and ethically sourced materials available. And while round brilliant and princess shaped diamonds remain the most popular, with so many choices grooms are now grateful to have the bride's help with selecting or designing the perfect ring!
Brilliant Earth carries hundreds of different ring styles, diamond cuts, setting materials and side stones that allow you to customize your perfect engagement ring, whether it be traditional, modern or romantic. Our step-by-step ring design process explains and helps you to select from all of the available choices and makes putting together a beautifully designed ring an exciting and smooth process. Plus, as always, our conflict-free diamonds and recycled gold and platinum are socially and environmentally responsible, so that you can feel good about your choices.
Take a look at our Create Your Own Engagement Ring guide for ring inspiration.