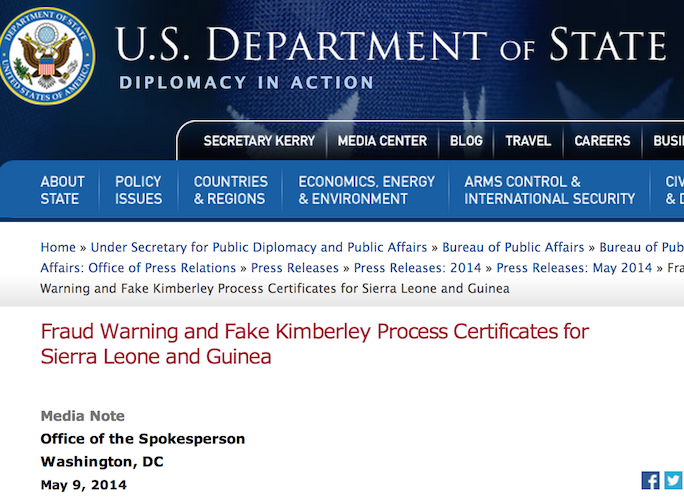 The U.S. Department of State issued a warning recently that criminals are gaming the system that is supposed to protect consumers from buying blood diamonds. The announcement is just the latest example of how that system, called the Kimberley Process (KP), is in need of serious reform.
Under the KP, which includes the participation of 81 countries, governments must issue certificates with all rough diamond exports. Member countries, in turn, are supposed to allow only the importation of certified rough diamonds. The idea is to create a legitimate international diamond trade that screens out conflict diamonds, or diamonds that fund civil wars.
One problem with this system is that it doesn't do anything to stop most of the serious abuses related to diamond mining: poverty-level wages, environmental degradation, child labor, and other problems. But on its own terms, the system doesn't work very well either. Diamonds are still easily smuggled across porous borders without KP certificates. They are also sometimes are given false certificates.
This is what's been happening lately. The State Department reports that scam artists in Sierra Leone, Ghana, and Guinea have been inviting people to buy rough diamonds online, asking for an advance payment, and promising that the diamonds for sale are KP-certified—when in fact, the KP certificates are falsified. In one scam, individuals were invited to Sierra Leone to view rough diamonds accompanied by fake KP certificates. (The diamonds themselves turned out to be fake too, according to the Department.)
Why is it so easy to falsify KP certificates? In designing the KP, the architects wanted it to be easy for member governments to implement. KP certificates basically are a sheet of paper specifying a country of origin and a country of import as well as a value and carat weight. A serial number and a few signatures also go on the certificates. But the simplicity of KP certificates has a major drawback: according to one NGO researcher, they're "about as easy to fake as an old driver's license."
Criminals have verified this. A member of the Pink Panthers, one of the most notorious gangs of diamond thieves, told an interviewer not long ago that the gang doesn't have much trouble creating false KP certificates for stolen diamonds. Within 24 hours, the Pink Panthers are able to create fake certificates and resell their stolen diamonds into the legitimate diamond supply.
All of this may sound like an arcane technical matter for customs officials. But the KP's inability to keep illegal stones out of the diamond supply has real consequences. It means the KP can't do the very thing it is supposed to do: stop the export of conflict diamonds. At this moment, a terrible civil conflict in the Central African Republic is being fueled by diamonds. The KP can do very little to stop conflict diamonds flowing from the Central African Republic because its enforcement capability is so weak.
How much longer will the KP wait before it implements a system that truly breaks the link between diamonds and civil wars? We're not optimistic that it will be anytime soon. Until then, consumers need to recognize that any diamond that can't be traced to its source could be a conflict diamond.