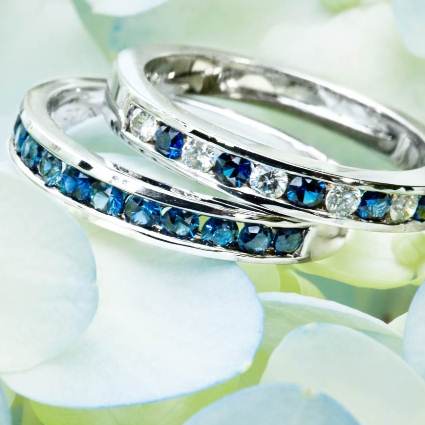 Sapphire wedding bands are a stunning alternative to diamond rings because some people just need a pop of color in their lives! Sapphires are a part of the corundum family of gems, which occur naturally in every color of the rainbow (the deep red variety are what we know as rubies). Royal blue sapphires, however, are highly prized and widely sought after for their deep, enchanting color.

Wedding bands tend to feature smaller sapphires in elegant rows, acting as the perfect complement to your engagement ring. Stunning sapphire wedding rings are wonderful to give and receive on your big day!

Pavé Set Sapphire Wedding Bands

If you want all of the focus to be on your sparkling sapphires, consider a pavé sapphire wedding band. The pavé setting sets gemstones very close together and fills in the small spaces with tiny beads of precious metal, creating a solid line of sparkle that looks "paved." For a more vintage inspired look, consider pavé sapphire wedding bands bordered by milgrain (small beads of precious metal on the edge of the ring) or featuring alternating sapphires and diamonds. Pavé bands bring out the best in pink sapphires, creating a glittering, feminine band. A sapphire wedding band with alternating white diamonds and pink sapphires has a very subtle contrast between the colors, creating a luminescent glow.

Channel Set Sapphire Wedding Bands

Sapphires look particularly beautiful when they are in a channel set wedding band. In a channel setting, gemstones are set in a slender channel between two strips of precious metal, two fine grooves holding the sapphires in place.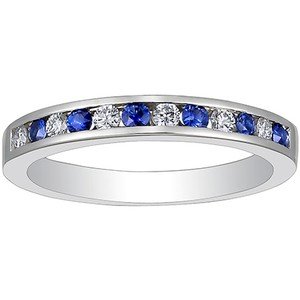 The contrast of shining metal and sparkling sapphires creates the illusion of a deep pool, the gems appearing to flow together in gentle waves.  

Many women seek a petite channel set band with smaller sapphires that subtly enhances a sapphire engagement ring. Others have custom designed larger channel set rings that feature sapphires and diamonds that are 3mm in diameter! Large channel set wedding bands are a true statement piece! Pair sapphire channel set wedding bands with a sapphire engagement ring with channel set diamond accents for an elegant matched set. You can also request to replace the engagement ring's channel set diamonds with sapphires for a true blue look!

Unique Sapphire Styles

Sapphire wedding bands come in other unique styles if you are looking for something a bit different! If you love delicate rings with a feminine scalloped edge, consider a wedding band with bezel set sapphires and diamonds. If you would like a vintage look, go for a ring with elegant milgrain borders and classic baguette gems.These styles look absolutely stunning in a diamond and sapphire ring stack!  

It is important to decide whether you want an eternity band or not. Eternity bands allow gemstones and designs to stretch all the way around the circumference of the ring, creating a complete halo that encircles the finger in endless beauty. Sapphires are sometimes said to represent truth and faithfulness, making an eternity sapphire wedding ring particularly meaningful. Keep in mind that many wedding bands can be customized to be eternity bands!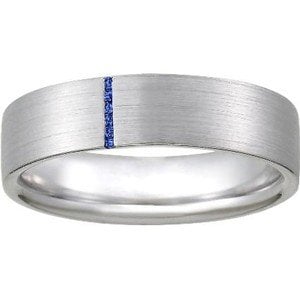 Men's Sapphire Wedding Bands

Pay attention guys! Sapphires are not just for the ladies. Some men love a little shine on their wedding bands as well, and there are some wonderful ways to incorporate sapphires into an everyday look. Rings that include micro sapphires in a slim channel are highly sought after for their subtlety and luxury. Much like diamonds, sapphires are a very hard gemstone. Depending on the setting, sapphires are great for everyday wear and will withstand anything you throw at them. If you both love sapphires, consider choosing a coordinating set of his and hers wedding bands!

Custom Rings

A great way to make your sapphire dreams come true is to custom design your own wedding band. This is a great way to express your creativity! You can create an extra-large channel set wedding band, alter an existing style in a big way, or create an awesome men's wedding band! Check out our custom design gallery for sapphire inspiration!

Final Thoughts

Do you love the deep beauty of sapphire wedding bands? Have you considered a sapphire wedding band for your "something blue?" Tell us why you love them! Let us know on Facebook, Twitter, or in the comments below!