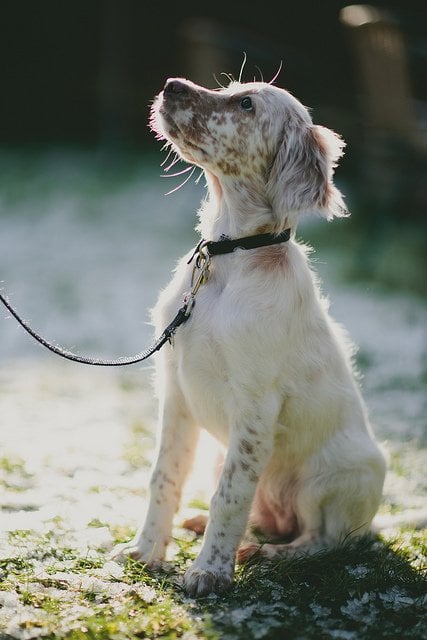 Whether they're furry, scaly, feathered, or hiding under a shell, your pet has probably become a precious member of your family. These companions dig their claws into your heart (and sometimes your couch) and they never let go. They keep your secrets, they're always there when you need them, and they provide comfort during hard times.

Though we all can't have a 101 Dalmatians moment (where your leashes get tangled in the park and you lock eyes with the love of your life), animals can be a great way to bond in the early days of a relationship. If a man or a woman treats their animal with love and respect, he or she will probably show you the same devotion. As Albus Dumbledore said in Harry Potter, "If you want to know what a man's like, take a good look at how he treats his inferiors, not his equals."

If you love your pet almost as much as you love your future spouse, consider including them in the best day of your life—your wedding!

Ways to Incorporate Pets in Your Wedding

♦ Have your pet in the room as you're getting ready.

♦ Take your pet for a walk— down the aisle.

♦ Have someone else walk your pet down the aisle. You can dress them in a similar color to your bridesmaid dresses, or you can even find small suits! Hanging a small "here comes the bride" sign around their neck is always adorable.

♦ Have your pet act as the ring bearer.

♦ Allow your pet to sit in a place of honor near both of you during the ceremony.

♦ Ask someone to bring your pet to the photo shoot (this is a good option for animals that wouldn't do well at ceremonies or venues that don't allow pets).

♦ If you're too nervous about having your pet at the wedding, try including them in an engagement photo shoot!
Check the Rules

Before bringing along your pet of honor, you need to find out whether your venue allows pets. Don't expect Fido to amble down the aisle of a church with your rings if you haven't talked to whoever is in charge! Some venues might have fees while others might be open to negotiation, but some may have a 'no animals' policy, take it or leave it. Make sure you ask about the policy before signing contracts, especially if this is a deal breaker. Always get written permission from your venue, and bring it with you on your wedding day!

Be Honest With Yourself

All of us tend to think that our pets are little angels… but most aren't. Pets can be dirty, noisy, and completely rambunctious. They can't help it! You might see pictures of perfectly behaved dogs in wedding photos, but oftentimes what those photos don't show is the dog chasing down grandma two seconds later. Think about how your dog reacts in certain situations. If you are having an exciting event with 300 guests that will stretch on for hours, you might want to leave your pet at home. Some animals get nervous and can start acting out in these high energy, high stress situations. Laid back affairs with shorter ceremonies create an ideal atmosphere for animals.

You also need to ask yourself whether you'll be okay if anything goes wrong. Will you be okay if your dog pees on your dress or accidentally swallows your wedding rings? Animals are unpredictable. Decide for yourself whether something like this would ruin the day or if you'd be able to laugh it off. Also, make sure your guests know that your pet will be in attendance so that those with allergies or other aversions can make an informed decision.

Dress Them to the (K) Nines

Once you've decided to include your pet of honor, make sure they show up in style. Nothing is cuter than an animal with accessories! Clip on a dapper little bow tie, a little suit jacket, or even a lacy tulle cape! A simple ribbon or cluster of flowers that match your colors is a wonderful way to tie everything together. Just make sure that the outfit is pet safe and that your pet won't eat it!

Final Thoughts

How would you/did you include your pets in your wedding? Let us know on Facebook, Twitter, or in the comments!
Image by Phil Hearing Photography