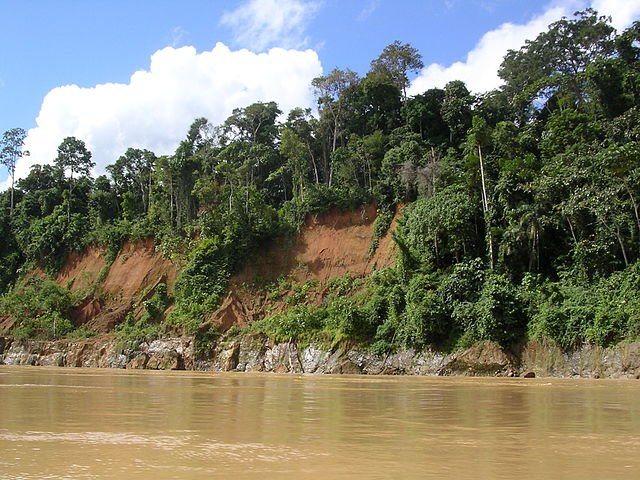 When he was 16, a teenager in Peru named Oscar decided to take a job at a gold mining camp in the Madre de Dios region of the Peruvian Amazon. Oscar's cousin had convinced him to take the job, telling him that he would be paid in valuable chunks of gold. To get to the mining camp, he had to take a five-day canoe trip on a river. When he arrived, he discovered he had been tricked. His cousin had sold him to the mine owner. He was told that he would need to work 90 days to pay off the fee given to his cousin. He was put to work hauling wheelbarrows full of rock and sand.
There was no way to escape because the mine owner controlled the canoes that transported the workers. So for a month, he did hard labor, carrying about 100 wheelbarrows a day. Then he contracted malaria. Without medical attention, his condition grew worse. He was left to die on the floor of a hut. Although he managed to recover, he ultimately was forced to work eight months at the camp. When he finally left, he was given 10 grams of gold, which he sold for $115. But soon after leaving, he contracted yellow fever. His earnings didn't cover the hospital fee so he needed to borrow money from his mother. In the end he decided to return to the gold mines to try to earn enough money to pay her back.
Oscar's story and many others like it are told in an excellent new report by Verité, an international labor rights group. The report documents how artisanal, or informal, gold mining in Peru is beset by exploitation. Child labor and forced labor are common, with teenagers like Oscar (the report changed his name to protect his identity) and even younger children becoming trapped in coercive situations for months or years. Health and safety concerns are a big part of the problem. From mercury exposure to animal bites to tropical illnesses, the risks are such that miners like Oscar are often lucky to stay alive.
A "Dodd Frank" for Forced Labor
Most gold mining in the Madre de Dios region is unlicensed and unregulated. The authors of the report address many of their recommendations to the Peruvian government. But Verité also argues that labor practices in Peru will improve if international businesses adopt higher standards and are more transparent.
One solution noted by the report is for businesses to choose Fairmined gold, which we offer at Brilliant Earth. But the report also proposes an intriguing idea: it calls for the United States to adopt legislation requiring companies to disclose whether the metals in their supply chains are mined using forced labor.
There are two precedents for that type of legislation. There's the Dodd Frank financial reform law of 2009, which contains a provision on "conflict minerals." The provision requires large companies to disclose whether the minerals in their products might have contributed to the civil war in the Democratic Republic of Congo. (The law says nothing about forced labor, however.) There's also the California Transparency in Supply Chains Act of 2010. The law requires large companies in California to disclose on their web sites what they are doing to remove slavery and human trafficking from their supply chains.
Both these laws are still very new. Companies must report for the first time under the Dodd Frank provision by May 31. The California law went into effect in 2012, and many companies already have made disclosures. We're encouraged by these laws—and we hope that legislators can learn from them to craft a U.S. law, or laws in other states, requiring companies to be transparent about forced labor in their supply chains. Such legislation could create an incentive for gold mining operations in developing countries, like Peru, to come within the bounds of Peruvian law and follow labor and environmental rules.
That could create a fairer workplace for miners like Oscar.