Many women love the idea of a personalized ring—for an engagement, a wedding, an anniversary, or other personal or family milestone. Brilliant Earth offers a number of different options for creating a personalized ring. Choose one personal touch or combine several to craft a ring that's uniquely, personally yours.
Options for a Personalized Ring
Create a Custom Ring
At Brilliant Earth, we offer an unparalleled opportunity for you to create a custom ring for your engagement, wedding, or special occasion. The Brilliant Earth team specializes in making your vision a reality; our jewelry experts love to take your inspiration and help you to create a piece that meets and exceeds your expectations.
Perhaps you have been inspired by a ring you have seen—in person, in a bridal magazine, on a celebrity, or in a family photo—and want to replicate it. Or, maybe you have fallen in love with a one-of-kind antique ring…that belongs to someone else. Regardless of the inspiration, Brilliant Earth can help create—or recreate—your perfect ring. Our jewelry specialists are available via email, phone, or live chat to help you get started on the custom design process. And to get an idea of the breadth and depth of custom ring possibilities, browse our beautiful custom ring gallery!
The Custom Design Process
Custom designing a ring with Brilliant Earth is a collaborative, simple step-by-step process.
-We provide a quote based on your initial ring concept, which considers costs for your requested gemstone(s) type, shape, and size, precious metal, and any other detail elements.
-We then work with you to refine the concept and, if your design is a ring with a center stone, our expert gemologists will help you to select the perfect beyond conflict free diamond or gemstone.
-We create a model—either wax or computer generated (called CAD)—so that you can view your ring from all angles in 3D and either approve or request modifications so that you're confident the ring fully fulfills your vision.
-Finally, with your approval, we cast your ring and set your gemstones for a beautiful, truly one-of-a-kind finished piece.
Since the custom design process has multiple steps and is crafted to meet your exact specifications, it can take between 4-6 weeks to completely custom design a ring.
Modifying a Ring
A great option for personalizing a ring is to make modifications to something that is already in our collection. Perhaps you really like one of the engagement ring settings or wedding rings we offer but want to alter one or two aspects—such as finish, gemstone type, or band width—to make it exactly what you want. This allows you to use one of our existing rings for inspiration and to add some special touches for a custom-made feel. We can make modifications to our rings to suit your preferences.
Engraving Your Ring
A romantic and timeless way to personalize your ring is to engrave it. Many couples choose to engrave their wedding bands, which generally provide more surface area for an inscription due to increased width. Popular engraving choices are your wedding date, your initials or monogram, song lyrics, or a term of endearment that has special meaning for just the two of you.
Other couples love the idea of adding a fingerprint to the inside of one another's band as a special way to personalize their rings.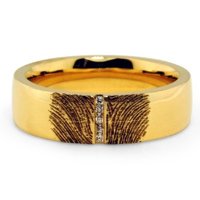 When to Consider a Personalized Ring
Personalizing a ring is a great way to recognize and celebrate so many occasions! Engagements and weddings are the most classic examples, but personalized rings are a wonderful way to honor milestone anniversaries (consider starting a collection of eternity bands or stacking rings), birthdays, the birth of a child (consider their birthstone!), or a career milestone. Adding engraving to these gifts is also a lovely touch.
A personalized ring is always special and never goes out of style. What truly makes a personalized ring meaningful is the thought that went into its creation. It was made especially for you, and that in and of itself is something to treasure.