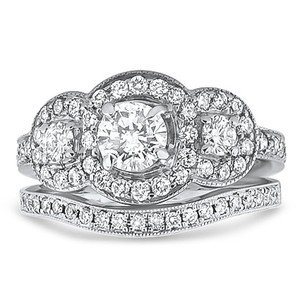 At Brilliant Earth we love browsing OneWed, an online resource for wedding planning and inspiration. So we were thrilled to enlist the OneWed team to curate a collection of vintage rings and jewelry that is perfect for the modern bride—a woman who uses the most contemporary technology to plan her big day but is infatuated with jewelry from decades before computers were invented. Here, OneWed's Hannah Nilsson reveals why vintage jewelry feels so "right now" and how they went about selecting these special pieces:
Why do you love vintage jewelry?
Vintage pieces have stories and meaning, whether it is an heirloom ring passed down through generations of women or a one of a kind piece found at an estate sale. Being part of the story of a piece and knowing I will pass it down to someone else is really fun and meaningful to me.
It's also exciting knowing that there may only be one, or very few, of a particular piece in the whole world, and I have the privilege of wearing it. When given the choice, I opt for something beautiful and rare, not just beautiful. Vintage rings are also socially responsible, eco-friendly  choices.
How did you select the pieces in your collection?
Diamonds are undeniably breathtaking, but so are many other gemstones! I wanted to give colored gemstones their due, because I've found that taking away the diamond allows designers to think about the whole ring, not just how to highlight a diamond. The creativity that went into creating each ring is on full display. Of course, we also included lots of gorgeous diamond options!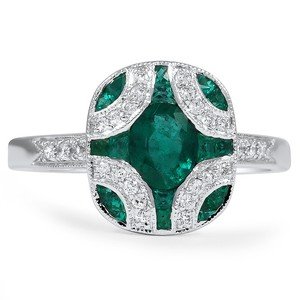 What trends are you seeing in vintage wedding and engagement rings?  Which styles are popular today? 
I love how many brides are choosing gems like sapphires, rubies, emeralds, and even pearl rings. Other trends I love are east-to-west settings and floral or intricate details on the setting. Rose and yellow gold have also become hugely popular, and both lend a more vintage feel regardless of the setting style. Halos are continuing to evolve as well, with double halos and with alternative shapes like pear, cushion, and emerald cut.
Why do you think so many of today's brides are opting for vintage rings?
People of my generation thrive on being individuals, and finding meaning in things is important to us. Our rings aren't just a symbol of marriage, they are a reflection of who we are as a couple. Vintage and alternative rings can help us tell that story. I also think many brides and grooms are excited by the treasure hunt of finding that unique ring.
This generation of brides and grooms is also influenced by the recession, and they want to make smart choices with their hard-earned dollars. Alternative pieces that are high quality and have a timeless look appeal to these savvy shoppers looking to optimize cost and style to find something that will last forever.
What should a couple look for in a vintage engagement ring or wedding ring?
There is no "right" engagement or wedding ring, only the right one for a particular person, so shop around and embrace whatever style, shape, or stone color that you are drawn to! In general, though, optimize for quality of the metal and gemstone, look for unique details that are specific to your tastes and ask yourselves if it's also the right ring for ten, twenty, or even fifty years from now. Also, make sure that you are comfortable with the price tag!
Do you have any advice on combining a vintage engagement ring with a wedding band? Or a vintage wedding band with a non-vintage engagement ring?
They should complement each other but they don't need to match. If you have a very intricately or uniquely shaped vintage engagement ring, opt for a simple wedding band that does not distract from your show-stopper. On the other hand, if your engagement ring does not have too much glitz, choose a wedding ring with an infinity or half-infinity band of gemstones, or with an uncommon shape or curve that adds a bit more interest. Also, don't be afraid to mix metals!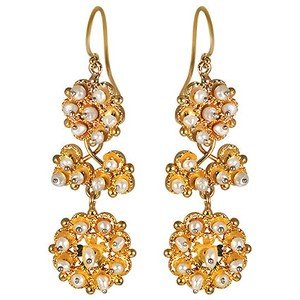 What are some tips on incorporating vintage jewelry into your wedding look (as your "something old" perhaps)?
Vintage jewelry is a perfect "something old," especially when a bride incorporates elements from her grandmother's or mother's wedding attire. If you want to use an older piece of jewelry in a newer way, incorporate it as a hair accessory or as a statement piece in your bouquet.
Do you have a favorite piece of vintage jewelry in your personal collection?
When I was young, my grandmother gave me a silver and turquoise  ring. I recently rediscovered it and haven't taken it off since. It is simple enough to wear with practically anything, and it always gets compliments. It serves as a wonderful reminder of our special relationship.
Tell Us What You Think
Browse the OneWed Curated Vintage Bridal Collection now!  Which pieces are your favorites?  Let us know on Facebook or Twitter, or in the comments section!