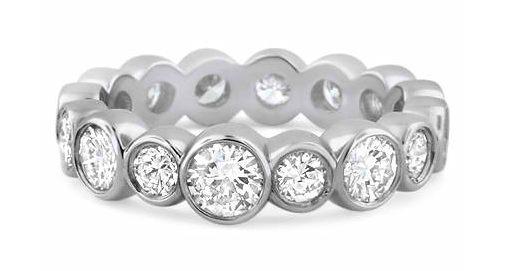 Long gone are the days when simple metal bands were your only wedding ring options. Although classic bands remain popular, many of today's couples want non-traditional wedding rings that express their personal styles or say something about who they are as individuals or as a couple. If you are drawn to creative or unconventional clothing and jewelry, then a non-traditional wedding ring may be just your thing. Below are several ways to beautifully achieve a distinctive look with your wedding bands.
Add Color
Consider making your wedding ring stand out by selecting one with colored gemstones. Sapphire wedding rings are available in a rainbow of colors and a range of styles—from sleek modern ones like our Channel Set Round Sapphire Ring to antique-inspired styles like our Vintage Sapphire and Diamond Ring. And gemstone wedding bands aren't only for women; men who crave a little color on their ring fingers might love the Horizon Sapphire Ring, which features a vertical row of vibrant blue gems. Because sapphires are durable gemstones,  sapphire wedding rings hold up beautifully to everyday wear.
Go Vintage
Selecting authentic vintage wedding rings guarantees a one-of-a-kind look. While the styles in our Antique Collection were considered classic in their time, today they can represent a non-traditional wedding ring choice. They often feature exquisite vintage details like hand engraving and milgrain, and may include diamonds in antique cuts that are rarely seen today. Antique and vintage rings also possess great romance: they carry with them a love story from the past, and they will be an essential part of your love story.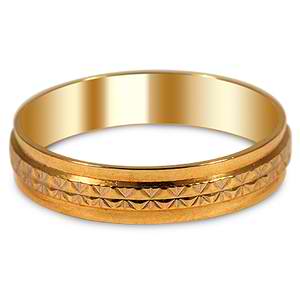 Go Glamorous
The wedding band doesn't have to be the understated little buddy next to a scene-stealing engagement ring. Wedding bands with unique designs and lots of shimmering diamonds can command just as much attention.  You can wear one of these dazzling bands on your left hand and wear your engagement ring on your right, or you can wear one that doubles as both engagement and wedding ring. Some examples are the Diamond Twist Sapphire and Diamond Ring, the Flora Ring, and the Isis Ring.
Subtly Tweak a Classic
If you've seen a wedding ring that you really like but wish it could be more special, consider altering one or more design elements. Changing a gemstone, a finish (high polish, matte, hammered), or selecting a unique precious metal like rose gold allows you to create a slightly non-traditional wedding ring that expresses your style.
Wear a Claddagh Ring
A traditional Celtic claddagh ring can be worn as an engagement ring, as a wedding ring, or as both at the same time. The design of these of these rings is rich in symbolism—two hands clasp a heart, topped by a crown. The heart represents love, the hands friendship, and the crown loyalty. The way a claddagh is worn also has symbolic meaning: Traditionally, facing out on the right hand indicates romantic availability, while facing in signifies you're in a relationship. Facing out on the left hand means you're engaged, and facing in lets the world know you are married. At Brilliant Earth can choose among a selection of claddagh rings in your choice of precious metal and with a center gemstone you select. This style is especially popular with couples honoring Celtic heritage.
Custom Design
To guarantee that your wedding ring is 100% unique to you, go for a custom design. Fun, engaging, and creative, our simple step-by-step custom design process is the way to achieve a truly one-of-a-kind wedding ring. Whether you have a precise design in mind, or simply a nugget of an idea (a symbol, an image, or a favorite color), design experts can help create wedding rings that are exceptional, and anything but cookie cutter. What's important to you as a couple? Represent that in your custom designed ring. If you can dream it, it can be yours.
Personalize Your Rings
Many wedding rings today can be engraved—on the inside, on the outside, or both. Consider engraving your wedding rings with whatever represents you best. Your wedding date, the date you met, your wedding location coordinates, a private joke, nicknames, or a song lyric. Depending on the ring, you may even be able to have one another's finger prints engraved on your wedding bands. Whatever you choose, engraving adds a personal touch that will be special throughout your lifetime. Check out our Ideas for Engraved Wedding Bands post for some more detailed suggestions for creative and heartfelt engravings.
Final Thoughts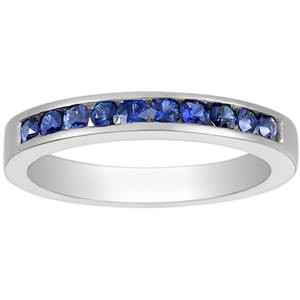 Wedding rings are an essential part of your wedding day and your marriage. The outward symbols of your commitment, love, and union, wedding rings should reflect your style as an individual as well as your promise to your partner.
As more and more couples seek unique wedding venues, uncommon themes, and fantasy locales for their celebrations, and as the overall overall landscape of weddings and marriages becomes wonderfully diverse, it follows that many couples want to exchange and wear non-traditional wedding rings. As you can see, there are more choices in the non-traditional wedding rings realm than ever before! We hope this provided a jumpstart to your brainstorm, or added momentum to your search for the perfect wedding ring pairing.
What's your idea of a perfectly unique wedding ring?  Let us know on Facebook or Twitter, or in the comments section!