With Nelson Mandela now 95 and in poor health, there's been a lot of conversation lately about his legacy. So here's one of the more intriguing photos to emerge of Mandela. The photo shows a smiling Mandela at a party he hosted at his home in 1997, while president of South Africa. With him, among the guests, are the actress Mia Farrow (second from right) and the supermodel Naomi Campbell (third from left, wearing white). And the man in grey standing next to him is Charles Taylor, then the president of Liberia.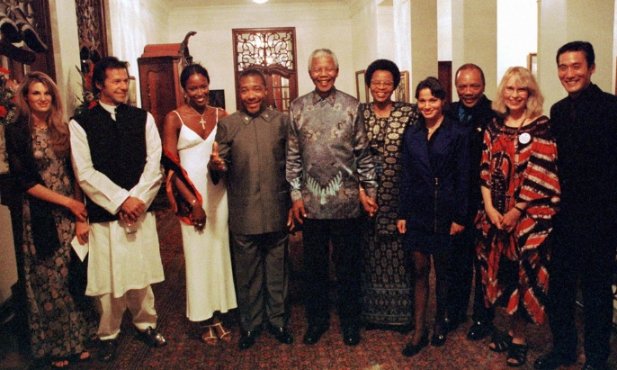 The photo is striking, first of all, because it shows Mandela with two celebrities. But it is also notable because Mandela is a hero and a legend, while Taylor is considered one of the worst villains in African history. Last year, Taylor was convicted of war crimes for using diamonds to fuel a bloody civil war in Sierra Leone that killed more than 50,000 people. On Friday, it was announced that Taylor will serve a 50-year prison sentence in a British prison.
Most of the media frenzy surrounding Taylor's trial was about Campbell. She testified that after the party at Mandela's house, Taylor gave her a pouch full of diamonds as a gift. (Her testimony was key because it helped establish that Taylor was involved in the diamond trade.) But the above photo raises questions about Mandela too. Why was Taylor, a blood diamond warlord, invited to Mandela's house? And what was Mandela's stance on the issue of blood diamonds?
Mandela and Blood Diamonds
A little context helps put the photo in better perspective. Taylor served as president of Liberia from 1997 to 2003. When the photo was taken, he had been elected just a month earlier. Although Taylor was known as a brutal warlord, at that point it still may have been possible to hope that his leadership wouldn't be as disastrous as it turned out. It was also part of Mandela's job, as South Africa's president, to manage relations with other African countries. Given that Taylor was the head of state of Liberia, it is understandable that he was allowed at Mandela's house.
In addition, the issue of blood diamonds still hadn't gotten much attention as of 1997. When Mandela hosted Taylor, he may not yet have thought deeply about the role of diamonds in funding armed conflict. It wasn't until 1998 that the rights group Global Witness published a path-breaking report on the role of diamonds in Angola's civil war. And it wasn't until 2000 that another group, Partnership Africa Canada, issued its first report on the role of diamonds in funding the civil war in Sierra Leone.
What is surprising is not that Mandela hosted Taylor in 1997; it is that when the campaign against blood diamonds began in earnest in the next few years, Mandela didn't lend his support. Instead, as discussed in this article in The New Republic, Mandela came to the diamond industry's defense. "The diamond industry is vital to the South African and southern African economy," he reportedly said. "We would be concerned that an international campaign on these issues did not damage this vital industry."
A few years later, in 2006, the movie Blood Diamond starring Leonardo DiCaprio arrived in theaters. The film graphically depicts the diamond-fueled civil war in Sierra Leone. But rather than help promote the movie, Mandela once again expressed concern. In a letter to the movie's director, Edward Zwick, Mandela wrote that "it would be deeply regrettable if the making of the film inadvertently obscured the truth, and, as a result, led the world to believe that an appropriate response might be to cease buying mined diamonds from Africa."
Basically, Mandela mouthed the diamond industry's talking points. (And those talking points don't make a lot of sense. Drawing attention to blood diamonds isn't somehow bad for Africa; building a violence-free diamond supply chain would be good for everyone involved in the diamond trade, particularly in the long-term.) The title of The New Republic article is "Mandela, diamond shill." That description may not be too far from the truth.
Understanding Mandela's Position
Mandela's unwillingness to speak out against blood diamonds is disappointing. More might have been expected from the man who is thought of as a peacemaker and as the South African counterpart to Martin Luther King, Jr. And yet, for a few reasons, his decision not to join the campaign against blood diamonds is understandable.
For one, Mandela wasn't just a civil rights leader, like King. He was also a South African politician. South Africa is home to the world's biggest diamond company, De Beers. (During the blood diamond wars in Sierra Leone and Angola, Debeers didn't operate the diamond mines in those countries, but it bought those diamonds and profited from them.) Just as Wisconsin politicians favor the cheese industry and Nevadan politicians support the gaming industry, South African politicians usually side with the diamond industry. By supporting De Beers, Mandela was just being a typical pol.
The politics of apartheid also probably affected Mandela's position. De Beers' long-time leader, Harry Oppenheimer, was an outspoken apartheid opponent. Mandela was friends with Oppenheimer and may have felt a loyalty to Oppenheimer's company, even after apartheid ended. In addition, Mandela's goal as president was to smooth tensions between white and black South Africans, to build a country in which everyone felt welcome. As he upended South Africa's political order, he became less willing to challenge the economic order. His economic policies therefore were more right-leaning than expected—and his stance on blood diamonds should be seen in this context.
Diamonds and the Mandela Legacy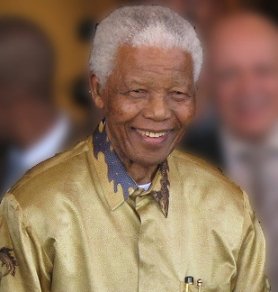 The legend of Mandela continues to grow. Last month, a new statue of Mandela was unveiled in Washington, D.C. In London, an exhibition showing art inspired by Mandela is on display. And last week it was reported that a new movie about Mandela will debut at a film performance hosted by the British royal family.
This is as it should be. Mandela's position on blood diamonds shouldn't dim his legacy. There is, after all, a world of difference between being a blood diamond warlord, like Taylor, and casting doubt on the campaign against blood diamonds, like Mandela. The former South African president deserves all the praise he gets. And whenever he passes away, he will deserve more. His accomplishments ought to be celebrated. His capacity to inspire should live on.
At the same time, people would do well to remember that Mandela was human. Like other politicians, he made pragmatic decisions. Sometimes, Mandela made mistakes. And his position on blood diamonds, although understandable, was one of them.