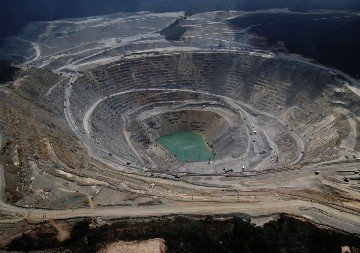 Gold mining companies have a terrible track record when it comes to the environment. But among the major industry players, Newmont Mining Co. has refused to be typecast. In 2007, the Denver-based company became the first gold mining company to be listed on the Dow Jones Sustainability Index, a financial index of companies with an unusual commitment to environmental protection. In 2008, Wal-Mart chose Newmont to be its supplier of eco-friendly gold. Newmont's own web site proclaims: "Our commitment to sustainability is fundamental to who we are and how we do business."
Recent events in Ghana show there is room for improvement. Newmont owns the Ahafo mine, a gold mine located in a rural region of Ghana. In October 2009, a cyanide spill at the Ahafo mine devastated aquatic life and contaminated local drinking water. A recent investigation by the Ghanian government found that, in addition to not taking the proper precautions, Newmont failed to report the spill properly or investigate it. Ghanian authorities have decided to assess Newmont a fine of $4.9 million, both for the spill and for the company's failure to respond to it adequately.
Tensions between the mine and the local community were high even before the October spill. Opponents of the Ahafo mine have been loudly objecting to the mine's environmental footprint and its impact on people living nearby. About 9,500 local residents, most of them subsistence farmers, were displaced prior to the mine's opening in 2006. A possible expansion of the mine could displace 10,000 more people. Mine opponents also claim that the mine's security forces have beaten protestors, shot at them, and had them arrested.
What happened here? Although Newmont is attempting to fashion itself as an eco-friendly gold mining company, their objectives are being hindered by the fundamental dirtiness of some of their operations. Like other large, modern mining operations, the Ahafo mine uses open pit mining to extract gold from the earth, and it uses cyanide to separate out gold from unwanted metals and materials. Furthermore, for all of Newmont's emphasis at the corporate level on protecting the environment, it apparently has not accorded the same priority to the interests and concerns of local communities.
Government regulation can play a role in keeping up pressure on companies like Newmont to do a better job mitigating environmental harm and taking into account community interests. The fine assessed by Ghanian authorities – and the accompanying negative publicity – should cause Newmont to think seriously about how it can improve its performance and live up to its public commitment to the environment.
Consumers, likewise, have a major role to play. Precious metals like gold and platinum can be recycled with no degradation in quality. By choosing recycled gold and platinum, consumers can reduce demand for gold mining and communicate support for efforts to make gold mining more eco-friendly and socially responsible. Shoppers can also choose to purchase fair trade gold, or responsibly-mined gold that boosts the economies of developing countries. Brilliant Earth provides consumers with both of these ethical alternatives. Our jewelry has always been made of 100 percent recycled gold and platinum, and we are now beginning to offer fair trade gold from the Chocó region of Colombia, South America.