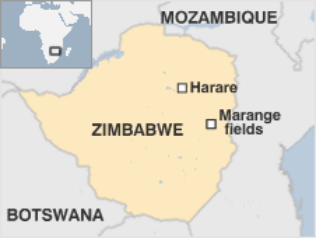 In early March, a man named Herbert Manhanga was walking in the vicinity of the valuable Marange diamond fields in eastern Zimbabwe. Manhanga lived nearby, and a few other local residents were with him. According to Manhanga's sister, the group encountered some security guards for Marange Resources, a diamond mining company. Manhanga dropped his hat and tried to pick it up, at which point one of the guards opened fire, killing him instantly. An analysis determined that the cause of death was two bullet wounds to his head.
A police officer told Manhanga's sister that the police would not conduct an investigation because Manhanga had been trespassing in a "protected area." And when the Center for Research and Development (CRD) – a human rights group that has received Brilliant Earth funding – called Marange Resources to inquire about the death, the company's CEO was overheard telling his assistant to redirect the call to the company switchboard.
This avoidance of responsibility must have been frustrating to the CRD, but it didn't stop the group from publishing its findings. A new CRD report documents what is known about Manhanga's murder, and it details other acts of violence by security guards against local residents. The report documents 11 incidents occurring just in February and March, most of them involving beatings and dog attacks. We should warn that some of the photos in the report are graphic.
The CRD's report would be disturbing under any circumstances. However, we find it particularly troubling considering the history of violence in the Marange diamond fields. In 2008, following the discovery that the Marange diamond fields contain one of the world's richest diamond deposits, the Zimbabwean army invaded. It seized the diamond fields, massacring more than 200 diamond local miners and then enslaving local adults and children. The Kimberley Process, the international diamond certification scheme, banned Marange diamonds for two years, but lifted that ban in 2011 after the Zimbabwean government transferred mining operations to a group of mining companies, which were supposed to act in a professional manner.
Sadly, shifting daily mining operations to mining companies has failed to stop the violence. The fact that the mining companies have web sites and telephone switchboards hasn't ensured that Zimbabwean diamonds are mined in an ethical way.
Some of the ethical issues go beyond violence. Thousands of local residents have been forcibly relocated from their homes to make way for diamond mining, many without  compensation. Billions of dollars in diamond profits that should be used to assist the Zimbabwean people are being lost to corruption. The Zimbabwean government has also made it clear that there are consequences for questioning its oversight of diamond mining. Concerned about the CRD's investigations, the government imprisoned the group's leader, Farai Magawu, on trumped up charges for several weeks in 2010.
The good news, if it can be called that, is that no more massacres have occurred. In 2011, we did hear an alarming report that the Zimbabwean army was running torture camps for diamond miners. But lately, we'd begun to hope that as of 2013 – five years after the massacre – the violence might finally be over. We were wrong.
Manhanga's death, it seems, is part of a pattern of regular abuses by security personnel – mostly against people who try to dig for diamonds on land where mining companies have been granted concessions. For instance, the CRD reports that at 10:30 p.m. on March 16, a 25-year-old man named Tariro Saungeweme and four other men were digging for diamonds on land controlled by Marange Resources. After security guards found them, Saungeweme suffered "intense and heavy beating" and two of the men were bitten by dogs.
In another incident, security guards acting on behalf of another company, Mbada Diamonds, found Netsai Nechipote, a 27-year-old woman, digging at night along with a group of six diamond miners. The guards beat her and then took her to their guard room for an additional beating. The next morning they dumped her next to a river. She was hurt but alive.
Why is this violence happening and what can be done to stop it?
Probably the biggest factor is money. Every diamond taken by a local villager represents a lost profit. Another factor is the geology of the Marange diamond deposit. Maintaining order is difficult because the diamonds are scattered across a large land area.
However, neither of these factors justifies killings or beatings. Security personnel need to be trained to respect human rights, and mining companies need to take responsibility when violence occurs. Furthermore, one reason why local people are trying to dig "illegally" is that the government has never granted any mining concessions to the local community. Only well-connected companies have received permission to mine. If the violence is to end, the Zimbabwean government needs to give a fairer deal to the local community.
Unfortunately, putting an end to this violence won't be easy. The Kimberley Process has already given up what little leverage it had in Zimbabwe, having lifted the diamond export ban in 2011. Nonetheless, at Brilliant Earth we will continue to raise awareness among diamond consumers that Zimbabwean diamonds are blood diamonds. More consumer awareness, over the long term, will create more pressure on the diamond industry to eliminate violence. We will also continue supporting  groups like the CRD, which, by telling the stories of people such as Herbert Manhanga, keep human rights abuses from being hidden and make accountability possible.