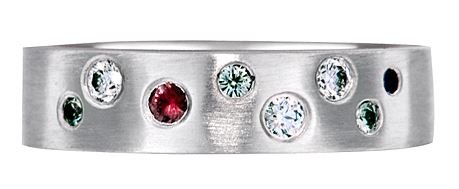 While school is out for summer, take a moment to remember everything your parents did to keep you entertained during those long vacation days. If you have children of your own, you probably understand the mixture of joy and dread that accompany the summer months. Your children are home! But they're home… all day long. Fun activities such as going to the beach and sidewalk chalk tend to be interrupted by sibling rivalry, tantrums, and the constant exclamation of, "Ma, I'm bored!"
To thank parents everywhere for their patience and energy, consider giving the gift of a meaningful, sparkling mother's ring. These rings traditionally feature the birthstone of each child, creating a small reminder of family that you can carry with you everywhere. You can also create a mother's ring that is personalized in other ways, such as a carefully chosen antique ring or a completely custom design.
A mother's ring can be an appropriate and heartfelt gift for many women in your life. You can give one to your mother, your grandmother, your daughter when she becomes a mother (what an astounding day!), your spouse when she's looking weary, or even yourself! Mother's rings make particularly heartfelt gifts for new mothers. These gorgeous rings serve as a reminder that children are worth every second of those long, long summers.
If you are looking for the perfect ring for the mother in your life (even if that's you!) consider these stunning options.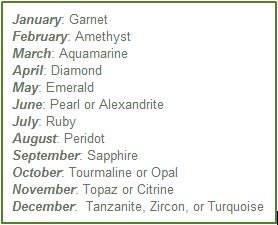 Birthstone Mother's Rings
Birthstones are a great way to represent each child in a piece of jewelry. The practice of assigning birth stones goes back thousands of years. Though the official gemstones have altered slightly over time, birthstones are deeply rooted in many religions and cultures, including our own.
Brilliant Earth can help you to create the perfect mother's ring by custom designing a truly personal piece of jewelry. The design process is fun and exciting! If you include the entire family in the process, you will be creating a special memory that a mother can remember every time she wears the ring. Take a look at our custom design gallery for some inspiration!
When it comes to birthstone mother's rings, you can be as traditional or as unique as you'd like. The traditional style is to simply arrange the gemstones in order of birth, usually going from left to right. You can get creative with the details of this traditional style by choosing stones of different shapes and sizes, or even choosing a unique setting style (such as bezel, bar, or flush settings).
If this organized design isn't for you, you can also find a style of ring that she loves and incorporate the birthstones into that design. For example, if she loves a ring like the antique Kendall ring, you can work with our custom design team to recreate it using ethical origin gemstones that represent her children's birthstones!
A highly desirable way to wear birthstones is to incorporate them into a gorgeous ring stack! Thin, simple solitaires that feature one birthstone per ring (the bezel setting is particularly beautiful with this style) look gorgeous when stacked together with the gems staggered.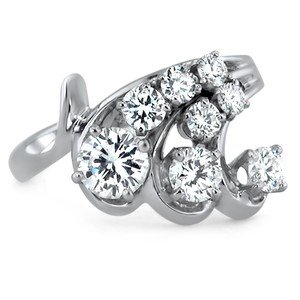 Antique Mother's Rings
Antique rings make for beautiful mother's rings, and she will surely love the history attached to every piece. These rings date back to the Victorian Era and feature incredibly unique designs. You can find a ring that perfectly matches her style—she might love the bold colors of the Retro era or she might prefer the fine details that were favored at the turn of the twentieth century. You can even turn these rings into birthstone rings! Simply replace the antique gems with modern, ethically sourced gemstones to create a stunning piece that is the perfect mix of old and new.
Engraving
No matter which ring you decide on, it is a great idea to include a personalized message on the inside of the ring! You can choose to engrave each child's name, nickname, or birth dates, or you might choose to incorporate a family saying or a meaningful quote. For a wonderfully unique detail, consider having your family's fingerprints engraved on the inside or the outside of the band. Fingerprint rings capture the unique identity of each family member, allowing you to always carry a part of them with you, even when those children are all grown up.

Final Thoughts
Let's give parents a helping hand this summer! This could include babysitting, holding the door open for a stressed-out mom with a stroller, or giving the gift of a stunning mother's ring. Surprising mom with a gorgeous ring on a regular, ordinary day shows that you appreciate all of the little things that mothers do every day because she loves you so much.
Are you planning on giving your mother a ring? Let us know on Facebook, Twitter, or in the comments!