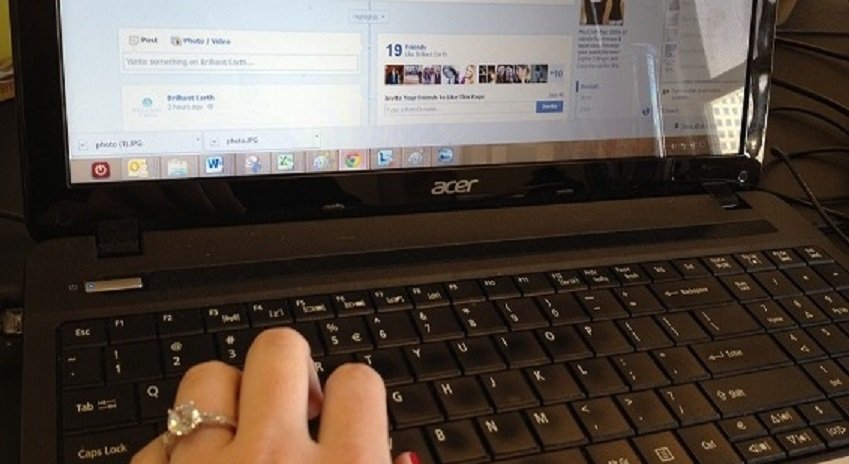 Brilliant Earth reached an exciting milestone in 2013. The number of fans who have liked our Facebook page climbed past 500,000. The more than half a million members of our Facebook community—605,940 as of today—are proof that our movement for change is growing. How did we grow our Facebook community? If you're looking to expand your Facebook platform, consider some of the strategies that worked for us:
 1.      Think Visually (and Listen to Your Fans)
Many members of our Facebook community are current or former customers, but others just love seeing beautiful jewelry. So although we post links to our blog (which covers topics ranging from wedding tips to conflict diamond news), we focus the majority of our Facebook posts on our jewelry collection. Checking out our styles—and others' reactions to them—is fun for our most dedicated fans and helpful to those who are making jewelry selections.
To ID the type of content that will build and engage a Facebook audience, think about your customers' passions. Think about the information they need from you, what conversations they want to engage in, and how you can inject a moment of pleasure into their days.  And most importantly, think photos. Facebook is a very visual medium, and you'll find that photo-driven posts elicit far more engagement than pure text can. It will help, of course, if you are selling a product like jewelry with lots of visual appeal. But, even if you're not, think about how you can make your product visual.  Selling a home surveillance suite?  Consider images of New England mansions and maybe even always-popular pet photos.
 2.      Mix Proven Hits with (a Little) Variety
On our website customers have the ability to create an engagement ring by choosing their own gem, metal type, and setting. Factor in all the other jewelry on our site—pendants, earrings, antique jewelry—and our offerings are quite broad. How do we decide which jewelry photos to post on Facebook?
We try to share those styles that are proven customer favorites, based on Facebook response and sales. If a type of item or image beats your record number of likes, post more of that type.  But we also make a point to share some new  jewelry styles, or fresh twists on old ones. There's limited space in users' newsfeeds and the "unfollow" option is tempting – earn your place with fresh and interesting content.
 3.      Make First Announcements on Facebook
Whenever we debut a new jewelry style or collection, we announce it first on Facebook. When we add antique jewelry to our web site, or announce a deal or promotion, our Facebook community is the first to know. Make Facebook (and other social media) the place where your customers need to be to get exclusive announcements and feel like insiders.
4.      Engage Your Community with Contests and Storytelling
Keep your Facebook fans engaged by holding sweepstakes, such as our weekly "Gifts From the Heart" jewelry giveaway. To enter, Facebook users must like our page. Like-gated giveaways both attract new fans and reward your current followers. We also regularly ask our customers to share photos of their marriage proposals, or tell stories about how they met or became engaged. We've found that they are eager to share their own stories, and to like, comment on, and even "share" the photos and stories of other fans. Whatever your product or service, one of the best ways to source page content your fans will love is by enlisting them to create it.
5.      Let Your Facebook Community Guide Your Paid Advertising
Consider paid advertising to expand your organic reach. If your company decides to advertise on Facebook, we recommend building off what you've learned from your Facebook community. Create ads with content that has received the most likes, comments, and shares. Target ads to friends of your Facebook fans or to users with similar characteristics. (For example, our most active demographic is female 25-34 year olds.)
Final Thoughts
Our growing Facebook community has helped us expand our business, build our movement, and speak with ever greater authority in the jewelry industry. We're proud of the community we helped create and thankful to all the customers and community members who have made it possible. We hope that some of the insights we've gained will be useful to other socially-conscious entrepreneurs as they build their own movements for change.