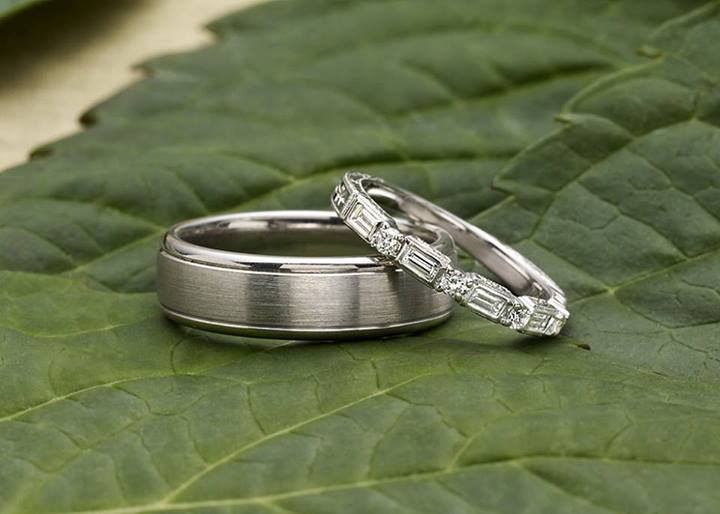 The tradition of wearing wedding rings dates back to at least ancient Rome. The original Roman wedding rings were made of iron, but by the second century AD wedding rings were gold if the couples could afford it. Often Roman wedding rings were carved into the shape of two hands clasped together. Other Roman rings were inscribed with endearments such as "Honey" or "Sweetheart."
This custom has evolved with time and across cultures, and over the centuries wedding bands were far more commonly worn by women than by men. Today, however, it is customary for men to wear wedding rings, and most couples consider shopping for his and hers wedding bands to be a meaningful and fun pre-wedding ritual.
His and Hers Wedding Rings Then and Now
History reveals some instances of men wearing wedding rings—perhaps most notably Queen Victoria's husband Prince Albert, who wore the plain gold ring given to him at their 1840 wedding until his death—but it was not a consistent custom in America until the 1940s. At that time soldiers heading off to war began wearing rings to remind them of their commitment while serving abroad. It's a trend that has been picking up steam ever since, and today's grooms embrace these symbols of love. (One notable exception is Prince William, who has chosen to ignore his ancestor Albert's example by skipping the wedding ring.)
Today couples shopping for his and hers wedding bands have access to a wide range of designs, allowing each person to pick a ring that showcases his or her individual style. Despite this wide selection, many couples still want matching wedding rings. These couples see choosing wedding rings that match or at least coordinate to be a symbol of relationship synchronicity and agreement on issues that go far beyond style. If you are looking for his and hers wedding rings there are a few different approaches you can take:
♦ Matching (the exact same design)
♦ Coordinating (featuring similar elements)
♦ Matching engraving (different styles, same engraving)
♦ Matching custom designs (100% matching and entirely unique)
Matching Wedding Rings 
The easiest way to discover matching wedding bands is to look for simple designs. Classic, comfort fit styles are a popular choice for both men's wedding rings and women's wedding rings, and they come in a variety of precious metals, including platinum, white gold, yellow gold, rose gold, and palladium. Although they haven't shared many details with the public, it appears that newlyweds Brad Pitta and Angelina Jolie chose closely coordinated simple yellow gold wedding bands to mark their marriage. Women's rings tend to be thinner while men's rings are wider, so keep in mind that there will always be a slight difference. If simple bands aren't quite what you want, look for rings that feature different finishes (like high gloss, matte, or hammered) or unique details (such as milgrain embellished edges). These features are understated but will give your matching rings a distinctive character.

Coordinating Wedding Rings 
Coordinating his and hers wedding bands share common design elements while not matching exactly. When you choose coordinating rings, you are giving yourself a bit more flexibility in terms of design. Here are some features that appear in both men and women's wedding rings that you can choose if you'd like your rings to coordinate:
HAND ENGRAVING
Wedding bands that feature intricate hand engravings are highly sought after for their vintage feel and eye-catching detail. While women's engraved rings are usually adorned on all three sides, men's engraved bands are slightly more subtle and the designs are a little less feminine. If you love the look of women's engraved rings look for men's wedding bands that feature Celtic knots or antique scrolls.
MIXED METAL
Mixed metal wedding rings look classic and stylish on both men and women. These rings combine two different precious metals—most often white gold and yellow gold or white gold and rose gold—to create versatile, striking designs. Pairing two types of metals in a single ring is a fitting representation of two individuals joining their lives in marriage.
DIAMONDS AND SAPPHIRES
If the bride wants diamonds or other precious gems in her wedding band, that doesn't mean that the groom can't achieve a coordinating look. Today many men's rings feature diamond and sapphire details that allow them to coordinate with women's dazzling designs. These diamond and sapphire wedding rings for men can be bold or subtle. The sapphire Lassen Ring and the diamond Horizon Ring are two examples of men's rings that would coordinate beautifully with a woman's diamond or sapphire wedding band.

Personalized Engraving
Often two people share the same values but have completely different styles.  If this sounds like you and you partner, go ahead and choose wedding rings that represent you on the outside but share a common personal engraving on the inside of the ring. Whether it's your favorite line of poetry, a few words to describe your feelings, or simply the date of your wedding, an internal engraving will take two rings that appear vastly different and make them the same where it counts. For inspiration, check out our blog post on Ideas for Engraved Wedding Bands.

Custom Wedding Bands
Instead of choosing from a range of pre-set styles, many couples decide to custom design their own his and hers wedding rings. These rings aren't just matching—they are literally made for each other. Simply explain to any of our custom design experts what you'd like your rings to look like and then sit back and watch the magic happen. A combination of superior design skills and the latest technology will make your dream rings come to life.
To get a sense of the possibilities, browse our gallery of custom wedding rings we've created for Brilliant Earth couples.

FINAL THOUGHTS
How closely do you think wedding rings should match? Do you love the idea of custom designed rings or will a simple, shared engraving do? Let us know what you think on Facebook, Twitter, or in the comments!

Source: Rings: Jewelry of Power, Love and Loyalty by Diana Scarisbrick