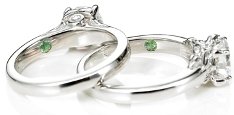 Celebrate your commitment to one another and to the earth at the same time! In honor of Earth Day, throughout the month of April Brilliant Earth will set a green Imperial Diopside gem on the inside of your engagement or wedding bands. Only you will see it, but the semi-precious gem will serve as a beautiful reminder of your shared values as you begin your life together.
Imperial Diopside is a rare gem whose deep-green hue evokes the old-growth Siberian forests near which it is found, making it a beautiful tribute to environmental awareness.
Order your complimentary Green on the Inside engagement or wedding ring through the month of April in honor of Earth Day.