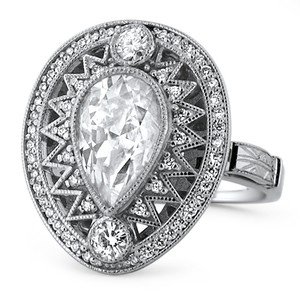 Whether you're looking for one statement piece to add interest to a classic look or you love to layer on colorful pieces, statement rings are a great way to express your personality and individual style! Today, statement rings (otherwise known as cocktail rings) aren't reserved for big occasions—they've turned into everyday rings.

These rings are sometimes affectionately referred to as "conversation starters." If you show up with a statement ring, don't be surprised if questions start flying!

Large Gemstones

Though statement rings can't be strictly defined, quite a few of these fabulous rings feature large, daring gemstones. Statement rings are supposed to draw attention, and we can't think of a better way than to feature a mega sized stone! These sparklers often span the entire width of your finger and come in a rainbow of colors.

Oftentimes statement rings feature more affordable gemstones (because a fifteen carat emerald, ruby, sapphire, or diamond will soar far beyond most budgets!) Look for bright, beautiful stones such as topaz, garnet, amethyst, tourmaline, peridot, aquamarine, and citrine. If you can't find the perfect gemstone in the perfect setting, pick a loose unique colored gemstone and create your own!

Unusual Shapes, Colors, and Textures

The best statement rings are those that are interesting to look at. When geometric shapes such as pears, triangles, circles, ovals, and squares are artistically combined by an expert designer, the resulting design is dripping with visual interest. Intricate halos, unique galleries, mixed metals, and organic floral shapes all make stunning statements.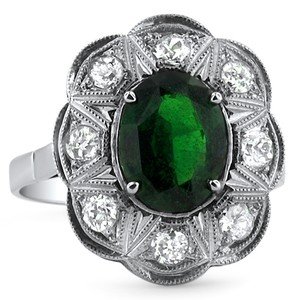 Antique Statement Rings

Some of the most magnificent statement rings you can find are authentic vintage rings! These rings reflect the time periods in which they were made. For example, rings from the Victorian Era feature unique motifs such as hearts, flowers, crescent moons, and even twisting serpents. Art Deco rings are known for their bold designs and daring geometric patterns.

Retro jewelry—despite coming into existence during the Great Depression—is commonly thought of as "cocktail jewelry," because it was big, bright, and fun. Playfully oversized and whimsically feminine, retro jewelry is easy to spot.

Filigree, Milgrain, and Engraving
So what makes antique rings so unique? Many of these rings include details that were perfected by expert jewelers over a hundred years ago, including filigree, milgrain, and engraving. Filigree—the placement of fine threads of precious metal in airy, feminine designs that resemble lace—became highly popular during the Edwardian Era. Milgrain, meaning literally "a thousand grains," are small beads of precious metal that commonly form rows and borders. This feature gives a ring a very detailed, sophisticated look, and it is a great way to make a statement ring look utterly timeless. Lastly, unique engravings can provide endless detail and a truly one-of-a-kind look. Like an artist with pen and paper, a masterful engraver can depict anything on a ring, from symbols to floral elements. Hand engraving techniques can still be found in modern jewelry, typically in antique style engagement rings.

Custom Statement Rings

Custom designing a statement ring is a great way to create the ring of your dreams. Our expert designers have created thousands of stunning custom rings that are all one hundred percent unique. Some are elegant and understated, but many feature big, bold designs straight from their creator's imaginations. You can even create a statement ring that reflects your interests, such as flowers, science, modern design, or even photography!

Final Thoughts

Are you in love with big, bold statement rings? Do you have one for each one of your fingers? Let us know what you love about statement rings in the comments, on Facebook, or on Twitter!