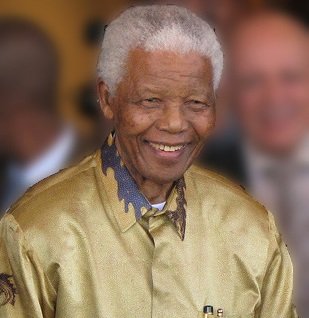 Nelson Mandela's passing has prompted an outpouring of tributes and remembrances. People everywhere are mourning Mandela's loss and celebrating his life and legacy. They are also puzzling over what his life has to teach us.
So many words have been written on that subject that it would be difficult to try to sum them up here. So let's instead just touch on five important facets of Mandela—facets that relate to themes often discussed in this blog.
#1: Mandela the Fighter
At his trial for treason in 1964, Mandela spoke some of the most stirring words of his life.  "I have cherished the ideal of a democratic and free society in which all persons will live together in harmony and with equal opportunities," he said. "It is an ideal which I hope to live for and to see realized, But, my lord, if needs be it is an ideal for which I am prepared to die."
Mandela, who trained as a boxer, fought for justice with astonishing passion and clarity. Equally remarkable, though, was his patience and stubbornness. Mandela held fast to his vision for so long that he did live to see it realized, just as he dreamed in 1964. His persistence offers hope, as well as a model, to anyone fighting for a cause and becoming disheartened by the slow pace of change. As Martin Luther King, Jr. said, "The arc of the moral universe is long, but it bends towards justice."
#2: Mandela the Miner
Mandela was a lawyer, civil rights leader, political prisoner, and politician. But for 13 of his 27 years in prison, Mandela worked at a limestone quarry on Robben Island. He spent his days breaking up rock and carrying the shards from one end of the quarry to the other. A person who works in a quarry is technically called a "quarryman." But essentially, Mandela was a miner.
Mandela's years in the quarry caused lasting damage to his  health. The long days in the blinding sun damaged his eyes, leaving him sensitive to flash photography and unable to produce tears. The dust from the quarry harmed his lungs as well, possibly making him susceptible to tuberculosis, which he developed in 1988. His lung problems may have contributed to the lung infections he endured at the end of his life.
As the world remembers the harshness of Mandela's prison years, it would do well to remember the plight of the world's miners. There are thousands of miners worldwide who continue to toil in the slave-like conditions Mandela experienced, many of them suffering far worse health consequences. In South Africa alone, tens of thousands of apartheid-era gold miners suffer from silicosis, a lung disease caused by inhaling mine dust.
#3: Mandela the Regulator
In the 1960s, Mandela and the African National Congress (ANC) were so left-wing that they called for the nationalization of South Africa's mining sector. But when Mandela became president, his economic policies became more conservative. He dropped his calls for the nationalization of South Africa's mines. He also became openly skeptical of the campaign against blood diamonds. And although his own health had been damaged from working in a quarry, he left a lot of the mining sector's wage and safety issues unresolved.
Today, more than 100 South African gold and platinum miners still die in accidents each year. In addition, many of South Africa's gold and platinum miners earn so little that they live in shantytowns. Tensions at South Africa's mines reached the breaking point in 2012, when police killed 34 striking platinum miners. (Two weeks later, security guards shot and injured four miners at a gold mine owned by Mandela's grandson.) Continuing troubles in South Africa's mining sector show that Mandela wasn't perfect and that his vision for South Africa remains unfinished.
#4: Mandela the Peacemaker
Although Mandela's record as a regulator is mixed, that shouldn't diminish one of his towering accomplishments: stitching together a country with deep racial and ethnic divisions. By forgiving his former oppressors and making efforts to include them (even inviting his former jailers to his inauguration), Mandela gave birth to a new country. South Africa easily could have become another African country enduring a civil war fueled by diamonds or gold. Instead, it is one of Africa's wealthiest and most stable countries.
One way of appreciating the quality of Mandela's leadership is to observe the very different choices made by one of his contemporaries, Robert Mugabe of Zimbabwe. Refusing to cede power, Mugabe has been Zimbabwe's president since the country won independence from the United Kingdom in 1980. As president, Mugabe has alienated his country's white minority, violently cracked down on opposition groups, and stolen his country's diamond wealth for himself and his cronies.
#5: Mandela the Lover
Most of the discussion about Mandela is about his political career. But as a jeweler offering wedding and engagement rings, we can't help but ask: what about his romantic life?
Mandela's romantic relationships were often troubled. In the 1950s, his marriage to his first wife, Evelyn, ended after growing cold and strained. He married his next wife, Winnie, in 1958. But following his release from prison in 1990, their marriage crumbled as well. They divorced in 1992.
For all these difficulties, however, Mandela had his romantic side. He was a man who seems to have loved deeply. "Whenever I write you, I feel that inside physical warmth, that makes me forget all my problems," he wrote to Winnie from jail. "I become full of love." And Mandela was always grateful for having met his third wife, Graca Machel, whom he married on his 80th birthday in 1998. "Late in life, I am blooming like a flower because of the love and support she has given me," he said.