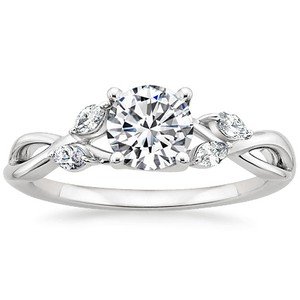 Flowers have been a symbol of love and beauty for thousands of years. The ancient Greeks wove them into garlands and wreaths, and their myths often spoke of humans and gods that were turned into flowers. Today, we grow flowers to make our homes beautiful, and we give blooming arrangements to our loved ones. We give flowers when we feel romantic, grateful, and even sad—flowers are a way of sending love during hard times.
Why do we associate flowers with love? Think of it like this: to have a successful relationship, you and your partner must tend to each other as you would tend to a flower garden. You must be devoted and give it attention every day. You must feed it with love and sunshine so that it will grow. Even the gardens that have the strongest foundation and the richest soil still need tender upkeep. The result is a brilliant garden full of vibrant flowers where you will find comfort, warmth, and beauty.
When embarking on a new life together, it's only natural that many couples gravitate towards stunning flower inspired engagement rings. These glittering symbols are a lasting reminder that your relationship is a beautiful thing that must be treasured. Discover the endless flower inspired styles that you are sure to fall in love with.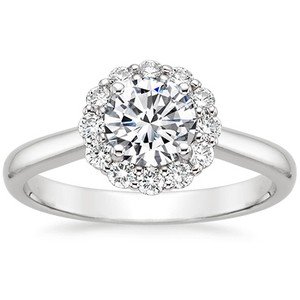 Flower Inspired Halo Engagement Rings
Halo engagement rings are an incredibly glamorous style. These rings feature a glittering center gemstone  that is embraced by a dazzling halo of diamond accents. While most of these rings highlight an uninterrupted outer edge, some halos have scalloped edges, giving the ring a distinctive floral design. If you love the floral look but you don't want to skimp on sparkle, this is the style for you.
For a twist on the classic halo, consider a ring that features a scalloped halo of stunning deep blue sapphires! A center diamond is made even more brilliant when it's surrounded by these precious gemstones.
Flowers and Vines
Some of the most beautiful flower inspired engagement rings don't focus on the blooms at all. Instead, they highlight beautiful twisting vines and budding leaves. Delicate strands of precious metal can be precisely intertwined to create the look of naturally growing vines. Marquise shaped diamond accents look like blooming buds and add the perfect amount of sparkle to any flower inspired engagement ring. To make these rings stand out, look for marquise shaped sapphires or emeralds! A little touch of green makes these rings truly spectacular.
Engraved
One of our favorite ways to add a subtle floral touch is to choose an engagement ring with flower inspired designs engraved on the band. You will find rings that are engraved with curving vines, wispy flowers, subtle garlands, and more. Choose a ring that is engraved on the side of the band for a "secret garden," or pick a bold ring with flowers engraved on top, with subtle, glittering diamond accents at the center of each bloom. Hand engraving can be anything you want it to be—if you choose to custom design an engagement ring, jewelry experts will help you create the perfect floral pattern that will be engraved on your band however you like.
Antique
For a truly unique flower inspired engagement ring, consider an antique. Past jewelry masters were intent on capturing detail and feminine beauty. Many antique rings feature subtle floral designs, while others highlight perfectly crafted flowers. Stunning precious metal was often sculpted to resemble delicate petals of a flower in bloom, with warm diamond accents adding a little something extra. You'll often find stunning cocktail rings with a big, bold floral style that are meant to capture attention and the imagination.
Final Thoughts
What is your favorite flower inspired engagement ring style? Let us know on Facebook, Twitter, or in the comments!