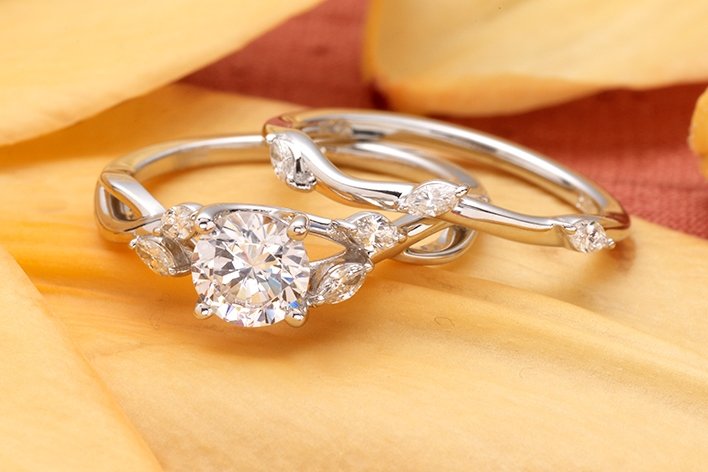 Some dream of having a wedding in the middle of the forest, the soaring trees and chirping birds creating a natural backdrop for the nuptials. Others are destined to get married in a modern setting such as an art museum, surrounded by minimalist paintings and large plate glass windows. Other common dream weddings take place on the beach, amidst endless rows of vineyards, or even at a historic building, surrounded by everything vintage.

There are some, however, who dream of seeing two things at their weddings: their future life partner and… glitter! Some brides are all about the sparkle and glamour. Scan the Pinterest wedding section and you will notice that brides mostly obsess over three things: the perfect wedding pose, DIY crafts, and shimmer. This is the one night where you can be as impractical, glitzy, and over the top as you want. Most of us don't walk out of our homes in the morning decked out in bedazzled outfits and throwing handfuls of glitter in the air. This is your chance to do just that!

If you love everything that sparkles, this is your chance to have a wedding that truly shines. When used right, glitter has the potential to take a romantic, exciting, extraordinary night and make it even better!

Are you looking for ways to incorporate glitter into your wedding outfit but you're not sure how to go about it? Depending on the level of your glitter obsession, consider integrating one or all of these shimmering ideas.

1. Be like Dorothy … with glittering heels!

Who hasn't dreamed of owning a pair of glittering, magical shoes? Your sparkly wedding shoes might not actually take you to another place when you tap them together, but they can transform your entire outfit! You can find glittering heels in every shade of the rainbow and in a variety of textures (from fine, sandpaper-like grains to large rhinestones). Remember, you don't have to stick with white or champagne colored glitter shoes. It can be a fun, exciting touch to choose a bold color such as hot pink or emerald green and let your shoes peek out from under your dress as it flows around you. Some brides even buy short dresses to show off these shoes! If you don't want to buy glitter shoes, you can always transform a pair you already own! Glitterizing tutorials are easy to find and easy to do—recycle those heels and turn them into something special. If you hate heels, don't forget about glittery flats!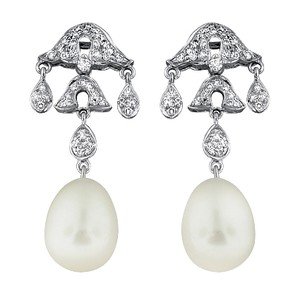 2. Beautiful bridal jewelry

Though you should use caution when applying glitter makeup to your face (clean, dewy skin is always beautiful on brides!) you can bring sparkle to your face in an even better way. Sparkling wedding jewelry is a classic, elegant way to bring light and brilliance to your face. Sunlight filtering through diamonds can make your eyes and your smile sparkle–more so than they already will be! Find your perfect wedding sparkle style, from gorgeous antique jewelry to new pendants and earrings featuring ethical origin diamonds, sapphires, or pearls.

3. A sparkling bouquet

Many brides forget about the option of adding a little extra sparkle to their bouquets. We are so used to thinking of bouquets only in terms of flowers, but many brides are beginning to spice things up a bit. You can ask your florist to add a slight glitter touch to the blooms themselves, creating a subtle overall shimmer. You can also pin a brooch (a family brooch would be wonderful as your something old) in between or into the center of your bouquet's flowers. Amazingly enough, some brides are creating entire bouquets out of vintage brooches! Though this idea may seem a little too unique or strange for many, just remember this: that bouquet will never die!

4. Dazzling diamond wedding rings (for him and her!)

If everyone at your wedding knows you love sparkle (it should be pretty obvious) and your religion or culture doesn't require simple wedding bands made of precious metal, don't shock your guest by giving or receiving plain wedding rings! There are incredible bands that feature dozens of diamond accents that will make your engagement ring even more beautiful when paired together as an eye-catching set. The exchanging of rings is a ceremonial, poignant aspect of the ceremony, so allow your rings to speak to your personality. From luxe, twisting bands to jaw dropping diamond eternity rings, there are endless glittering styles to choose from.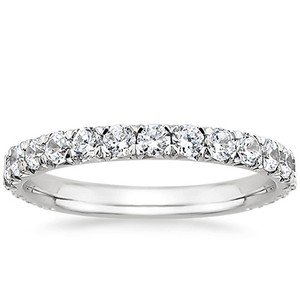 5. A sparkling wedding dress

The wedding doesn't really start until the music begins playing and you show up at the end of the aisle! Everyone has been waiting to see you—and your dress. True glitter fashionistas will incorporate the perfect amount of beading and crystals into their dress. Whether you choose a slinky gown of head-to-toe glitter or sparkling accents on an illusion back panel, glitter does amazing things for a dress (and how you feel in it!). Let your dress transform you into a glittering princess, a stylish movie star, or whatever your heart desires!
Final Thoughts

Do you glue glitter on anything that stays still for five seconds? Would you eat a cake covered in (edible) glitter? Do you find yourself having to choose from a plethora of diamond wedding jewelry? What is your favorite sparkling accessory? Tell us on Facebook, Twitter, Pinterest, or in the comments.

Can't get enough glitter fashion ideas? Read our Bridal Fashion Guide blog post for more glamorous style ideas!